Technics EAH-AZ60 Noise-Canceling True Wireless Earbuds Review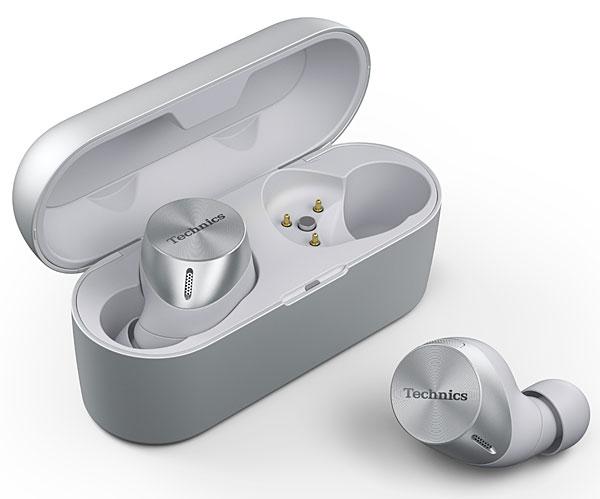 PRICE
$230
AT A GLANCE
Plus
Great sound quality
Impressive noise cancellation
Compact form factor
Long battery life
Minus
Somewhat pricey compared to other true wireless earbud options
THE VERDICT
Technics' AZ60 earbuds pack useful features plus advanced ergonomics, and they're extremely easy on the ears when listening to music.
My first stereo system was a full-on Technics rig, right down to the turntable and cassette deck, so I've always harbored a fondness for the brand. And while the recent comeback of Technics to the hi-fi scene has had a decidedly high-end spin—its SU-R1000 Digital Integrated Amplifier costs $9,499—they've also branched out into accessible gear like wireless all-in-one speakers and headphones.
The company's new EAH-AZ60 noise-canceling true wireless earbuds are part of this accessible branch. At $230, they are priced less than the Sony's $280 flagship WF-1000XM4, a Sound & Vision Top Pick, and just above the Jabra Elite 85t model that triumphed in our 2021 noise-canceling true wireless earbuds face-off test. Feature-wise, they bring a similar amount of stuff to the table as both those models, including app-based setup and customization, "IPX4-equivalent" water resistance (earbuds only), and an Ambient mode that can configured to optimize the level of environmental sound that filters through the buds during use.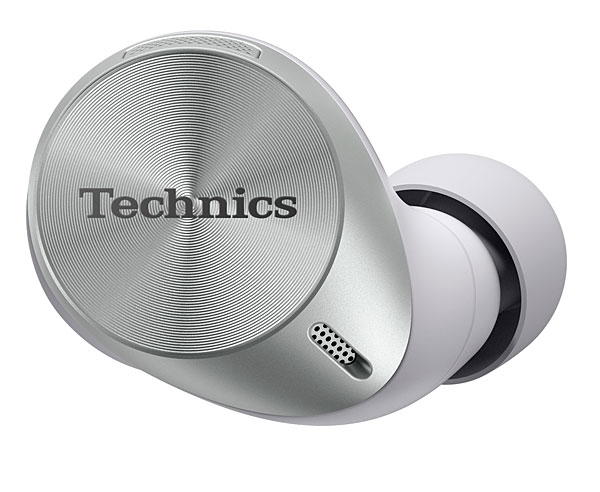 Available in black or silver, the AZ60 comes with a slim (approximately 3 x 1.5 x 1.25 inches, W x H x D) recharging case that seals magnetically and features a USB type-C port and an LED light that changes color to indicate power status. The buds themselves are compact and stylish, with an obvious adherence to the Technics family "look." Power is rated for 7 hours of noise-canceling listening and 7.5 hours with noise-canceling off. Case recharges deliver up to 17 more hours listening time, and the recharging process takes 120 minutes. A quick 15-minute earbuds charge will yield up to 80 minutes of playback.
Features and Setup
The AZ60 earbuds have an 8mm driver backed by an acoustic chamber and "harmonizer," with the former serving to boost bass range and the latter helping to smooth out higher frequencies. Bluetooth 5.2 is used, with multipoint pairing supported for connecting wirelessly to a laptop or smartwatch at the same time as the buds. The AZ60 also handles LDAC, a higher-resolution tech developed by Sony that can stream audio over Bluetooth connections at a 990kbps bitrate, though it requires an LDAC-compatible source device. Both Amazon Alexa and Apple Siri voice assistants are supported.
Technics touts Dual Hybrid feedforward and feedback noise canceling for the AZ60 earbuds. Basically, this utilizes an arrangement of 8 microphones that operate in tandem to not just suppress external ambient noise, but to reduce wind noise. Technics' JustMyVoice technology, meanwhile, can amplify your voice during phone calls to heighten clarity. In my experience at the gym using the AZ60's noise cancellation feature, I was able to effectively block out external noise (bad music, mostly), while switching to Ambient mode allowed me to clearly hear nearby conversations. Ambient mode can also be configured as an Attention mode that boosts sound in the voice range, making it easier to hear announcements at airports, train stations, etc.
Technics gives you silicone earpieces in seven sizes, including extra-small and extra-large, to ensure a firm fit. Large proved the perfect size for my ears, and the AZ60 buds remained firmly in place even through a vigorous stationary cycling session. The company's iOS/Android Audio Connect app guides you through initial connection and setup, with options offered to adjust the level of noise cancellation and ambient sound, as well as select from four EQ presets or create a custom EQ. You can also customize touch sensor operations separately for the left and right buds, with different tap configurations serving to adjust volume and playback control along with noise cancellation/ambient mode selection and voice assistant activation.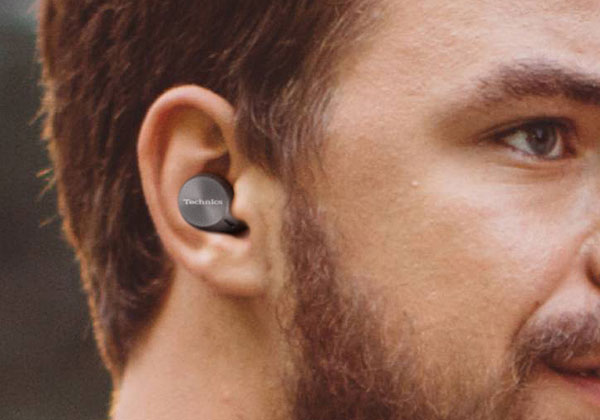 Performance
Technics pitches the AZ60 as having "superior" sound quality, and my listening sessions with it did not lead me to think otherwise. After switching noise cancellation and ambient mode off, I played the track "Endless Time" by The Weather Station on Tidal. Tamara Lindeman's vocals were breathy and full-bodied, while the piano had a resonant quality with good "air" and dynamics.
Switching to something less mellow, I streamed a cover of Television's "Days" by the band Real Estate, also on Tidal. The track's jangly electric guitars sounded crisp without being edgy or overly trebly—something I've experienced with other true wireless buds. The highs were also nicely balanced by the fleshed-out vocals and drums and the full but not boomy bass guitar. Overall, the AZ60's presentation was enveloping, with a stable and coherent soundstage as opposed to the sound seeming to emanate from within my head.
Playing the electronic track "Subtractive Skies" by Steve Hauschildt next, the layers of oscillating synths were cleanly delineated. There was also a distinctive "warmth" to the sound, something that was helped along by the impressively deep-reaching bass. I found myself quickly immersed in the music, with the AZ60's relaxed, yet detailed performance attaining a level of "hi-fi-ness" that I don't usually associate with true wireless earbuds.
Conclusion
Technics' EAH-AZ60 is a welcome addition to the stable of high-end noise-canceling true wireless earbud options. They are easy to set up and use, come with an excellent app, and offer effective noise cancellation and ambient sound modes. Even better, they sound great not just with podcasts and internet news radio, but with music.