TCL Adds Quantum Dots, Mini-LEDs, Atmos to New TVs
TCL is expanding its selection of step-up 4K Ultra HD TVs and adopting new performance-enhancing technologies to capture a larger share of big-screen TVs sales in North America.
In its 2019 TV lineup, the Chinese TV maker is expanding its range of 65- and 75-inch 4K TVs, introducing its first North American models with color-gamut-widening quantum-dot (QLED) displays, and launching the world's first 4K TVs illuminated by up to tens of thousands of densely packed mini-LED backlights.
The mini-LED technology, called Quantum Contrast, boosts peak brightness and distributes light more evenly across the screen, producing more uniform color and blacks across the screen, TCL said. Just as important, mini LEDs create more back-lit local-dimming zones, boosting contrast and depth perception.
In TCL's top-end 75-inch 8 Series TV, more than 25,000 mini LEDs illuminate the screen, boosting the number of contrast-enhancing full-array local-dimming zones to almost 1,000, up from a previous maximum of 160 zones in an existing 75-inch 6 Series TV.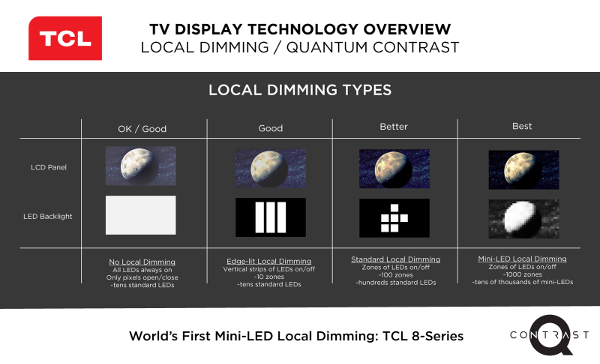 In all, four new TCL TVs feature QLED displays, including two 6 Series models due in September in 55- and 65-inch sizes starting at less than $600. Two QLED models in TCL's first 8 Series will be available in October in 65- and 75-inch sizes at respective retails of $1,999 and $2,999.
The 8 Series steps up to include mini-LED technology. All four new TVs, like all other TCL TVs, are smart TVs running the Roku TV OS.
Dolby Atmos On Board
The four new models are TCL's first TVs with Dolby Atmos 3D surround decoding, which positions individual sounds in a 360-degree sound field around viewers. The TVs support Dolby Atmos decoding from the their embedded streaming services as well as from external devices, including streaming players and Blu-ray players, that output Atmos metadata in Dolby Digital+ or higher resolution Dolby TrueHD containers, the company said.
The TVs use "psychoacoustic rendering" to produce a 3D sound field through the TVs' two down-firing speakers, TCL added.
TCL Wants a Spot in Your Living Room
The company is adopting the QLED and mini-LED technologies because "we need to get better at capturing sales of a home's main TV," said Chris Larson, TCL's SVP for North America. "We're underrepresented in large screens over 55 inches."
TCL enjoyed a 22% share of U.S. retail-level TV sales in 48- to 52-inch screen sizes in the first half of 2019 but only a 13% share in 65-inch TVs, he said in citing NPD Group statistics. The company ranked second in the U.S. in overall TV unit sales in the first half of 2019, up from third place in calendar 2018, he added.
The Benefits of QLED
Before bringing QLED to its lineup, TCL focused on proprietary NBP (nano band phosphor) Photon technology to widen color gamut, or the range of colors produced by a display. TCL is still using NBP in a new, lower priced 5 Series, and in TCL's previous 6 Series models, NBP delivered a color palette "nearly matching the DCI-P3 reference color standard," according to the company's website. In the new 6 and 8 Series, TCL claims to get even closer to the full P3 standard, though it didn't reveal concrete numbers.
TCL is also using quantum dots in 6 and 8 Series models to deliver 100% color volume in the P3 color space, boosting color saturation and delivering purer more vibrant colors at all brightness levels, the company said.
With QLED technology becoming more affordable to mainstream consumers, TCL joins Samsung, Vizio, and Hisense in offering quantum-dot TVs in the U.S.
What Mini-LED Brings to the Screen
To bring additional realism to 4K images, the 8 Series deploys densely packed mini-LEDs arrayed across the screen to boost peak brightness levels and distribute light more evenly across the screen, TCL product development director Aaron Dew said.
Just as important, the mini LED array creates so many more local dimming zones than traditional LED backlights that the TVs' contrast levels will be "unrivaled" compared to the contrast levels of competing LED-LCD TVs, Dew claimed.
While the 75-inch 8 Series TV features more than 25,000 mini LEDs and almost 1,000 dimming zones, the 65-inch model features a "proportionally smaller number" of mini LEDs and zones, the company said.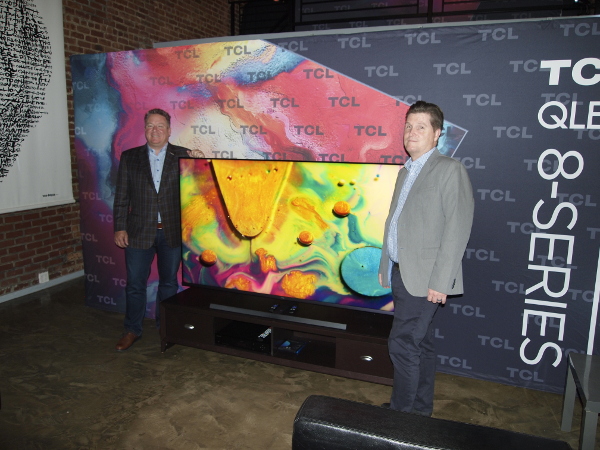 Because so many mini LEDs can be packed closely together, the 8 Series delivers more precise control of backlighting over smaller sections of images. As a result, the TVs deliver deeper blacks and more detail in the brightest and darkest portions of an image, increasing perceived image depth. The technology also minimizes halos around bright objects on dark backgrounds, Dew said.
Quantum Contrast enables the TVs "to directly take on high-contrast OLED TVs in delivering a superior overall viewing experience," the company explained in a statement.
The 8 Series achieves peak brightness levels that no other LED-LCD TV on the market will exceed "in a real-world HDR viewing experience," Dew also told Sound & Vision without specifying brightness levels in nits. He defined a real-world experience as displaying typical HDR content in moderate lighting conditions as opposed to displaying test patterns for measurement in test labs.
Compare & Contrast
In the 8 Series, TCL delivers more dimming zones than any other TV available in the U.S. In Vizio's 2019 lineup, for example, one 75-inch quantum-dot TV features 480 zones based on more traditional LED technology, while Chinese rival Hisense offers up to 132 zones in a 65-inch quantum-dot TV. Hisense previously announced the $3,499 U9F quantum-dot TV for the U.S. with 1,056 zones, but it doesn't use densely packed mini LEDs, nor is Hisense now planning to launch it here.
That's Not All Folks
Other 6 and 8 Series features include a trio of high dynamic range (HDR) technologies (HDR 10, Dolby Vision, and HLG) as well as ALLM (Auto Low Latency Mode), an HDMI 2.1 feature that reduces video game lag. Both series feature bezel-less design on three sides.
The company's first iPQ Engine mobile app, available in the fall for select Android and Apple mobile devices, will automatically calibrate TV color to enhance color accuracy.
The 6 and 8 Series also offer bezel-less FullView design and voice control of select features via Amazon Alexa and Google Assistant smart speakers. Through the microphone-equipped Roku Voice remote, viewers can also tell the TVs to launch streaming channels, search for specific programs, switch inputs and the like.
8K in the Wings
As part of its performance drive, TCL will expand quantum-dot and mini-LED technology to planned 8K TVs, which will appear in the 8 Series in sizes of 75 inches and up.
Those TVs are now due in the first half of 2020 instead of this year to leverage the 2020 launch of 8K videogame consoles, the company said. The 8K consoles represent a "big market driver" behind future 8K TV sales, Dew told Sound & Vision.
TCL is also waiting for the trade group licensing HDMI technology to release more compliance-testing specifications for 8K-capable HDMI 2.1 connections. Tests of 8K TVs based on the specs will ensure an optimum "out-of-the-box" experience when consumers connect an 8K TV to an 8K console via HDMI 2.1, TCL said.
5 Series Basics
In more mainstream 4K fare, TCL is making minor enhancements to its lower priced 5 Series, which gets FullView bezel-less design on three sides of the display. Four 5 Series TVs are due in 43- to 65-inch sizes at prices starting at less than $300, down from a previous opening price of $429 for a 43-inch model. They also feature HDR 10, Dolby Vision, and HLG HDR.