Tapeless Video Recorders
Photos by Tony Cordoza
Not so long ago, the VCR reigned supreme. Much like the proverbial chicken in every pot, there was a VCR in every house. If you wanted to time-shift the soap opera that your job inconveniently caused you to miss, you programmed your VCR. If you wanted to watch a movie, you turned to your trusty VCR. Store shelves were chock full of tapes for sale or rental.
That was then, this is now. VCRs are being replaced by DVD and hard-disk recorders, the first of the new breed. The only question is which one to buy. There's a wide range of prices, so there are plenty of models to choose from. But keep in mind that DVD recording and hard-disk recording represent two very distinct approaches. To help point out the scope of the selection, we gathered the RCA DRC8000N ($599), a DVD+R/RW recorder; the Toshiba SD-H400 ($550), a DVD player with TiVo hard-disk recording; and the Panasonic DMR-E100 ($1,200), a high-end DVD-R/ RAM recorder that includes a hard disk as well. With these three models warmed up and ready, I rudely shoved my trusty (but dusty) VCR aside and stepped into the future.
RCA DRC8000NOf the three models, the RCA DRC8000N is the most straightforward. If you're looking for a direct replacement for your tape muncher, this may be your ticket. The RCA recorder does everything a VCR does, but does it with DVD+R/RW discs instead of VHS tape. It can also play a wide variety of disc and file formats, including DVD-R/ RWs, MP3 music files, and JPEG image files.
The front panel is visually uninspired, and the array of inputs and outputs on the rear panel is standard issue, but the DRC8000N should be able to handle most anything you throw at it. (Click to see the Features Checklist.) Highlights include a front-panel USB port to jack in an optional reader for flash-memory cards so you can view photos or play MP3 files, or move them to disc.
To use a cable box or satellite receiver for timer recordings - or recordings programmed using Guide Plus+, a free interactive onscreen guide to cable and broadcast TV in your area - you also have to connect the supplied infrared (IR) emitter to control the satellite receiver or cable box via its IR sensor. RCA also supplies a two-way RF splitter so you can run one analog cable-TV line to the recorder and another to the TV for watching one channel while recording another. But if you have a digital cable box, you'll need a digital splitter.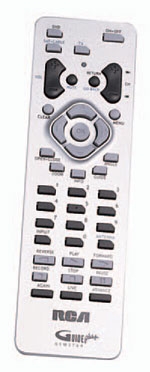 The remote control is small and stylish. It provides all of the buttons you need to run the recorder and can also control your TV and a cable box or satellite receiver.
As with any DVD setup, mine began with a special start-up menu that appears onscreen the first time you power up. It lets you select a menu language, tell the recorder what connections you're using, and also set up Guide Plus+, which makes it a snap to record scheduled programs. In no time, I was watching TV. Next step - recording TV.
Like most DVD recorders, this one has multiple recording modes. RCA calls the five it offers Best, High, Good, Normal, Basic, and Low, and they store about 1, 2, 3, 4, 6, and 8 hours, respectively, on one 4.7-gigabyte (GB) write-once DVD+R or rewritable DVD+RW disc. Recording is easy - load a disc and hit the record button, and the DRC8000N will save the show you're currently watching. If you use the Express mode, you don't even have to remember to hit the stop button: every press of the record button increases recording time by 30 minutes.
You can schedule a session using Guide Plus+ by simply highlighting the program you want to record in the onscreen guide. Of course, you can also manually program timer recordings. Conveniently, when you use the timer the deck automatically picks the record mode that will deliver the best quality for the available disc space.
RCA DRC8000N
DIMENSIONS (WxHxD) 17 1/4 x 3 1/4 x 14 1/2 inches WEIGHT 12 pounds PRICE $599 MANFACTURER RCA, Thomson, Dept. S&V, 10330 N. Meridian, Indianapolis, IN 46290; www.rca.com; 800-336-1900
The first time you record on a disc, the RCA assigns a catalog number to it, and every time you record on that disc, it remembers the program title and other information. This disc library can store data for more than 400 recordings, catalog them by title, genre, and disc number, and search or sort them by title or genre.
Other niceties: After you highlight a program title, a playback preview starts a picture-in-picture (PIP) window. You can insert and delete chapter markers, and a chapter hide/unhide feature lets you automatically skip playback of selected sections of a recording - both for DVD+RW only. To check out the playback performance, I popped in Ghost Ship, a floating haunted-house story about a luxury liner whose crew and passengers met a gruesome fate and is found adrift years later in the Bering Sea. The DVD's opening scene shows an elegant shipboard ballroom full of women in gowns and men in tuxedos, and the RCA recorder's progressive-scan output looked sharp on my Princeton Graphics TV. The champagne in the fluted glasses was properly pink, and the Italian singer's gown was realistically red, as were the buckets of blood that soon appeared.
Next I recorded some TV shows from cable to DVD+RW. Video quality was purely a function of bit rate: the higher the rate, the better the picture quality, but at the expense of recording time. In Best mode, the recording was close to the original in quality, though with some softening. This might be attributable to the analog circuitry handling the S-video input signal.
With the High and Good recording modes, the picture quality was still quite good, but I noticed MPEG encoding artifacts in the details. For example, the patterns on fabric were blurred, and there was a fuzz around moving objects or panning shots. These modes are suitable for off-air recording. Artifacts grew more pronounced in the Normal and Basic modes. For example, diagonal lines displayed jagged edges, details such as fine print were lost, and there was some oversaturation. Even so, the picture quality was okay for recordings you don't want to archive. While marred by obvious encoding artifacts that gave the image an uneven, gritty quality, the Low recording mode would still be okay for cramming a week of soap operas onto a single disc.
RCA's DRC8000N is virtually a drop-in replacement for your VCR. It lets you time-shift TV programs that are on tonight or quickly arrange to record next week's episode of NYPD Blue, and even its medium-quality modes are as good as any videotape. Throw in Guide Plus+, its USB port, and the ability to watch slide shows, and you've got a real winner. Yes, discs are more expensive than tapes, but sirloin is also more expensive than hamburger.