Review: Cambridge Audio Sonata NP30 Network Music Player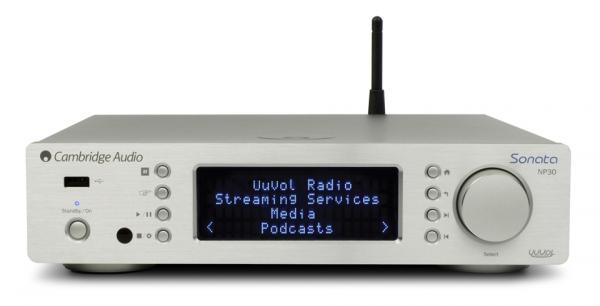 Cambridge Audio is a British electronics maker with a long-running dedication to serious audio (minus the silly-expensive audiophile pricing) and a long-running commitment to quality digital playback. So, when the company first previewed a network music player in late 2010, it got my attention. The new Cambridge Audio NP30, a member of the firm's Sonata series of mini-components, turns out to be precisely that: a player of music files delivered to it from a wired Ethernet or Wi-Fi home network. Files it can play include those originating from an Internet stream, a CD rip, or a download from a high-resolution or other music service, plus those in every important digital-music format: data compressed, uncompressed, or lossless.
The NP30 is a handsomely crafted silver box a bit smaller than a carton of Weetabix. A few buttons, a single knob, and a four-line blue-matrix display populate the front; around back are stereo analog and digital audio outs, a LAN jack and micro-coax Wi-Fi antenna connector, and a USB port for "local" media stored on an external drive. (There's a second USB port on the front as well.)
Setup
Setting up the player was simplicity itself: I merely hooked up power and audio cables, ran a network connection to the back of my router, and turned it on. A few minutes of byte-chewing later, up popped the home menu. No fuss, no muss, and no laborious keying of arcane IP or name-server addresses — boy, has home-media interoperability come a long way!
Performance
Now the NP30 was ready to go — but where? The options are essentially threefold. You can stream Internet content, either from open Internet radio stations (there are thousands, with dozens more appearing every day) or from registration-required services; the Cambridge currently provides six, including Aupeo, Pandora, Rhapsody, and Sirius/XM. You can pull files from USB drives physically jacked into the NP30. Or you can local stream from a UPnP/DLNA music server— either a freestanding component or one running on a computer — that resides on your local network.
Which of these grabs your attention will depend on your musical taste. Internet radio from "the wild" offers an incalculable range of programs, from unlistenable, low-bit-rate Bulgarian noise-rock to some surprisingly high-fidelity classical and jazz streams. Cambridge's listings are hosted by its own UuVol.com site, which you can access via any Web browser to manage favorites, select podcasts, and so on. It's an effective portal.
For myself and, I would guess, for most serious music fans, the core content will be local: your own music, whether ripped from CDs or purchased via iTunes, Amazon, HDtracks, or another service. (I'm confident that none of you would ever "share" music illegally.) Getting these to the NP30 is easy. You can copy some or all of your library onto a USB drive, or you can stream your library, a far more efficient and technologically hip option than such "sneaker-net" solutions.