Training Day: Your Guide To Home Theater Education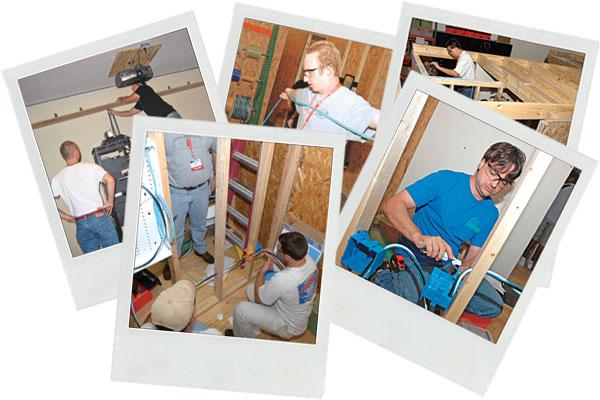 Home theater is in your blood. You crave the latest and greatest gear and are constantly thinking about your next upgrade. You can't resist tinkering. Impossible. You're regularly chastised by family members for monopolizing the remote, ready to tweak the sound or picture at any moment—and get reprimanded often for doing so just as the opening credits start to roll. Glaringly bright images, lopsided sound, flabby bass—these are things that make you cringe. There's no getting around it: You're hard core, and no one is going to stop you from dreaming about quitting your day job to design and build insane home theaters.
So maybe it's time to step it up—time to really delve into the theory behind what makes a great home theater tick, or just get some handson training so you can roll up your sleeves and finally tackle that project you've been kicking around forever. Fortunately, there are some great programs that let you explore the depths of your home theater addiction or even pursue your passion into a career as a designer or installer. Here's a guide to some of the betterknown tech-related educational courses.
Getting Up to Speed
Two entities, the Electronic Systems Professional Alliance (ESPA) and Bedrock Learning, offer excellent starting points if you're thinking about a career in home theater design and installation or just want to bone up on the latest technologies and install practices. Both were born of the need to cultivate a workforce of qualified professionals and deliver industry-accredited programs that focus on the fundamentals.
ESPA
(ESPA.org)
The alliance was formed in 2006 by three powerhouse organizations—the Consumer Electronics Association (CEA), the Custom Electronic Design & Installation Association (CEDIA), and the National Systems Contractors Association (NSCA)—to provide entrylevel training, testing, and certification for electronic systems technicians (ESTs), also commonly known as installers or integrators. ESPA certification provides the foundation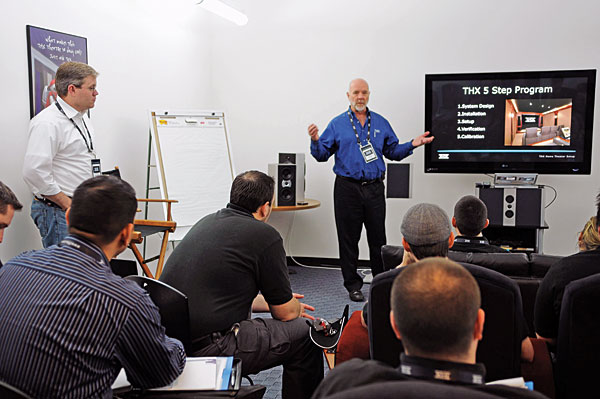 for a variety of technology areas, including residential and commercial infrastructure, home theater and distributed A/V, computer networking and telecom, security and access control, home automation, and the fastgrowing field of alternative energy and energy management. "As these systems become increasingly complex, they are more difficult to install correctly and safely," explains Kerry Moyer, ESPA chairman and senior director for CEA member relations, noting that the EST occupation is recognized by the U.S. Department of Labor as one of the fastest-growing professions in North America.
Jeff Gardner, CEDIA's director of technical training, adds: "The EST program is for somebody who is thinking about changing careers and wants to come into the industry and start at the bottom, or a hobbyist who knows a lot about audiophile stuff and TV specs but wants to learn the fundamentals—things like codes and standards, job-site safety, cables and connectors, that sort of thing."
Start by taking the online Pre-Test Assessment ($29) to determine your level of knowledge in key areas. From there, you can select among five self-paced study modules designed to prepare you for the ESPA Certified-EST Exam: Electrical Basics, Tools, Construction Methods and Materials, Wiring and Installation Practices, and Standards Codes and Safety Practices ($49 each or $189 for all five). Hard-copy workbooks are available ($29 per module or $99 for all five), and it costs $199 to take the exam, which is administered at proctored locations around the country. For those who prefer a classroom setting, a full-day ESPA training course is available at trade shows such as CEDIA Expo and through a small but growing list of colleges and technical schools around the country; contact ESPA for a complete list and pricing. Good news for military veterans: The program is approved for GI Bill benefits. ESPA also offers a scholarship program that individuals can apply for.
Bedrock Learning
(bedrocklearning.com)
Founded in 2004 by Helen Heneveld, a 25year industry vet with expertise in training and curriculum development, Bedrock offers nine online courses that Heneveld describes as easy to understand, engaging, and affordable. The broad offerings range from basics such as Introduction to the Digital Home and Fundamentals of Structured Wiring, to more focused programs for disciplines including home theater design and installation, distributed audio, control systems, networking, lighting, security, and project management. Each course is 6 or 8 hours long, and most cost $149 (or $199 with a Course Guide). Most Course Guides can also be purchased separately for $69. Go to Bedrock's home page and click on the topic box of interest to get a course description and detailed outline.
As a first step, Heneveld recommends taking Introduction to the Digital Home and from there picking a discipline, such as home theater. The 8-hour Home Theater Design and Installation course, for example, focuses on the fundamentals of signals, displays, audio reproduction, and home theater processing—including calibration basics—and covers the steps to follow when designing and planning a home theater system. "All of our courses are divided into 10 or 15 sections, each from 10 to 30 minutes, and at the end of each section, there's a quiz that you have to pass to move on," Heneveld explains. At the end of each course, there's a 40-question test that you have to pass at 80 percent or better in order to get your certificate of completion. You get multiple attempts and study assistance if you're struggling. "The mission is to make it so that everybody can succeed," she says.
Home Theater Boot Camp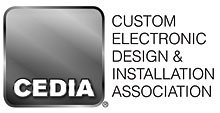 CEDIA
(cedia.net)
If you've mastered some of the basics of home theater or are looking for an even richer educational experience, you might want to dig a little deeper and check out some of the more advanced or intense training options. Indianapolis-based CEDIA is a great place to start your search. The trade group was founded during the dark ages of home theater (1989) to advance the professional design and installation of home audio/video systems. Today, CEDIA is international in scope and represents install companies and manufacturers specializing in residential electronics systems ranging from home entertainment to automation to wholehouse lighting, security, HVAC control, and more.
CEDIA University is the crown jewel of home electronics education, offering 200 courses in five industry-specific colleges: Electronic Systems Technician (EST), Electronic Systems Designer (ESD), Electronic Systems Customer Relations (ESCR), Electronic Systems Business (ESB), and Electronic Systems Project Management (ESPM). As an example, the EST curriculum offers entry-level ESPA-Certified EST courses plus advanced training for EST II and EST III certifications. A detailed overview of each curriculum is available on the Website, but we suggest perusing CEDIA's popular Boot Camp workshops first.
"Our three-day Boot Camp sessions will be the most interesting options for people outside the industry—or barely in the industry—who want to learn more about home theater," says CEDIA's Gardner. "A lot of people take both classes, so we hold them back to back at our training facility in Indianapolis." CEDIA's resources there include a lab with hands-on practice booths (half open studs, half sheetrocked) for learning wiring techniques, as well as four identical, fully equipped theater rooms.