Review: Dune HD Smart B1 Blu-ray and Network Media Player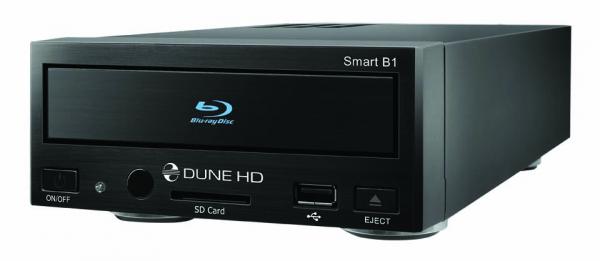 First impressions can be a dangerous thing, especially for an A/V equipment reviewer. Allowing yourself to become predisposed to thinking that one company's component will be this and another company's component will be that can cloud a review and allow for the praising of some unworthy products while subjecting others to unfair criticism.
I had never heard of Dune HD prior to receiving its Smart B1 Blu-ray and universal high-definition media player. A visit to its Web site showed that many of the reviews and awards it received had come from Europe, and specifically from Russia. After a little digging, I found that Dune HD is looking to make headway into the U.S. market, targeting the CEDIA channel, and that its products have become a popular solution for use with Control4 automation systems. There's even a Dune HD forum on the Web with more than 6,000 user posts!
And to be honest, my fi rst impression of the Smart B1 was not favorable. I thought it was just a moderately pricey, mostly featureless Blu-ray player. Turns out I didn't fully get the product — its being a Blu-ray player is only a small part of the story. Now that I do get what Dune HD is trying to accomplish, my mind has definitely changed.
But if it's not "just" a Blu-ray player, what exactly is the Smart B1?
Setup
Imagine what an external Blu-ray drive for your computer would look like, and you'll have a fair idea of the Smart B1. With its shallow depth and a width that's roughly one-third that of a traditional A/V component, it is by far the smallest standalone BD player I've seen. It features an external "brick-type" power supply and comes with an HDMI cable.
The front of the unit includes both an SD card slot and a USB port — convenient for jacking in flash media or a digital camera. The back of the unit has two more USB slots along with eSATA and LAN connections. A/V jacks include HDMI, component, and composite video, and optical digital and analog stereo audio outputs.
Because the Smart B1 is heavily geared toward streaming, I was a little surprised that it didn't have built-in Wi-Fi. However, you can plug a Wi-Fi adapter into one of its USB ports.
I connected the Smart B1 both at home and at my custom installation showroom, where I have access to a Control4 automation system. (Extra Vegetables, a developer of advanced IP control drivers for Control4, supplied me with a 30-day license of its Dune HD control solution.) I connected both systems via HDMI and also attached a 2-terabyte Western Digital hard drive loaded with music and photos via USB.
The player supports a variety of video resolutions, including 1080p/60 and 1080p/24. It's also worth noting that it can either internally decode high-rez audio to PCM or output them in bitstream format. You can also make tweaks to the GUI's look and set up one-touch access to favorite activities.