Tapeless Video Recorders Page 3
Panasonic DMR-E100The DMR-E100 is a genuinely high-end component in terms of both features and price. It has the two hottest features today: DVD recording and hard-disk recording, sporting a DVD-R/RAM drive and a 120-GB hard disk. The DVD drive accepts both disc cartridges and naked discs, and it can even play DVD-Audio discs, though only in stereo. (If you want multichannel sound, you can use the digital audio output and decode the disc's Dolby Digital soundtrack in your receiver or surround processor.)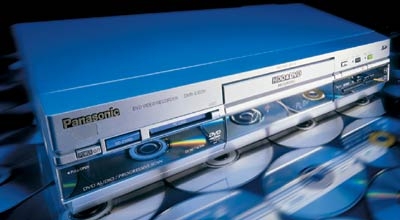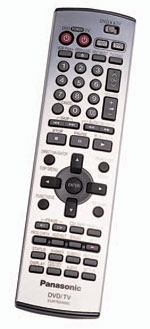 The front panel has slots for SD flash-memory cards and a PC Card slot that, with the appropriate adapter, also accepts CompactFlash cards, Memory Sticks, Microdrives, and Mobile Hard Disks. With these media you can save, edit, and display JPEG or TIFF still pictures and play SD Video programs encoded in MPEG-4, the low-resolution format used by devices like Panasonic's tiny e-wear camcorders. A DV (FireWire) port lets you plug in your camcorder - a key feature because it provides fast video transfer. There's also a set of A/V inputs on the front panel. The remote control is comprehensive, attractively styled, and easy to use.
When first plugged in, the recorder searches for on-air or cable channels and sets its clock. It recognizes VCR Plus+ codes, found in many printed TV listings, which let you schedule a timer recording by entering the code for the desired show - the recorder does the rest. You can enter up to 32 programs, up to a month in advance (a daily or weekly series is counted as one program). For recording on the fly, you can select an approximate recording duration by simply punching the record button repeatedly. Each punch nets you another 30 minutes.
The DMR-E100 lets you devise extensive playlists (up to 99 lists and 999 scenes) and edit them any way you like. Similarly, you can manipulate and edit hard-disk or DVD recordings - for example, you can divide a program, shorten a segment, erase a program, erase-protect a recording, and change thumbnail images used to signal a program or scene. You can also create and edit slide shows of photos, and copy them between flash memory and the hard drive or a DVD-RAM.
PANASONIC DMR-E100
DIMENSIONS (WxHxD) 17 x 3 1/8 x 11 3/4 inches WEIGHT 12 1/8 pounds PRICE $1,200 MANFACTURER Panasonic Consumer Electronics, Dept. S&V, One Panasonic Way, Secaucus, NJ 07094; www.panasonic.com; 800-211-7262
This full-featured recorder doesn't skimp on DVD playback features. It does almost anything you can imagine in terms of operating perks like slo-mo and so on. But perhaps most important is its long list of video tweaks. You can select from four factory picture presets or adjust a variety of parameters and save them as a preset. You can also choose how the DVD signal is converted to progressive-scan, with a normal setting for film content, a film setting that can also convert video material at 30 fps, and a setting strictly for video. If your picture doesn't look good, don't blame this player.
When you're ready to record, you have to decide whether you want to use a DVD or the hard drive. Next you select an input, such as a TV channel, and a recording mode (quality level). The choices are XP, SP, LP, and EP modes for both drives. Maximum recording times depend on media capacity and bit rate. The 120-GB hard drive can hold about 27, 55, 110, and 165 hours, respectively, in the four modes. A single-sided (4.7-GB) DVD-RAM or DVD-R disc holds about 1, 2, 4, or 6 hours, while a double-sided (9.4-GB) DVD-RAM holds twice that. After choosing a mode, hit the record button.
You can record up to 250 programs on the hard drive and up to 99 programs on a DVD. The deck automatically selects the recording mode that will fit programs into the available space with the best possible quality. It also allows "chasing play," in which you watch a program from the beginning while it's still being recorded on either the hard disk or a DVD-RAM. Or you can watch a previously recorded program while recording something else.
You can also watch video from one drive while recording to the other. But you can't play back from both the hard drive and a DVD simultaneously. After you've recorded a library of programs on the hard drive, the deck displays a menu that identifies them for quick access. My favorite feature: the CM SKIP button, which lets you jump over 1 minute of commercials.
DVD playback quality was excellent. In one scene from Ghost Ship where the ship's ballroom comes back to life, a glitter ball casts specks of colored light across the shiny parquet floor. Guests politely applaud a terrified crew member, who stands in the middle as the sultry singer seductively approaches him, red gown clinging to her swaying hips. All of that fine detail and rich color were accurately conveyed. And, yes, very bad things were about to happen.
As with the other recorders, the picture quality depended on the recording mode I selected. I recorded a number of programs from cable and off the air. Picture quality was the same on both DVD-RAM and the hard disk, again suggesting that the limiting factor was upstream data compression.
The highest-quality mode, XP, provided a picture that was almost indistinguishable from the source. Fine details were clearly visible, and colors were rich. This is the mode to use to transfer your most valuable DV camcorder tapes to disc, especially if your cam has a FireWire output. The SP mode was very good, but there was some breakup in fine-line details, and images didn't have cinematic depth. This mode would be fine for off-air recording. The LP mode was good, but horizontal resolution started to suffer. Some details were lost, diagonal edges were noticeably jagged, and there was fringing around moving objects. The EP mode was watchable but was reminiscent of old - very old - VHS tapes. Details such as thin horizontal lines were absent, and the picture had a pixelated, granular look. Still, for casual viewing of long programs, even EP is usable.
I also transferred some home videos from VHS to DVD-R. By making some test recordings, I was able to select a quality level that captured everything on the tape while maximizing playing time. Generally, the SP mode worked best for this.
The Panasonic DMR-E100H is an impressive component. Its ability to record and play back from two media, one removable and one fixed, perform editing and navigation on their content, and provide topnotch image quality makes it a videophile's dream machine. VCR Plus+, PC and SD card slots, and a FireWire port make it even more flexible. I only wish it fully played DVD-Audio discs. Still, if you're looking for a technological tour de force, this is it.