SXSW: The Night Before
We said our hellos (on the night before):
That would be writer Billy Altman, photographer Ebet Roberts, and I (your humble Entertainment Editor, Ken Richardson) saying our annual hellos on Tuesday night - the night before the South by Southwest Music & Media Conference & Festival begins in Austin, Texas.
Yes, friends, here I am again for my umpteenth year in a row at the world's largest and most important music shebang. For 4 days and nights, from Wednesday through Saturday, it's music, music, music, and even more music.
But on Tuesday, the night before, I always host a dinner for my S&V colleagues, to catch a breather before the craziness begins and to compare notes on what we're seeing and hearing. Altman (who's actually covering SXSW for the L.A. Daily News) and Roberts (who's shooting the fest for S&V as well as for the likes of Q magazine) are both hoping to catch one of the bigger shows tonight: R.E.M. at Stubb's. But I won't be there. Why not? Read on . . .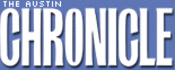 First, before the lawsuits arrive, let me fully acknowledge that I ripped off that opening "Plug In to SXSW" graphic from the local alternative weekly, The Austin Chronicle. Alas, SXSW itself doesn't make its official graphics available to the press, it seems. And no, I didn't have time before leaving for Texas to have our own logo created. So, for this one time, and this one time only, I'm "borrowing" that nice logo from the Chronicle. Full disclosure! Don't hurt me!
In return, I'm more than happy to direct you to the Chronicle's already-excellent SXSW coverage online (click here). With a full staff swarming over the festival, it of course does a much more intensive job than yours truly, alone, could hope to manage. So by all means, check it out - after you've read my daily blog, of course.
Getting back to that . . .
No, I won't be seeing R.E.M. tonight. To explain why, here are Ken Richardson's Personal Rules for Doing SXSW: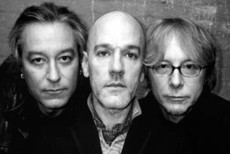 Rule No. 1: Do Not See R.E.M. or Any Other Huge, Already-Superstar Bands.
Sure, it would be interesting to hear R.E.M. tonight, now that they're supposedly playing actual rock & roll again. But basically, you know R.E.M. The whole world knows R.E.M. And to me, the main point of attending SXSW is not to re-see and re-hear stuff you've already seen and heard many times before. The point is to find new stuff by new bands.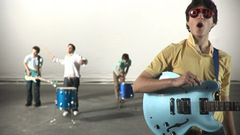 Rule No. 2: It's Okay to See So-Called Buzz Bands That You've Never Seen Before.
The big case in point for 2008: Vampire Weekend (shown). Did you see these guys on Saturday Night Live last week? Most impressive, sorta like Talking Heads playing Paul Simon's Graceland. But I've never seen them live. And since they're the buzz band of the year so far (on the cover of the current Spin, no less), I owe it to myself (and to you, dear reader) to check 'em out and see if they're everything they're hyped up to be.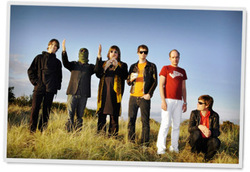 Rule No. 3: It's Okay to See Known Entities If They Rarely Play Stateside.
To wit: Paul Kelly (from Australia) and The Soundtrack of Our Lives (shown, from Sweden). We at S&V have been supporting these artists for quite some time - in fact, chances are good that you first heard of both of them through us. But Paul (big in Australia, still unknown in the U.S.) rarely gets over here, so any chance to see him is a treat. (Some people call him the Aussie Springsteen, Hiatt, or Costello. I just call him an amazingly consistent songwriter.) And those neo-psychedelic/psychotic rockers in TSOOL? Must see, especially since they're closing the festival late Saturday night.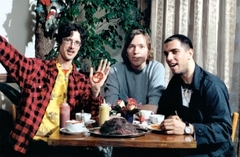 Rule No. 4: Most of Your SXSW Dance Card Must Be Filled with Unknown Bands.
That's the main reason why I come to this festival every year: to see and hear stuff I've never seen or heard before. There's nothing more wonderful than the shock (and the rock) of the new. How do I decide what to see, if these bands are sight unknown? Well, first - to give another deserved shout-out to The Austin Chronicle - I check out that paper's daily list of "Picks" and "Sleepers," and if something sounds interesting, I go. Also, I go to things purely by chance - having seen a flyer, heard a recommendation, received an e-mail from a publicist, or what have you.
Which brings me to the band you see here. Y'know how, when you arrive at an airport, you see those drivers holding up signs to alert the people they're supposed to pick up? Usually, the drivers are car-service chauffeurs, dressed in a suit. Well, when I arrived at the Austin airport yesterday, I saw a white-haired-grandma type, dressed in a tie-dye T-shirt, holding up a sign that said: Soiled Mattress & the Springs. Oooooo, how could I resist seeing a band with a name (not to mention a driver) like that?
According to its Web site, this NYC band "consists of cartoonist Matthew Thurber, who plays his sax with punchy and uplifting vigor; Aviram Cohen, who lends insistent garage-rock beats; and keyboardist Peter Schuette, whose sprightly hooks interlock with the other instruments, making for an intuitive leap into a world of upbeat imagination. Their music draws on the culmination of many different styles alongside a tasteful indulgence in humor and playfulness. Their sound is characterized by exuberance, a sense of fun, and a love of melody, holding above all the Power of the Note in high esteem. Hailing from the same amped scene as friends and contemporaries NO AGE and BARR, Soiled Mattress & the Springs similarly tread the thin line between art and music with optimistic aplomb, at once at home in the Crazy World of Arthur Brown as much as the left-field pastures of Henry Cow."
Golly, that might be too conceivably good to resist. I'll try to see them tomorrow at 9:20 p.m. at the Habana Annex Backyard.
But meanwhile, it's already now 3:30 p.m. Austin time, and I still haven't seen a single band - even though I can hear the strains of day-party bands from outside the window of my hotel room (which, by the way, is on the 13th floor - in the state that gave us Roky Erickson and the 13th Floor Elevators, and in the town where Roky still lives and occasionally plays, including this year at SXSW - spooky!). So, enough with the bloggin' for now: I'm outta here! But be sure to return to Bitstream for my daily reports on what happened . . . the night before.
-Ken Richardson
LATEST VIDEO