SXSW, Day 4: Saturday, 3/15
Welcome to International Night! No, that's not an official SXSW designation for the last night of the festival. But even though I've already taken you to places as far flung as Australia and the Faroe Islands, tonight I'll take you to Brazil, Norway, Mexico, Canada, Sweden, and even Brooklyn and Washington, D.C. - all in one night! So, fasten your seat belt and click below as your humble tour guide, Ken Richardson, takes you spanning the globe in search of rock & roll & what have you, wherever we may find it.
Actually, our first stop is supposed to be Amsterdam - represented by a band called Hospital Bombers, described in an Austin Chronicle "Sleeper" recommendation as weaving "quirky, detailed narratives through garage riffs, sharp keys, and supple strings, bracing the male/female vocal dynamic." Hmmm, sounds interesting. But I never make it to the early (for SXSW) 7 p.m. showcase. Your humble tour guide is still in his hotel room. What am I doing there? To paraphrase Blue Oyster Cult: I'm blogging, I'm blogging, I'm blogging for you. No rest for the soon-to-be-weary!
8 p.m.
Jaymay
(Brooklyn)
jaymaymusic.com
More delays: It's 8 o'clock on the dot, and I'm still in line outside. And this is the line for which club? Maggie Mae's? Maggie Mae's Rooftop? Or Maggie Mae's Gibson Room? Nobody seems to know. In fact, I'm shuttled around three times before I actually get into the correct line and the correct club (Maggie Mae's, period). By the time most of us enter, singer/songwriter Jaymay is already beginning her first number - and by the end of her set, I'm wondering if she's preferring that she herself never got into the club.
Things are fine for her first few solo-acoustic numbers. Her melodies seem to float on air. No, wait, it's more like they're skipping on water, the way sunlight dances over ripples. In any case: elemental, to be sure. And if the words were coming from a guy, he might be called verbose, or a Dylanesque wannabe. But coming from Jaymay, in her girlish voice and skipping tunes, everything seems to flow with ease. I'm feeling pretty good about this already-much-discussed artist.
But then a guitarist and a drummer start playing, and I'm feeling pretty bad. Dunno if these are her regular guys, but they certainly don't sound like they know the material tonight. The do-nothing guitarist barely plays, and the drummer just lays down a maddeningly repetitive foursquare beat. Dreadful, and it weighs Jaymay down. Way down. At the end, saddled also with a few technical difficulties, she looks depressed (and not just because of her sometimes sad lyrics). I haven't heard her brand-new album yet (Autumn Fallin', just released Tuesday on Blue Note), but Jaymay herself is definitely an artist to watch.
9 p.m.
Telerama
(Fortaleza, Brazil)
teleramania.com.br
Says here in a Chronicle tip: "Telerama describes itself as 'roots nerd rock, or the world's next pop delight.' Perhaps it's not an either/or question, as these indie rockers serve up pop ballads with a lovely female vocal."
"Lovely female vocal," I grant you. At least I grant it for the first minute or so, as the band begins with a nice samba. But then, in the same way that those two accompanists ruined Jaymay, Telerama suddenly changes gear midsong into rock that is neither "roots" nor "nerd"; it's just low-rent garage, and it's bad. And it also forces the singer to take her lovely voice and shout it into the upper, louder registers, which she can't handle.
If I want to hear lousy garage rock, I don't have to figuratively go all the way to Brazil to hear it - and Telerama doesn't have to come all the way to Texas to play it. Things don't get any better in the next song, so I leave. After all, to quote a record-company sticker I find later in the night: Life is too short to listen to shitty music.
9:15 p.m.
Hanne Hukkelberg
(Jar, Norway)
http://sonicbids.com/epk/epk.asp?epk_id=131328
Now, this is more like it. I've never heard of this artist - so, once again, I am relying on a tip from the Chronicle. According to the paper, she moved to Berlin for 6 months to record her most recent album, 2007's Rykestrasse 68 (just released domestically), and the change in locale added an "underlying darkness" to her "avant-jazz-orchestrated idiosyncratic pop." Check and check!
With Hanne on occasional keyboards - and with backing from guitar, bass, drums, and another lass on everything from flute to euphonium - this music is utterly spellbinding. One song ends in a huge, abstract crescendo. Another song, called "The North Wind," builds in swirling, arrhythmic gusts. Through it all, Hanne's voice isn't either sweet or soulful; it's admirably down-to-earth, a perfect match for the music. And at the end of the last song, when her vocals come together with the band's angular riffs and the trash-can percussion (and I do mean trash can, as she hits a small metal lid), I literally get shivers. (The only other time that happens for me at SXSW is during Paul Kelly's set on the first night.) Hanne is a real find, so by all means, go find her.
10 p.m.
Hello Seahorse!
. . . well, I'm supposed to see Hello Seahorse!, an electropop quartet from Mexico City. But instead, on comes a bad power trio from the same town, and I never catch their name 'cause I'm outta here. Like the sticker says, life is too short.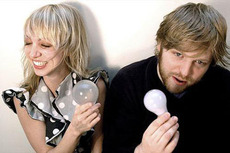 10:10 p.m.
Georgie James
(Washington, D.C.)
georgiejames.com
Not a person. Rather, a duo: acoustic guitarist John Davis and keyboardist Laura Burhenn. Pleasant-enough folk/pop stuff, but that's as far as it goes - especially in the raucous Dirty Dog Bar, where they're having trouble being heard.
Seems like a good, politically balanced idea to follow a band from Washington with a band from . . . Tehran!
10:30 p.m.
TarantisT
. . . well, I'm supposed to see TarantisT, an Iranian quartet. But it seems that they never made it to SXSW. Visa problems, possibly? I wouldn't be surprised.
11 p.m.
Elliott Brood
(Toronto)
http://sonicbids.com/epk/epk.asp?epk_id=65154
Not a person. Rather, a trio: guitar/vocals, guitar/bass pedals, and drums. See that ominous sky in the photo? That's what they attempt to conjure at the start, with a noise machine and assorted added racket to mimic, as they say, "a thunderstorm." Just sounds overwrought to me, as does the actual music, which relies too much on extraneous sonic assaults (mostly from the overactive second guitarist) to get across its supposed importance. This is "death country," after all, according to one Canadian fanzine. But after 4 nights of bands, and having to hear these overbaked 2 chords, I'm starting to feel like death myself.
It seems ages since I saw Hanne Hukkelberg (only 2 hours ago), and there may be some good material from this Brood, but I head for the door. Which is where I find that "Life is too short" sticker, by the way, courtesy of Six Shooter Records. I take their own advice and flee.
Remember when, in A Charlie Brown Christmas, our hero pleads:
"Isn't there anyone who knows what Christmas is all about?"
Well, after slogging through so much international BLAH tonight (with only a few bright breaks), I feel like pleading:
"Isn't there anyone in this whole wide world who knows what rock & roll is all about?"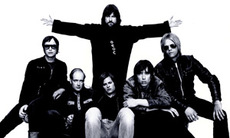 12 a.m.
The Soundtrack
of Our Lives
(Gothenburg, Sweden)
tsool.net
"Sure, Ken Richardson, we can tell you what rock & roll is all about. . . . Lights, please? . . . And there were (from Sweden) six players, abiding in the club, keeping watch over their rock by night."
And bam! The final night of SXSW comes to a glorious end, thanks to TSOOL. It's likely you've read about them in S&V before; in fact, their 2002 U.S. release, Behind the Music, was given one of our Entertainment Awards. Hard to believe that it has already been 3 years since their last U.S. release, Origin, Vol. 1. But the good news is that - in addition to spirited versions of old faves like "Independent Luxury," "Broken Imaginary Time," "Bigtime," and "Galaxy Gramophone" - the band stocks its SXSW gig with material from their (supposedly imminent) new album. And on first listen, it all follows marvelously in the TSOOL vein of Psychedelia meets The Who.
Ultimately, the small P.A. - the same system (in the same club) that was fine for Paul Kelly at the end of the first night - can barely contain the band's enthusiasm. Same goes for the tiny stage, although the six guys seem to draw even more energy from being on top of each other.
There's an unwritten law that nobody gets an encore at SXSW (gotta be fair to everyone, and gotta keep the bands moving off and on the stage). But this is the last gig in this club for the night, and the audience won't leave. Encore: "Sister Surround."
"That's what rock & roll is all about, Ken Richardson."
Thanks for reminding me, guys. And on that note, your humble tour guide is off to sleep, dreaming of next year's SXSW.
LATEST VIDEO