SXSW 2009, Day 1: Bob Ludwig, the Grates, more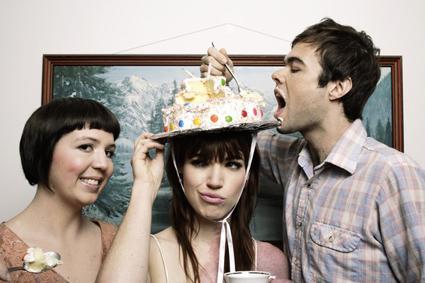 My feet may be aching already, but my fingers are eager to give you the scoop on the first long day and night at the South by Southwest Music & Media Conference. Ken Richardson here, your faithful Entertainment Editor, down in Austin for my 12th straight year of covering the world's largest music festival. And even though my company laptop and my hotel Wi-Fi connection seem to be fighting me every step of the way, here we go. (Shown above: The Grates.)
Wednesday began with a chat and a panel of special interest to S&V readers. First, legendary mastering engineer Bob Ludwig "interviewed" getting-to-be-legendary mixer/producer Bob Clearmountain. Among other things, they discussed BC's work with Chic, Bruce Springsteen (The River), and the Rolling Stones (from "Miss You" to the Shine a Light movie). Some people think BC has an identifiable sound — but surprisingly, he said, "I hope I don't have a sound."
Later that afternoon, Ludwig moderated a panel (actually, he alone was the panel) on "The Loudness Wars." You may recall that, a while back at SXSW, he led a panel that was bluntly called "Why Does Today's Music Sound Like Shit?" (see story). This new panel was an extension of that one, complete with audio examples. And graphs! (Er, waveforms.) Ludwig fascinated the audience by going through numerous versions of Beck's "Gamma Ray," but the coolest comparison was Metallica's Death Magnetic vs. Guns N' Roses' Chinese Democracy, with the latter sounding far more accurate. Attaboy, Axl!
I'll have more to say about those two Ludwig talks in a future print edition of S&V. But now, without further ado, on to the live music festival:
BUZZ BANDS GO BUST

The Pains of Being Pure at Heart
(New York, NY; sonicbids.com/the painsofbeingpureatheart)
Vivian Girls
(Brooklyn, NY; viviangirls.net)
     I've said it once, I'll say it again: Just because a band gets a slot at SXSW doesn't automatically mean that the band is, uh, wonderful. At the day party sponsored by Force Field PR and Terrorbird Media, I was able to catch these two bands back-to-back. Shudder. The Pains were nothing but the most basic three-chord rock. And the Girls came across as amateurish, hoping to be Sleater-Kinney but venturing dangerously close to the tuneless, off-key territory of the Shaggs (and not in a good guilty-pleasure way).
NO THANKS!

Come On Gang!
(Edinburgh, Scotland; myspace.com/comeongangmusic)
Sloth Scamper
(Taipei, Taiwan; myspace.com/slothscamper)
     Here's the trouble with Come On Gang! (1) The female vocalist's alto is way too Baez-y for this hyper rock & roll. (2) Said vocalist is also the drummer, and she sings such a torrent of words that all she can do with her right hand is quicktimekeeping tat-tat-tat-tat-tat. Annoying. And here's the trouble with Sloth Scamper: (1) They rely on turgid, dissonant guitar sludge. (2) There is no No. 2, because No. 1 is bad enough.
BETTER LUCK NEXT TIME

Ashu
(Mumbai, India; sonicbids.com/ashu)
     Yes, the same city that "brought us" Slumdog Millionaire. Would this band sound as intriguing as the movie's soundtrack? Alas, we'll never know, because only three members of the band made it to SXSW. Both the bassist and the drummer tonight were hired hands, and a bit heavy-handed to boot. What's more (or less), the music was rather melting-Western-pot to begin with, and the sound mix was too loud and abrasive.
SOLID SURPRISES

La Habitacion Roja
(Valencia, Spain; lahabitacionroja.com)
Shout Out Out Out Out
(Edmonton, Alberta; myspace.com/shoutoutoutoutout)
     Want further proof that Western-style rock goes 'round the world? Check out the Valencia quartet, which could be called La Hold Steady. But they hold their own, with solid guitar and some especially supple bass. Earlier, I caught Shout Out Out Out Out at the Canadian Blast day party, and what a fine blast indeed. Two pile-driving drummers back four keyboardists who turn into . . . four bassists! It's a disservice to think of these guys as a mere techno band; their groove is too royal for that, and their hooks are too nicely insinuating. Inspirational song title: "In the End, It's Your Friends Who Will F--k You Over."

TONIGHT'S BEST IN FEST
The Week That Was
(Sunderland, England; myspace.com/theweekthatwas)
The Grates
(Brisbane, Australia; thegrates.com)
     My immense thanks to Austin Powell of The Austin Chronicle (not his own paper, but rather, the local equivalent to The Village Voice) for this "Pick," and I gladly quote: "The solo vehicle of Field Music's Peter Brewis came to fruition on 2008's self-titled debut, a compelling and conceptual song cycle tackling the fragmented nature of modern media. Like the Who's Tommy, the project has revealed the full scope of Brewis's grandiose pop ambitions." Or put it this way: Knowing that Field Music was like an early XTC, then The Week That Was sounds like a big concept album that XTC might have done between Drums & Wires and Black Sea. Which is to say, it sorta sounds like English Settlement if that album had kept XTC's early spike.
     Tonight, Brewis started the set on guitar, playing super staccato riffs and killer solos. Then he switched to keyboards to fill out the sound. Oh yes, the sound — quite possibly the best I've ever heard in a club at SXSW. Clear, sharp, balanced — my immense thanks to the sound man. And, of course, to Brewis, for keeping his excellent angular riffs while developing his rich songwriting. Every song was a grabber.
     And at last, the Grates are back. Three years ago at SXSW, I was quite simply bowled over by the sheer ebullience of drummer Alana Skyring, guitarist John Patterson, and singer Patience Hodgson. Now, having released their second album, Teeth Lost, Hearts Won, at home last year, they're back in Austin looking for a new U.S. deal. Well, if any record-company folks were at the show tonight, the band may have that deal already. In less than half an hour, the Grates took an interested audience and turned it into instant fans. Or, as Patience declared: "We're gonna make these 25 minutes really count!" And they did. They killed.
     Patience is now platinum blonde — not that she needed anything extra to rivet our attention. As always, she defined what it means to be a performer, bouncing across the stage from song to song. Alana and John were as pop-tough as ever, and newer bull's-eye tracks like "Aw Yeah" and "Burn Bridges" sounded truly awesome. I'll have more to say about the band in the print mag. For now, all I will add is that, last night, in the self-professed Live Music Capital of the World, the Grates were what live music is all about.
— Ken Richardson
LATEST VIDEO