SVS's Versatile Prime Elevation Speaker Now Available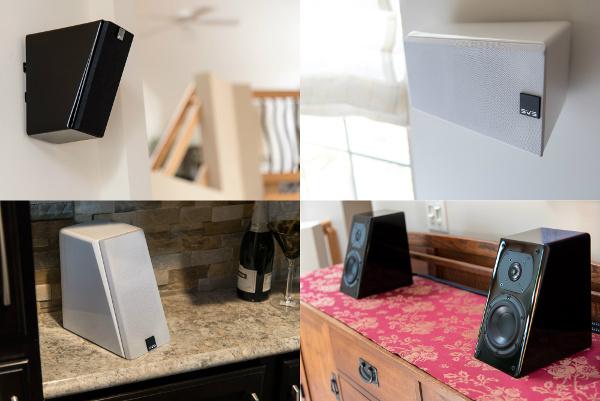 SVS announced today that the versatile Prime Elevation speaker it previewed at CES back in January is now available.
Designed for flexibility, the trapezoid-shaped speaker can be used as a height effects speaker for object based surround sound and also as a center, front, L-C-R, side surround or rear surround when ideal placement in a room isn't possible.
Designed for mounting on a stand or on the ceiling or wall, the speaker teams a 1-inch aluminum dome tweeter and 4.5-inch polypropylene woofer with SVS's SoundMatch crossover in a composite ABS enclosure featuring a precision-machined baffle with chamfers to reduce tweeter diffraction.
The Prime Elevation comes with a multi-angle wall bracket that enables it to be positioned with the drivers firing up or down, to the side, or to the rear. SVS says it is acoustically engineered to adapt to any surround sound setup, even in the most challenging rooms. Rated frequency response is 55 Hz-25 kHz ± 3dB.
Pricing is $200 each in black ash with a hand-painted satin baffle or $250 each in gloss white or gloss black.
SVS says the speaker can be used in the following ways:
As a down-firing height effects speaker, mounted high on a side wall

As an up- or down-firing front, LCR, or center-channel speaker, placed above or below the listening area, directed at the listener when placement at ear level isn't possible

As a side or rear-firing surround speaker, placed on a side or rear wall
In creating a height effects speaker for object based surround sound systems such as Dolby Atmos and DTS:X, SVS engineers believe speakers that bounce sound off the ceiling are not an optimal approach because "they require frequency response limiting and perfect room conditions to be effective."
From the SVS press release:
The SVS Prime Elevation is a direct radiating height effects speaker with the dynamics and refinement of a high end bookshelf speaker. Place it high on a wall near the ceiling and object based surround sound can be enjoyed at full fidelity in any room, without the compromises of ceiling bounce or in-ceiling speakers, for a more immersive and impactful audio experience.

Since there is no sideways or upside down with the SVS Prime Elevation, the speaker also adapts to oddly shaped rooms, high ceilings and less than perfect placement locations for all the other speakers in a home theater as well. The angled front baffle, refined acoustics, and proprietary mounting hardware enable clear, dynamic sound in room's where ideal placement of front, center, side or rear surround, and L-C-R speakers is not possible.
"The SVS Prime Elevation is a product of vision and happenstance that was born when our engineers sought to invent the most realistic and immersive sounding height effects speaker possible," said Gary Yacoubian, president of SVS. "When we decided to make it direct radiating, we thought, why not develop an incredibly versatile speaker that also delivers an awesome experience for the other home theater channels in rooms where perfect speaker placement isn't possible."
For more information, visit svsound.com.