S&V's Evolution Dovetails with the Evolution of A/V
In a recent letter, long-time reader David K. Johnson laments the changes that have impacted the content of
Sound & Vision
in the years following its merger with
Home Theater
magazine back in 2013. My response to David attributes these changes to a resurgence of stereo-only gear due to high-res audio streaming and the vinyl revival, along with an explosion of compact wireless audio products such as Wi-Fi and Bluetooth speakers, not to mention headphones of every type.
It makes sense to me that Sound & Vision should report on and review these categories in addition to home theater-specific ones like projectors, A/V receivers and processors, and multichannel speaker systems. After all, SoundandVision.com is complemented by the largest print magazine in the U.S. focused on providing comprehensive coverage of consumer audio and video.
Another factor to consider is how the home entertainment ecosystem has changed since Home Theater magazine's heyday. The newest generation of enthusiasts takes in media in different ways than earlier generations of audio/videophiles. They are focused on streaming and gaming and are as likely to listen and watch using tablets and headphones as with flat-panel TVs or projectors and traditional surround-sound speaker rigs.
At the same time, home media environments have evolved from closed-off home theater rooms to open floor plan spaces. And while getting optimal audio/video performance in those spaces presents more of a challenge than in dedicated home theaters, automated technologies such as "smart" lighting and shades — much of it more affordable than you'd expect — can be extremely helpful in improving video performance.
While Sound & Vision embraces tech evolution in all its many forms, we will continue our mission of covering traditional home theater-centric products and topics and educating readers about TVs, projectors, high dynamic range (HDR) video, immersive audio, and speaker/subwoofer setup.
A great example of this is projector expert Kris Deering's in-depth review of the latest generation of Stewart Filmscreen's StudioTek 130 screen material, a longstanding and well-regarded go-to in home theater projection. Another recent example is technical editor Thomas J. Norton's guide to subwoofer setup using everything from your own ears to sophisticated audio measurement software. This feature is timely in that it offers suggestions for getting best bass in the type of open floor plan space discussed above, as opposed to a more classic closed-off home theater room.
Is there a specific direction you feel Sound & Vision should take in its coverage of all things A/V? Turntable reviews? More headphones coverage? Less headphones? Extra disc reviews, or no disc reviews at all? Hit me up at editor@soundandvision.com and share your thoughts.
Where's the 4K Blu-ray of Parasite?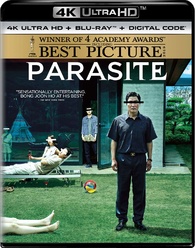 The South Korean dark comedy/thriller Parasite counted among my favorite movies of 2019 so I was glad to see it win well-deserved Academy Awards for Best Picture, International Feature, Director, and Original Screenplay. As the first instance of an international film getting a Best Picture nod, Parasite's top honor is groundbreaking and portends a future where truly innovative and interesting films — even ones with subtitles (gasp!) — get their due.
But I was left scratching my head when Universal Studios decided to release Parasite on regular Blu-ray in January. According to IMDB, Parasite was shot digitally at 6.5K resolution and received a 4K master for theatrical presentation along with a Dolby Atmos soundtrack mix, making it a prime candidate for release on 4K/Ultra HD Blu-ray. The good news is Universal has since announced that the 4K/Ultra HD release of Parasite is set for June 2. Criterion has also announced that Parasite would soon be added to its Collection, presumably with the deluxe treatment and bountiful extras the film so richly deserves.