Survey: Smart Home Adoption, Awareness On the Rise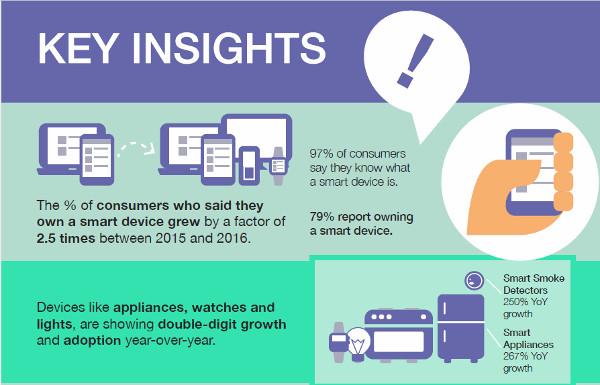 A growing number of consumers are planning to buy smart home devices in the future as they gain a clearer understanding of how these devices can benefit their lives, according to a consumer survey released today.
The "2016: Year of the Smart Device" survey, conducted by PlumChoice and the Z-Wave Alliance found that 52 percent of respondents plan to buy a smart device in the next two years and, of those who already own smart devices, 84 percent "may make another smart purchase in the next two years."
Nearly 80 percent of respondents reported owning a smart home device with smart TVs and media streaming devices, such as Roku, Apple TV, and Google Chromecast, leading the way at 39 and 30 percent ownership, respectively—up from 27 percent and 25 percent in 2015.
Among the survey's other findings:
• 97 percent of respondents said they know what a "smart device" is, up from 67 percent in 2015.
• The percentage of consumers who own a smart device grew 2.5 times between 2015 and 2016.
• Current owners gave "convenience" (73 percent) as the top reason for buying smart devices, followed by "simplifying life" (50 percent) and "security" (39 percent).
• The majority of respondents reported owning four to six smart home devices and 61 percent have interconnected some of those devices.
• Smart appliances and smart smoke detectors had the highest year-over-year growth at 267 percent and 250 percent, respectively.
• Installation service was cited as a top need by 68 percent of respondents.
Smart device ownership broken down by age revealed that ownership is highest among those aged 18-34 (90-91 percent), followed those in the 35-44 age group (83 percent), 45-54 age group (66 percent), and 55-64 age group (60 percent).
"Last year was a pivotal year for the smart home industry, with the number of people who own a smart device increasing by a staggering 259 percent," said Noelani McGadden, vice president of IoT at PlumChoice. "As smart home device adoption continues to grow, brands must cater to consumers who are expecting support services as part of their purchase, and at the very least provide installation support."
Mitchell Klein, executive director of the Z-Wave Alliance, added: "It's exciting to finally see consumers understanding the value of connecting multiple devices together and to see categories like smart security, thermostats and safety grow year over year."
For more information, visit plumchoice.com.

SPONSORED VIDEO