Surround & Visionaries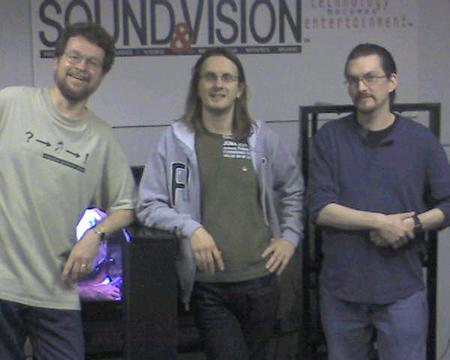 Porcupine Tree mastermind Steven Wilson (holding down the middle position and leaning on the center channel in the accompanying photo) dropped by the S&V offices yesterday for a 2-hour surround-sound listening session with yours truly (at right) and entertainment editor Ken Richardson (at left). Wilson sat in our sound room's sweet spot while I perched in a chair to his left and PTree manager extraordinaire Andy Leff sat to his right. Richardson kept to his feet and acted as the 5.1 mix-master of ceremonies, swapping out a number of benchmark surround mixes for Wilson to listen to and comment upon for a story that will appear in the not-so-distant future. Wilson, one of the most accomplished surround-sound creators/mixers/producers on the scene today, is a charter anointee in a new Visionaries series we'll be introducing in S&V in 2008.
Immersive, intuitive, and organic mixes were deemed the best of what we heard, while a few other choice 5.1 offerings appeared relatively listless and flat in comparison. And one of the things we cued up for Wilson - who vigorously bobbed his head the whole time it spun - was deemed by the man himself to be "f---ing brilliant."
More details to come in the weeks and months ahead, fellow surround-hounds. -Mike Mettler
LATEST VIDEO
WHERE TECHNOLOGY BECOMES ENTERTAINMENT