Streaming NetFlix Over Xbox 360
It's not an officially sanctioned marriage, but more like common law. With a little effort, you can stream NetFlix movies over your Xbox 360 video game console. It isn't even really a hack - just a clever application of a Vista Media Center plug-in. You'll need: an Xbox 360, Windows Vista PC, NetFlix account, and a free Windows Media Center plug-in called vmcNetflix.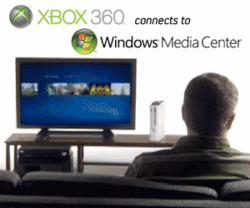 The set-up process is more involved than I can publish here, but Adam Pash at Lifehacker.com offers exquisitely detailed instructions on how to get this running.
Once you're up, you can: Stream "Watch Now" movies to the Media Center player; download "Watch Now"movies to a "Watch Later" section; browse DVDs; search for movies by keyword, and add, remove, and move movies in your queue; and generally get a full, nicely integrated NetFlix experience that's probably better than the one from Roku's $99 NetFlix Player box. Even the software interface is efficient and as easy to use as a native Media Center application. Moreover, since this is really just Media Center software, you probably don't even need an Xbox; it should work on any v2 Media Center Extender.
Interestingly,NetFlix has openly stated their desire to partner with hardware platforms to gain wider distribution. This "hack" is happened before an anticipated deal between Microsoft and NetFlix. Rumor has it that this fall, Microsoft will announce a way to deliver the NetFlix Watch Now service using the Xbox. If that is via the Xbox Blade interface, it will certainly work just fine, but this "official" method might not be as slick as this "hack" Media Center approach.
If you don't have all the pieces to get this going, don't despair. You can kill lots of time on hulu.com, and for a low-tech solution, there's always Redbox. -Ken C. Pohlmann
LATEST VIDEO