Stones. Scorsese. "Shine a Light." Smash!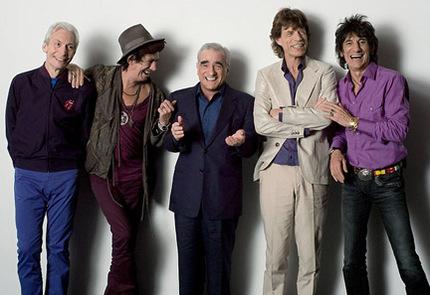 Too old to rock & roll? Not the Rolling Stones, as they prove in Martin Scorsese's killer concert documentary Shine a Light, which opens today.
The subject of age seems to be on most other critics' minds, but I honestly wasn't struck by the Stones' advanced years until "As Tears Go By" - six songs in - when Mick Jagger's face strains to hit certain notes. His voice, meanwhile, hits nearly all of them.
Indeed, Jagger is in amazingly fine vocal form throughout the film, which was shot at New York City's Beacon Theatre on October 29 and November 1, 2006. And it's his voice, and of course the band, that will keep you thinking young, too - if not forever, at least for the 2 hours of Shine a Light.
But first, a little comedy . . .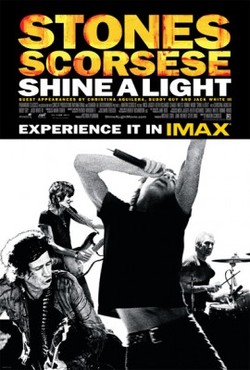 Yes, there are some wonderful laughs to be had as Scorsese opens the film with grainy black-and-white footage of preparations for the shows. The set list, the rehearsals, the set list, the meet-and-greets, the set list, the staging . . . and what about that set list?! "Can we kinda know, if possible, what they're gonna play?," poor Scorsese pleads. "It doesn't have to be in order." The director pops in and out of this footage, in his current lovable, befuddled persona. But when the Stones launch into "Jumpin' Jack Flash," the screen goes full-color, and it's time to get down to the so-called business of rock & roll.
No bloated business here, as the Stones play with verve, and Scorsese - using 18 cameras - captures it all. Unlike The Last Waltz, this film is fiery and frenetic. After all, this isn't the Band, it's the Stones, and Scorsese needs all 18 of those cameras just to keep up with the tireless Jagger. Leaning heavily on close-ups and tight medium-shots, Scorsese puts you right on the stage, in the middle of the controlled chaos. As does Bob Clearmountain, whose sound mix piles on the guitars.
There are, naturally, some misses in the Stones' salvo. "Shattered" is ragged, and except for a typically tart solo by Ron Wood, "Start Me Up" tends to be a dull roar. Meanwhile, the guest appearances are a mixed bag. Jack White sings and plays gamely but meekly on "Loving Cup." And Christina Aguilera (age 27) sounds terribly thin next to Jagger (age 64) on "Live with Me"; she seems to be here only because Mick still believes that, as he once said, it's nice to have a chick occasionally.
On the other hand, Buddy Guy helps set "Champagne & Reefer" a-smolderin'. And during this Muddy Waters cover, there's a long moment when Scorsese pauses to linger on Buddy as he looks earnestly at Keith Richards. Because the film overall is so jumpin'-cut-quick by Scorsese standards, this shot is all the more effective. And there are other riveting examples of this technique, such as Jagger and Richards sharing a mike and embracing at the end of "Far Away Eyes" and, at the very end of the show, Keith kneeling and bonding with his guitar.
Both of those shots give shivers - as do, musically, the first big chorus crash of "Sympathy for the Devil" and Richards's excellent performance of The Best Keith Song Ever, "You Got the Silver." There are many other highlights - "She Was Hot" is hot indeed, and Keith's solo and licks make even "(I Can't Get No) Satisfaction" sound fresh - but for my money, the single most electrifying number has to be "Some Girls." Here, Jagger joins Wood and Richards on guitar, and the triple-ax attack is lethal, the very epitome of the Stones' latter-day entwining-and-colliding guitar strategy.
Quibbles for Marty? Maybe a few more long-shots would have been nice. And certainly a few more Charlie Watts shots. But all told, Scorsese has done a fantastic job of conveying what it's like to be a still-alive-and-very-well-thankyouverymuch Rolling Stone today - and, by interspersing historic and often hysterical interview clips, what it has been like to be a Stone for more than 40 years.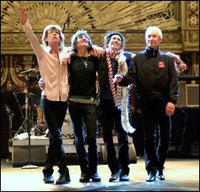 Too young to die? On the evidence of Shine a Light, the Rolling Stones and Martin Scorsese will never say die. -Ken Richardson
LATEST VIDEO