Stereophile Recommended Components iPad App Now Available for Free Download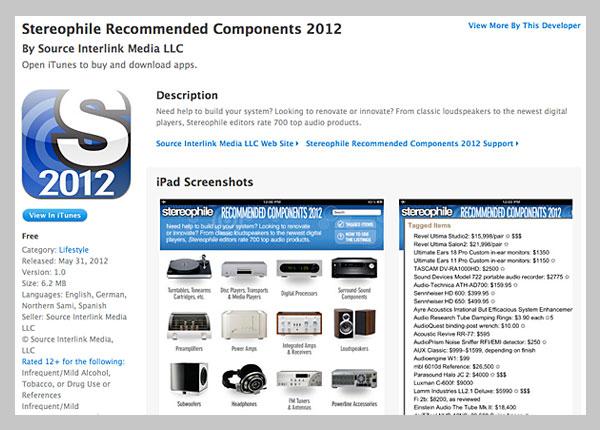 Stereophile
is pleased to announce the availability of the free 2012 Recommended Components iPad app.
Available Now
The app is available right now for free download to your iPad in the iTunes store. In iTunes, search for "Stereophile Recommended Components" or follow this link to the iTunes store from your web browser.
This app includes all current Recomended Components as listed in the recent issue of Stereophile as well as additional ratings and listings that could not fit in the print version. There are over 700 component rankings in all and the app is compatible with all iPad hardware versions including retina displays.
Search and Full Reviews
Each component is ranked and most include links directly to the full review on Stereophile.com. The app also allows you to sort by component category and features quick search.
Tagged Items
An additional app feature is the ability to "tag" any item in the listing to create your own curated list of items for future reference. You can add and delete items from this list as needed. Just tap the "checkmark" graphic next to each entry to add it to your list.
Due to the immense amount of text in the Recommended Components, we don't have an iPhone version at this time. However, we will continue to update the Stereophile Recommended Components iPad app with new features and ratings additions and welcome your comments.