The State of Immersive Audio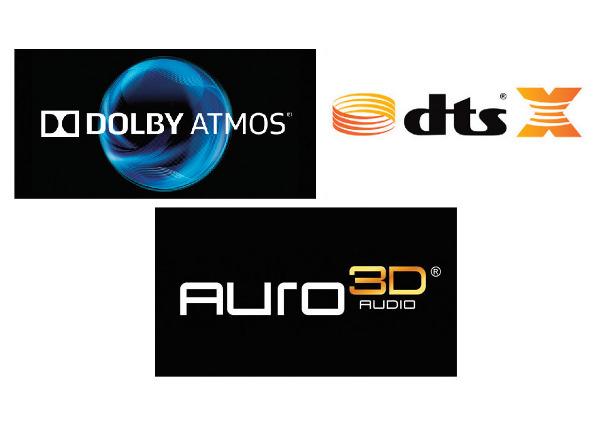 The event formally known as the CEDIA Expo but which was called the Future Home Experience this year, and henceforth will just be known as CEDIA, happened in Dallas October 15–17. Many of the country's finest custom installers—18,700 in all—gathered to receive top-flight education and check out the latest products and technologies from 510 manufacturers.
This was my 17th Expo-not Expo and once again, the big theme that stuck out to me while walking multiple miles at the Kay Bailey Hutchison Convention Center was how next-generation, 3D audio formats are the driving force for the home theater market.
While Dolby Atmos was just a fledgling technology at last year's show—with no actual home content available—more than 30 Atmos-encoded Blu-ray titles are now available, with more coming all the time. Atmos is now supported by every major manufacturer, with Sony, Anthem, and AudioControl all launching their first models at CEDIA. Further, pricing for Atmos integration has come way down, with Onkyo offering an Atmos AV receiver for less than $400.
The largest competing format is DTS:X; however, it has been slow to get off the ground, and no manufacturer I spoke with expected to be delivering it before year's end. Still, nearly every company that is supporting Atmos is also including DTS:X (starting at $480) and will be offering DTS:X as a free firmware upgrade once the codec is finalized. Since DTS:X can utilize the same speaker configuration as Dolby Atmos, this won't pose any difficult decisions for customers, who will be able to enjoy whichever audio format a disc provides.
The third audio format is the lesser-known Auro-3D. While more popular in Europe, where it is used for movies and music, Auro has seen slower adoption from AV manufacturers. This is likely a combination of Auro-3D calling for a radically different speaker layout and additional licensing fees, not to mention its demanding a significant amount of DSP horsepower and memory, making it more challenging to implement. Denon and Marantz both offer Auro-3D as a paid ($199) upgrade on higher-end models (five from both companies) but are currently the only companies doing so.
There weren't many Auro-3D demos at CEDIA, but those that I heard had a wonderfully natural sound quality, and the "Voice of God" channel—a speaker that sits directly over the listening position—really does a terrific job of placing you in the middle of the action. The movie Pixels was released with a Dolby Atmos soundtrack in the U.S. but in the U.K. it has an Auro-3D soundtrack .
Other than the Denon and Marantz models with upgrades, getting a processor that handles all three formats is going to cost you. Auro manufactures three models ranging in price from $11,400 to $19,580. Trinnov, Datasat, JBL Synthesis, and Steinway Lyngdorf all have processors supporting all three codecs at prices around $20,000 and up.
Nearly every "consumer" immersive audio system maxes out at 11 channels, generally notated as 7.1.4, and most of the CEDIA demonstrations used this layout. However, for larger rooms, the Trinnov, Datasat, JBL Synthesis, and Steinway Lyngdorf models can support far more channels. JBL Synthesis demonstrated its new processor driving a 13.4.11 system, and the Trinnov Altitude 32 can handle up to 32 channels.
If adding ceiling speakers isn't possible, both MartinLogan and Klipsch showed new Atmos-enabled speaker modules. Designed to sit on top of front and surround speakers, these modules fire the overhead information up to your ceiling where it is reflected back to the listening position. Klipsch also demonstrated the Reference Premiere RP-280FA, a floorstanding tower with an Atmos-enabled module built in. And if you have in-wall speakers, SpeakerCraft debuted the Atmos 100, the world's first in-wall Dolby-certified Atmos module. These kinds of speaker modules—and the others already on the market—should work equally well with DTS:X.
While Dolby suggests not using all in-ceiling speakers for an Atmos system, both GoldenEar Technology and Origin Acoustics did just that, with impressive results. GoldenEar featured a 7.1.4 system and Origin showed a 5.2.4 system. While the soundstage seemed slightly elevated at first, my brain quickly reconciled the audio to the picture, and the results were quite impressive.
Finally, Yamaha's YSP-5600 is the first soundbar that is both Dolby Atmos and DTS:X enabled. I've yet to experience this bar in person, but I'm familiar with Yamaha's "beam steering" DSP. If anyone can pull off a successful soundbar implementation of this, it's probably Yamaha.