Denon Sends "Save-The-Date" for DTS:X Upgrades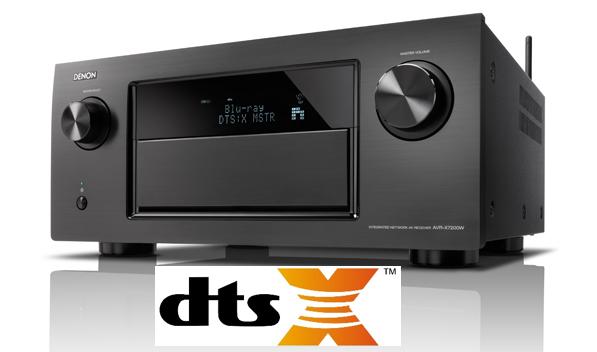 If you're the owner of a new Denon A/V receiver awaiting the long-promised firmware update for DTS:X surround sound, your wait is, well, still not over. But in what amounts to an invitation to the DTS:X party, the company has now announced specific dates for the roll-out of that firmware for three 2015 models.
Specifically, the AVR-X7200WA (and its predecessor X7200W), AVR-X6200W, and AVR-X4200W have been identified as the first Denon models set to receive the new firmware. The $3,000 AVR-X7200WA will get the push on January 28th, while the AVR-X6200 and AVR-X4200, priced respectively at $2,200 and $1,500, will have a download available as of February 18th—assuming those dates, which are said to be subject to change, don't slip. There will be no charge to consumers for the update, Denon says. Other models will follow later in the year.
Owners of these models will see a firmware update notification on the screen of their connected television display once the new software becomes available, provided the "Update Notification" setup menu option is turned on. Instructions and additional info on firmware availability will also be available at www.denon.com/dtsx.
DTS:X is one of three new "object-based" surround formats now being promoted to consumers. Object-oriented surround sound either replaces or amends traditional channel-based surround soundtracks, adding the abilities to place specific sounds anywhere within a more-or-less dome-shaped soundfield above the listener and to move objects around seamlessly. Metadata attached to each recorded sound element in a movie soundtrack describes its location and volume at any given moment, and the surround-sound processor in the cinema or home theater uses that information to map the sound to as many or few speakers as it has available. Along with the competitive Dolby Atmos and Auro 3D formats, DTS:X relies on speakers mounted in the ceiling or high on the walls to impart overhead sound effects, a dramatic enhancement over prior surround-sound systems. (Dolby Atmos also offers an alternative that bounces sound off the ceiling in lieu of mounted height-channel speakers).
DTS:X was announced late last year in the aftermath of Dolby's fall 2014 introduction of Atmos for the home, and the technology was first demonstrated to press in the spring. Since then, several previously announced AVRs from the major receiver manufacturers, along with additional models introduced later in the year, have been promoted as DTS:X compliant pending the promised firmware updates.