Space-Age Coffee Table Has Built-in Fridge, Speakers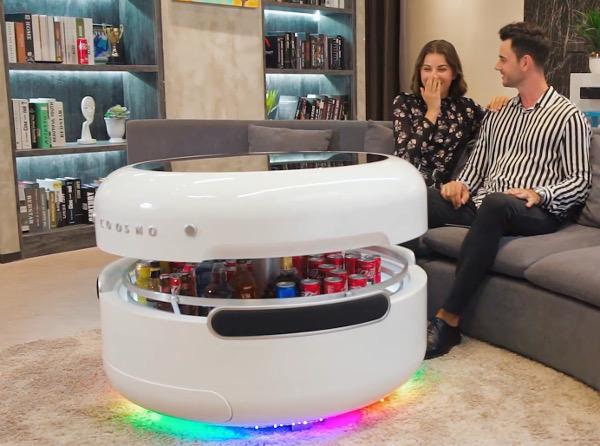 Hong Kong-based Coosno has set out to redefine the everyday (boring) coffee table with something quite unusual…and dynamic: The Coosno Bar.
Due out early next year, the table boasts a tempered glass top with LED party lighting and wireless charging for compatible phones, a refrigerator that holds up to 68 cans of beer (or soda, if you must), a slide-out storage drawer, a built-in Bluetooth-compatible sound system, an audio minijack (for making a hardwire connection when you're not streaming via Bluetooth), two power outlets, and a couple USB charging ports.
The icing on this crazy cake is Google Assistant which lets you use voice commands to not only gather all kinds of information but to open the fridge. Say "open it" and the top of the table rises to reveal your drink stash.
Coosno has developed an iOS/Android app so you can synch the party light's "160,000 colors" with your music to create a "glowing, pulsing, strobe-light effect" when you're ready to get down and boogie. Of course, you can also use the app to open the fridge.
The 27-inch-wide table will be available in gray or white and stands 20 inches tall.
Coosno launched a campaign on Indiegogo to fund development of the zany table and is offering the Bar at the "super early bird" price of $399 — 60% off the target retail price of $999. To date, 373 backers have pledged more than $161,000. The campaign ends in 28 days.
For more information, visit Indiegogo.com