Sony's 2008 Line Show
This year, as last, Sony held its annual line show at the Paris hotel in Las Vegas. While it is intended primarily for dealers—which explains the introduction of everything from televisions to digital voice recorders, computers, cameras, cell phones, and alarm clocks (in short, everything you'll see featured in Sony movies later this year)—the press was brought in to have the first look.
The biggest news for home theater fans is the introduction of two new Sony Blu-ray players, both of them capable of BD-Live (Profile 2.0). The BDP-S350 will be BD-Live-ready (with an optional firmware update). It has an Ethernet port for interactive Internet content and firmware updates and a USB port for local storage. In addition, it supports both 1080p/60 and 1080p/24. Most importantly, it will not only output Dolby TrueHD and DTS-HD Master Audio in bitstream form, but will also decode both of them internally to multichannel PCM. It does not, however, have multichannel analog outputs. The projected price will be about $400 when the player ships this summer.
The more upscale BDP-S550 (about $500, fall), offers all of the above plus an included 1GB USB flash drive for local storage and analog multichannel outputs.
Sony didn't introduce any new ES AV receivers at the show (it saves those introductions until September's CEDIA Expo). But it did launch four new standard line receivers ranging in price from $200 to $600. The two top models both offer onboard decoding for Dolby TrueHD and DTS-HD Master Audio (plus of course lesser versions of both Dolby and DTS), and support for 7.1-channel linear PCM over HDMI. All the models have HDMI switching (including 1080p/60 and 1080p/24), though the $200 STR-DG520 (March) does not support multichannel audio on HDMI, LPCM or otherwise. The $600 STR-DG920 (June) also upscales standard video 10 1080p via HDMI. The power ratings range from 110Wpc x7 for the STR-DG920 to 100Wpc x5 for the STR-DG520. In all cases the power is rated at 1% at 1kHz into 8 ohms (a rather limited specification, but not unusual at these prices).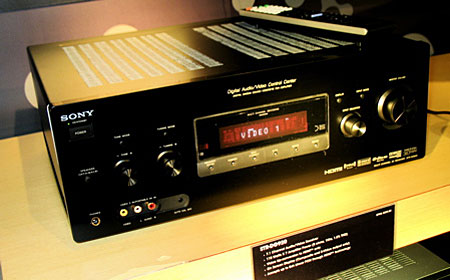 There were 18 new LCD flat panel HDTVs introduced, bringing Sony's flat panel lineup up to more than 50 models. (If you're just getting back from an extended stay in the Antarctic, Sony dropped rear projection HDTVs from its line several weeks ago.) Most of the new models should be available this spring, but no prices were announced. The big introductions were two new Z-series models, the KDL-40Z4100 (40-inches) and the KDL-46Z4100 (46-inches). Apart from all the usual Sony features, including 24p input capability, 120Hz Motionflow high frame rate technology, and readiness for Sony's Bravia Internet Video Link and other, future expansion modules, the Z models have new, thin-frame bezels and, at an estimated 2" thick (the precise depth was not given) are the thinnest Sony flat panels yet and possibly the thinnest on the market (so far).
There were also new W- and V-series sets, each available in three sizes (40-, 46-, and 52-inches). Just where these models will fit into the Sony line relative to the XBRs, which remain the flagship designs, won't be certain until we see the prices. Two new, smaller XBR models were introduced, the KDL-32XBR6 (32-inches and the KDL-37XBR6 (37-inches), both shipping in the summer. The "XBR6" designation hints at things to come for the larger XBR models, but the 40-, 46-, and 52-inch XBR4 and XBR5 sets remain unchanged, for now, and probably won't be replaced until the fall.
Sony again featured its astonishing, $2,500 11-inch OLED flat panels. But affordable, home theater-sized models are likely a good way off. And no new 1080p projectors were announced (that's also a CEDIA thing). But the relatively new VPL-VW40 SXRD ($3,000), a design that has trickled down from the discontinued $5,000 VPL-VW50 (now replaced by the VPL-VW60 at the same price) made a solid impression on an 87-inch wide, Stewart Studiotek 130 screen. A review of the VPL-VW40 is planned for an upcoming issue of Home Theater.
LATEST VIDEO