Sony Walkman NW-ZX2 Music Player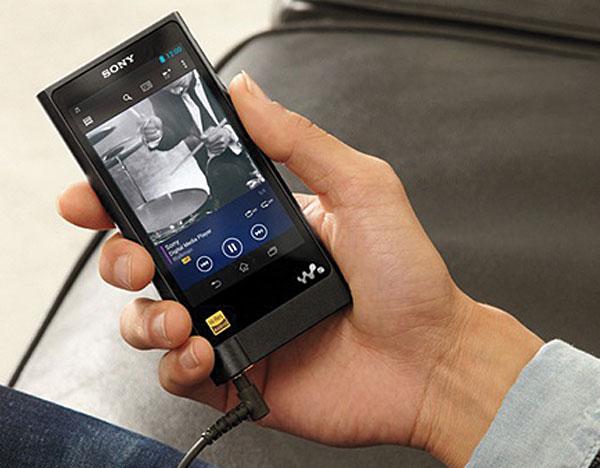 PRICE
$1,200
AT A GLANCE
Plus
Deluxe build quality and beautiful design
Plays DSD and files up to 192/24
128 GB plus microSD slot
Minus
Heavy
Pricey
THE VERDICT
Sony's top-of-the-line Walkman music player is comfortingly overbuilt, loaded with bells and whistles. And it sounds fantastic.
The new top-of-the-line Sony Walkman is not the smallest or lightest dedicated music player out there. But is smaller always better? The smallest music player in my possession is the sixth-generation iPod nano. The tiny touchscreen device has about the footprint of a postage stamp, but that doesn't make it easier to use. There's not much room for a fingertip to move. For the seventh and final generation, Apple moved to a larger form factor, similar to early nanos except with the touchscreen replacing the clickwheel. Likewise, Sony went for an old-school nano-like form factor in its Walkman NWZ-A17. But that was a relatively lightweight device in more ways than one. For the top-drawer Walkman NW-ZX2, reviewed here, Sony decided on more substantial build quality—and more of it.
Meet the Über-Walkman
The top-of-the-line Walkman is about a half-inch taller than an iPhone and twice as thick, though far smaller than the Walkman cassette players of yesteryear. It'll fit easily in your shirt pocket, but at half a pound, you'll feel it. Inside that heavyweight chassis are some pretty advanced electronic guts, though, the kind that support great sound as well as a ton of bells and whistles.
Sony says the aluminum-covered gold-plated copper chassis "delivers high rigidity with low impedance, the ideal base from which to deliver superb audio reproduction." Most of the NW-ZX2's front is covered by a 4.6-inch, 854x480-pixel touchscreen. The top and left edges are blank. All controls are on the right side; these include power, two volume keys, and three transport keys—all recessed, not bulging. They won't catch on your clothing and are easy to find by touch. All jacks are on bottom, including the 22-pin proprietary-to-USB connector, microSD card slot, and 1/8-inch headphone jack, which is brass-ringed. The back panel is leather-textured.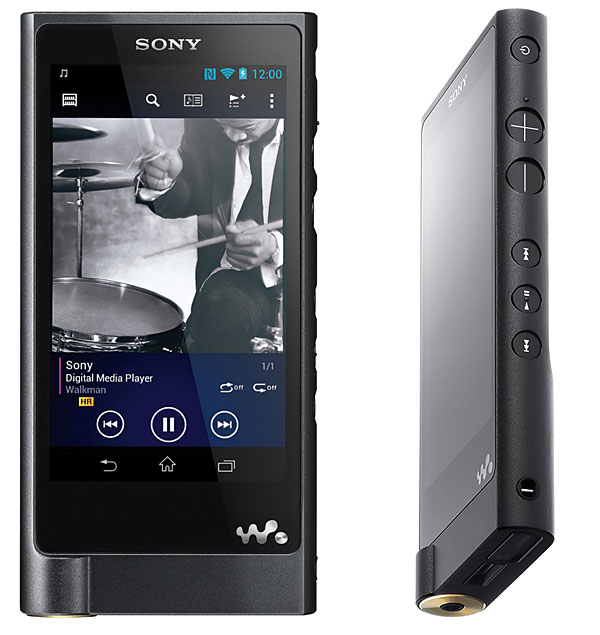 Onboard memory is 128 gigabytes, but you can plug in a microSD, microSDHC, or microSDXC card to add up to another 128 GB. The unit is estimated to get 60-plus hours per charge when playing uncompressed PCM or highly compressed MP3 files; going to lossless FLAC cuts that to 33 to 43 hours, DSD to 16 to 22 hours, and MPEG-4 video to 9 hours. Other supported formats include ALAC, AIFF, and WMA, plus JPG for images. Resolution can be up to 24 bits and a sampling rate of 192 kilohertz. Computer USB charging takes 4.5 hours. No quick-charge power adapter is supplied, which is regrettable for a $1,200 product.
The Walkman is a double-threat wireless device with dual-band Wi-Fi to access music on DLNA-compliant devices, and Bluetooth with Sony's own LDAC signal format, which supports compressed 96/24 natively. LDAC-compliant products include Sony's Bluetooth headphones and active speakers.
Boot the Walkman and swipe aside the opening screen (unless you choose to set a passcode). On the bottom of the screen you'll see a row of three icons: a home button, flanked by a back button and another button, this last leading to a screen offering quick access to Ethernet, the video player, DLNA, sound adjustments, and the music player. A second-from-bottom row of icons just above these accesses the Now Playing screen, sound adjustments, main menu, video library, and DLNA settings. A third-from-bottom row, sometimes visible depending on context, includes four icons: Google (for numerous Google-related features), Google Play Store, Bluetooth, and Ethernet. The main menu encompasses a dizzying 44 items, spread over three screens, most of which have nothing to do with music. The Chrome browser, YouTube, e-mail, and maps icons piggyback onto the unit's Wi-Fi functionality. Do you really need the calculator and clock?
Sony Meets Oppo
I used the Walkman with Oppo PM-2, Sennheiser HD600, Sony MDR-V6, and AKG K240 headphones and loaded music from a Lenovo Windows 7 desktop PC using the operating system's file interface. (Sony also offers a Media Go application for this purpose.) Starting with the Oppo PM-2 planar headphones—at $699, a worthy match for a $1,200 player—I ran through lossy, CD-quality, and high-resolution files.
The NW-ZX2 is one of the smoothest audio products, of any kind, I've ever reviewed. The smoothing I'm talking about is not a dumbing down, but an absence of noise, an honest, clean, and unsmudged approach to everything. Whereas an iPod or smartphone would render objects within the soundstage as etched cartoons, the Walkman rendered 3D objects, loaded with shadings and nuances, often against spatially realistic or just dead silent backgrounds. It was dynamically prodigious, kept up with harmonic complexities, and its transient aim was true. Its transparency and consistency were awe-inspiring. And it was just plain fun to listen to.
Dave Frishberg's "A Little Taste" was from his Classics compilation. Ripped to MP3 at 192 kilobits per second, the lovably nasal voice had a faint digital burr, but I had to listen for it—the overall impact was warm and pleasing. I was hard-pressed to find lossy artifacts in Deodato's jaunty reimagining of Gershwin's "Rhapsody in Blue," from Deodato 2, until the trumpet entered in the left channel. Only then did the astringent MP3/192 kbps format artifacts become obvious. John Cale's cover of Jonathan Richman's "Pablo Picasso," from Helen of Troy, with its arch, squirming guitars, wasn't audibly compromised in MP3 at the top sampling rate of 320 kbps.
CD-quality Apple Lossless rips started with Richard Thompson's "When the Spell Is Broken" from Acoustic Classics. The Walkman/Oppo team sounded better than either of my reference speaker-and-amp systems, giving the aging baritone its full measure of leathery texture and the incisive acoustic guitar plenty of rhythmic momentum and snap—and all without the edge I've grown accustomed to via speakers (even good ones). In The Nice's irreverent cover of Sibelius's "Karelia Suite," captured for Fillmore East 1969 by the capable Eddie Kramer, the Walkman and the Oppo meticulously excavated the hall reverb that leaked into the close-miking of the organ, bass, and drums, enriching the bombastic bomber-attack noises (which must have made Sibelius turn in his grave). The only thing that fell flat was Pink Floyd's "Louder than Words," the final track on The Endless River, which seemed digitally brittle, crunchy, and two-dimensional (though other headphones would tell a different tale).
The Walkman/Oppo pairing loved every high-resolution FLAC I threw at it. In Bob Marley & the Wailers' "Satisfy My Soul," from Kaya (96/24), there was so much to love: the deep, effortless, rocking bass, the pinpoint-precise high-frequency texture of the hi-hat, and imaging of the warm, smoky voice. Joni Mitchell's cover of the American songbook classic "You're My Thrill," from the orchestrally fortified Both Sides Now (96/24), became an epic, with the prewar-style strings enveloping my planar-driver-sandwiched brain in stunningly imaged instrumental color. In the much-loved and much-demoed "Take Five," from the Dave Brubeck Quartet's Time Out (176.4/24), well-imaged objects arose out of an inky black background, the left-channel drum solo swung with unstoppable momentum, and there was no unpleasant edge to the sax (and there should never be). There should be an edge to Billie Holiday's voice in "Violets for Your Furs," from Lady in Satin (DSD), because that's how it sounded toward the end of her life—drenched in echo in a futile attempt to blunt its raw, rasping, almost painful timbre—and the Walkman/Oppo combination delivered the news. Finally, they offered a best-case version of Gershwin's An American in Paris, with William Steinberg leading the Pittsburgh Symphony Orchestra (192/24). This colorful composition is recorded flat and dry, with virtually no reverb, and tends to sound drab and gray. But this combination of playback gear made it come alive, tooting horns and all, and the listening was fatigue-free.
More Headphones
Switching to the Sennheiser HD600 headphones produced similar, if not identical, results. The Pink Floyd track lost its unseemly crunch, flowed better, and could be played louder. There was a more lossy-metallic edge in Frishberg, even better hall reverb in The Nice, more hi-hat in Marley, and a less tactile feel to the drums in Brubeck. Overall the experience was equally as pleasurable. Moving to the sometimes merciless Sony MDR-V6 upped the treble, but the combination was palatable at just slightly lower volume. The MDR-V6 didn't rob the Walkman of its smooth personality, even in the challenging Pink Floyd track. The most pleasant surprise was what the Walkman did for my old Austrian-made, hard-to-drive AKG K240—it played the headphones comfortably with the volume slider three-quarters up, and just a little too loud with the slider maxed. A little headroom never hurts. Even running full tilt, the Walkman's amp didn't choke on the AKG—imaging, bass, and other parameters were musically satisfying. The aging AKG is still my idea of a soul-satisfying (albeit ear-pinching) headphone, but the Walkman is the first portable music player I've found that can cope so easily with its demands on the source. The major coup of the Walkman/AKG team was the most coherent—and unexpectedly spacious—performance of the Gershwin.
While I accessed most content by cabling the Walkman to a computer and dragging files, I also tried the wireless connectivity. The Walkman had no trouble connecting to two desktop PCs through a Wi-Fi G-type router. The Windows 7 PC connected immediately; the Windows XP machine required just a click on a bubble.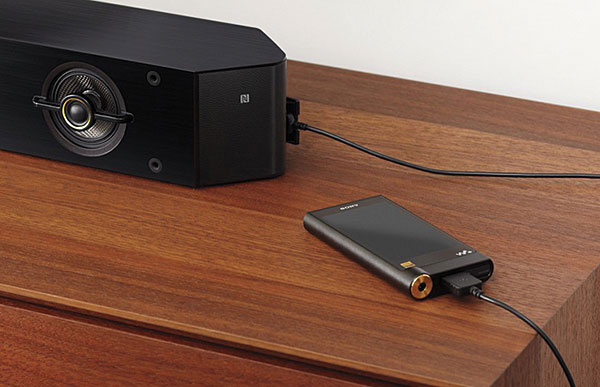 Bluetooth implementation has a couple of potentially useful details. The Walkman can show all Bluetooth devices or only paired ones. It assigns a numeric passcode to all pairing routines, and allows renaming of devices, which may prevent confusion of similar devices. Note that the NW-ZX2 is intended only to transmit Bluetooth signals to a wireless Bluetooth headphone or speaker (neither of which I had on hand to test this function). You cannot, for example, use this connection to feed it music from another nearby Bluetooth source with a resident library.
With the NW-ZX2, Sony has breathed new life into the venerable Walkman name. Yes, this slab of metal and glass and silicon is pricey. And the folks who believe the Pono hate, declare that standalone audio players are passé, and insist that their smartphones are the ultimate audio source components will remain unmoved. But if you want a player that's beautifully designed, blithely overbuilt, loaded with every conceivable feature, and delivers great sound into even fairly demanding headphones, this Walkman is fit competition for, say, the Astell & Kern AK240—which costs more than twice as much. Thus, you might even call this Walkman a bargain, if you can afford it to begin with!