Sony Unveils XBR-Z9D TVs, Demos Advanced HDR Processing and Backlighting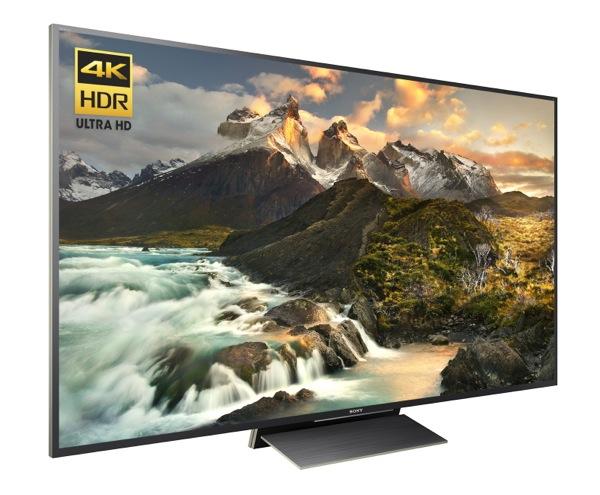 Late this summer, or shortly thereafter, Sony will attempt to upend the way we look at UHD and high dynamic range (HDR) with its new Z9D series of premier Ultra HD. Don't look for them at Joe's Video down the street, however, but rather in premier outlets such as Magnolia (located in or adjacent to selected Best Buy stores) and custom installers. They're also likely to find their way into more than a few professional facilities.
These new sets, which will be available in 65-inch ($6999), 75-inch ($9999) and 100-inch (price TBD) sizes, won't replace the current XBR 900-series in Sony's lineup, but will become the flagships of the company's Ultra HD offerings.
The new sets employ highly refined full-array backlight technology that Sony calls Backlight Master Drive, together with a new 4K HDR Processor X1 Extreme. The latter is said to be 16x more precise when processing HDR content and 64x more precise with SDR material.
The Z9D's advanced backlighting is said to put a more tightly focused beam onto the LCD panel, minimizing blooming around bright objects against dark backgrounds. The LED backlight clusters are also individually controlled, rather than the looser control typically offered in local dimming in which the LED clusters are modulated as groups of several clusters. In other words, if we're understanding this correctly, each LED cluster is its own zone, rather than a number of clusters being grouped together and controlled as multi-cluster zones. But the number of LED clusters in the Z9D sets weren't specified.
In short, the Z9Ds are claimed to offer brighter whites, darker blacks, and a wider color gamut. No specific numbers were given for how wide that actual gamut can extend, or what the peak brightness will be, but it was implied that the latter will go significantly beyond the 1000 nits available from current top-of-the-line HDR sets.
Other Z9D features will include Sony's object-based, HDR Remaster feature, which analyzes each object in each frame individually. The advanced data processing is also said to be capable of removing noise from the image without losing detail. Sony also includes the latest version of its Super Bit Mapping in the Z9Ds, using frame-by-frame processing to minimize or eliminate visible banding. As with Sony's current HDR sets, however, the Z9Ds will not support Dolby Vision, but only HDR10.
The assembled press was given several convincing demos of the Z9Ds' capabilities on the Sony Pictures lot in Culver City, CA, near Hollywood. The sets certainly looked liked they offer impressive advances, though like most promotional demos, some of the material presented in our first-look on the 100-inch version appeared overdone for maximum impact. However, other demos in Sony's Digital Motion Picture Center—a facility on the Sony lot designed to educate filmmakers about getting the most out of HDR—were more convincing.
A side-by-side comparison with an OLED from LG and Samsung's current premier set, the 65KS9800, certainly showed the Sony in an impressive light. All three displays were said to be set up in their non-calibrated, Standard Picture Modes. While that's certainly fair in avoiding the appearance of skewing the result, we know from experience that out-of-the-box settings don't often show a set at its best. My upcoming review of the Samsung 65KS9500, for example, indicated that while it's certainly watchable in its (largely default) Standard HDR mode, a tight calibration can improve it significantly. Whether the same can be said for the LG and, in particular, the new Sony, is hard to say.
But even as presented, the Sony Z9D certainly looked the part of a state-of-the-art challenger. We hope to get the chance to have a closer look at one for ourselves when it hits the street.