Sony STR-ZA3000ES A/V Receiver Review Page 2
Besides your main home theater, the STR-ZA3000ES will support two additional zones, and it provides IR repeater inputs so you can control the AVR from the other zones. You can use the second of the HDMI outputs to watch a different program in the second zone (though the onscreen menu or volume changes don't appear on the second HDMI output). If you don't have surround back speakers, you can use those amplifier channels to drive speakers in the second zone, a common practice with 7.1-channel AVRs. The third zone is strictly there to carry line-level two-channel audio to another room.
Two for T
I was a little concerned that the STR-ZA3000ES wouldn't be able to handle my demanding Revel Salon2 and Voice2 speakers, but I was pleasantly surprised by how well things worked out. CDs sounded great played back in either one of two direct modes. The first of those is Sony's two-channel Analog Direct, which functions only with analog sources and turns off all processing, including the subwoofer output. Pure Direct utilizes all inputs and leaves the subwoofer on while defeating most other processing. Depending on the material, room, and speakers, one or the other will give you stellar results.

I cranked up a new purchase on CD, Marvin Gaye's Trouble Man movie soundtrack from 1972. The original don't-mess-with-Mister-T reference! The content has been digitally remastered, and it sounds phenomenal, reminding me at times of the complexity that Stevie Wonder put into his mid-1970s masterpieces, such as Innervisions. The Sony was nimble responding to transient peaks, and it kept the instruments separate in what is sometimes a very densely mixed soundtrack. In addition, there was a smidgen of the "jump factor," if not the overall tonal finesse, that I've found usually only in the finest of separate amplifiers. Volume capability was never an issue in my room, even though the Sony isn't claiming the same numbers wattage-wise as some other manufacturers' price-competitive receivers. See our measurement results in the Test Bench box below.
Robert Ellis' current album, The Lights from the Chemical Plant, finds him moving from the Americana-tinged country music of his first album to straight-out Americana. Universal Audio, manufacturer of professional audio interfaces and audio-processing plug-in software, tracked the song "Good Intentions" live and put a video on their Website. I was an instant fan, and the album sounds amazing as much for the stellar musicians on it as for the simplicity and bare-naked truth of a song like "Bottle of Wine." Even at low volumes, that track—with a simple barroom upright piano and a more closely miked Ellis vocal—is replete with little audio cues, like the creaking of the piano bench and Ellis' quick inhales between phrases. The Sony delivered all the detail.
I'm at a Lossless for Words
As I mentioned, it's not always visually obvious when the Sony is decoding Dolby TrueHD or DTS-HD Master Audio. When you switch to a high-definition soundtrack, the receiver will scroll the name of the signal type it's decoding across the front panel, just once, and then declare itself in A.F.D. mode. That stands for Auto Format Direct, which the onscreen GUI describes as "exactly producing [the sound] as it was recorded/encoded, without any added surround effects." There are no indicator lamps on the front panel, so if you need to double-check, just pause your movie; when you resume play, you'll see the audio mode name scroll across the front panel again. Once.
In terms of other audio decoding/processing, the STR-ZA3000ES provides DTS Neo:6 Cinema, Dolby Pro Logic II Movie mode (IIx if you've enabled the surround back channels), and multichannel stereo. There's even a proprietary surround mode called HD-D.C.S. (HD-Digital Cinema Sound), which, depending on the material, would be my first choice. There are actually three flavors of it—Studio, Theater, and Dynamic—but only the first of those served my room well. As far as I could tell, the others just added increasing levels of bass and were a little over the top (or should that be under the bottom?) for my tastes.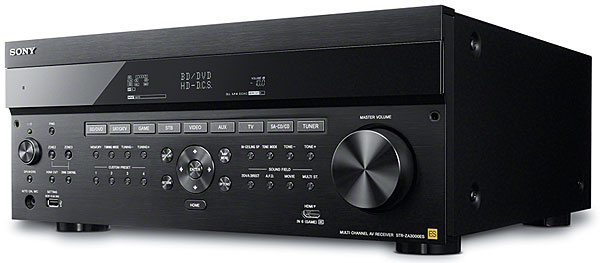 The movie Crazy Heart serves up Jeff Bridges as a down-and-out country singer who knocks out some rousing music. The audio is spectacular here, by design. In the first take of "Fallin' and Flyin'," set in an intimate bar and featuring Bridges taking a low picking guitar solo, the Sony authentically captured the growl of his 1959 Gretsch Chet Atkins Country Gentleman guitar and Fender Tremolux amp. Switching from A.F.D. (decoding a DTS-HD Master Audio bitstream) to HD-D.C.S. in Studio mode produced some very subtle differences—so subtle, I would never be able to tell them apart in a blind test. I'd be more inclined to use HD-D.C.S. when listening to less-than-ideal sources, rather than mess with the raw soundtrack of a Blu-ray Disc.
A second version of "Fallin' and Flyin' " takes place in a 12,000-seat outdoor venue, with that big, open stadium sound and the appropriate amount of reverb. You can almost feel the cool night breeze and smell the spilled beers. We get to hear the whole song, this time with Colin Farrell's character joining in. Surprises abound in this movie, not the least of which is how good the Sony sounded delivering it. The receiver had no problem driving my Revels as loudly as I cared to hear them in my room, a testament to Sony putting their money into audio quality—where, in the end, it counts the most.
The STR-ZA3000ES faces stiff competition in a price range where AVR manufacturers tend to go acronym- and badge-crazy. But Sony isn't having any of that. This new receiver is just a solid, incredibly easy to use, and enjoyable piece of kit that, with its five-year warranty, could keep you happy (if not technologically up to date) for at least that long.