Sony STR-DN1000 A/V Receiver
Price
: $400
At A Glance
: Flagship of Sony's standard receiver line • Strong aesthetics and user interface, well-designed remote • Compatible with Sony wireless speakers using optional card
Slick but Affordable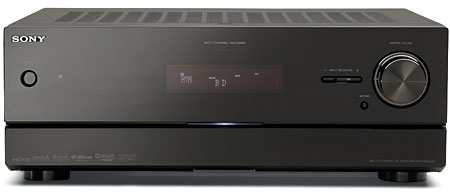 The process of getting music into, and out of, an A/V receiver is changing. An increasing number of receivers come with Ethernet jacks to pull music out of a network-connected PC. Against this background, Sony—thinking for itself, as always—has built a totally different form of networking into the STR-DN1000 A/V receiver.
Instead of an Ethernet jack, Sony's AVR can accept an optional transmitter card that communicates with wireless speakers. It can also simultaneously accept optional adapters that offer Bluetooth or Wi-Fi capability. Together, these triple-threat wireless options rethink the nature of audio networking. Sony has effectively made the A/V receiver—not the PC, the router, or a separate server—the central device in a multiroom audio system.
Why is this better than a computer-centric approach? For starters, you don't need to have a PC sucking up power 24 hours a day to access your library of music files. In fact, under Sony's scheme, even the AVR doesn't have to be fully powered up when routing music to the wireless speakers.
Slick Dude
This is one slick-looking A/V receiver. A shiny dark plastic panel takes up most of the front. It includes a small white fluorescent display and a volume knob on the right. Next to the volume knob is a slender horizontal rocker switch for input selection. It's nearly invisible, and I never used it. A flip-down panel at the bottom provides access to a few buttons that select soundfield modes. Although it's on the small side, this modest set of front-panel controls will work OK if you keep the A/V receiver accessible in a high rack slot. Otherwise, you'll depend more on the remote control.
Fortunately, the remote is a good one. It has a ribbed pattern on the rounded bottom that provides traction as well as a modest tactile stimulus. It's Sony's way of saying, "We're special, and so are you." The buttons are well differentiated by size, shape, color, and labeling. Special emphasis goes to the 17 input-select buttons. They're in light gray, which makes them stand out. The transport keys include an oversized Play button and a small Pause button located right beneath it. The volume and channel rockers are reasonably large. Backlighting appears only on the four mode-shift buttons on the top, including the ones that shift between amp and TV functions. Some users might prefer backlighting for all of the keys. Otherwise, this is a pretty well-thought-out remote, and I used it with pleasure.
On the back panel are four HDMI inputs and one output. When you add the component video jacks, you've got a grand total of seven HD-capable inputs and enough outputs for two displays. The absence of S-video is increasingly common in AVRs that are in this price range. Sony provides composite video connection for legacy sources. For video processing, Sony has licensed Faroudja's DCDi.

The wireless transmitter card I used in this review—see below—is the EZW-T100 ($50). It's not the only multiroom audio option. A DMPORT jack can accept one of the following: TDM-BT1 Bluetooth adapter ($80), TDM-NC1 Wi-Fi client ($200), TDM-IP10 iPod dock ($60), or TDM-IP50 iPod/iPhone dock ($100). Sirius satellite radio is supported. The only thing that unnerved me was the absence of a multichannel analog input. My old universal disc player and a stack of new SACDs gathered dust during this review. I had to limit my audio demos to CDs, vinyl, and iPod.
Initially, I treated the STR-DN1000 as I would any other A/V receiver. I set it up manually, ignored the proprietary auto-setup program, and put it through its paces with my reference speakers, saving the wireless-speaker experience for later. Manual setup was slightly complicated by the fact that the test tones and channel adjustments are on different menus. Sony clearly expects the consumer to take advantage of the auto setup mode.
Associated equipment included five Paradigm Reference Studio 20 v4 speakers run full range, a Panasonic DMP-BD35 Blu-ray player, Luxman PD-289 turntable, Shure V97xE phono cartridge, and Bellari VP530 tubed phono preamp. All movie selections were on Blu-ray Disc and had various lossless soundtracks.
The Rock, Beyoncé, and a Fine Romance
The receiver performed about average for a budget model. It had modest bass, a midrange that did well with vocals, and highs that were well developed but slightly grainy. It had no trouble running my speakers, typically driving them to movie-worthy levels using well under half of the volume control's range.