Sony STR-DA4300ES A/V Receiver
Sony offers two lines of A/V components and has always saved the best features and performance for the ES Series. While more stripped down than some higher-end models, the STR-DA4300ES offers an abundance of state-of-the art features and performance including onboard decoding of Dolby Digital TrueHD and DTS-HD Master Audio, plenty of power for a full 7.1 home theater system, automatic set up and room calibration, HDMI ver.1.3 switching and Sony's powerful Xross Media Bar user interface.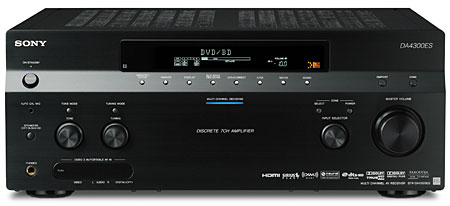 Description
The Sony STR-DA4300ES is rated top deliver 100-Watts to each of its seven channels of onboard amplification. It may not be the most powerful AVR, even at this price point, but I never found it wanting or struggling with the variety of content material I used throughout my evaluation.
Considering all the features you will find on the STR-DA4300ES, Sony was able to keep the front panel fairly simple, with a clean and uncluttered appearance. A few basic knobs such as volume, tone control and input selection are visible but the most dominate front panel feature is the large LCD screen that provides feedback when making adjustments, selecting inputs and decoding certain types of surround formats.
Like most modern-day AVRs, it's the back panel where all the action takes place and the STR-DA4300ES has an abundance of inputs. More than you will probably ever use, unless you still have a good deal of older analog audio and video gear. Since I tend to stay up to date with current technologies and components, the three HDMI inputs were just enough for me, accommodating my DirecTV HD-DVR receiver, Toshiba HD DVD player and Sony's flagship BDP-S2000ES Blu-ray player. I can see a time in the not to distant future where even three HDMI inputs may not be enough. If you think you'll want more the next step up in the Sony lineup is the STR-DA5300ES, which offers six HDMI inputs.
On the audio side, you have four optical and three coax digital audio inputs, more than enough for any size system. Additionally, there is a set of 7.1-channel analog inputs plus a set of analog preamp outputs for use with external amplifiers.
The speaker terminals are clearly marked as to their specific channel assignment and if you are not using the back surrounds for a 7.1-channel system, you can reassign the back speaker terminals for use as an extra pair of speakers for a second zone of audio in another part of the house.
In addition to an AM/FM tuner, the STR-DA4300ES supports digital radio by providing connections for external XM Radio and Sirius tuners. Once the tuner(s) are connected they can be controlled via the AVR to navigate through the various channels with 30 presets for each service.
Sony provides a Digital Media Port labeled DMPORT on the rear panel. This port is used in conjunction with several optional Sony adaptors for connecting iPods and other media servers, including computers.
Zone 2 audio is accessed via the Zone 2 line level outputs and an external amplifier is required if all the internal channels are being utilized in the main system.
Set Up
Auto calibration is now pretty commonplace with current generation AVRs. However, certain features vary from manufacturer to manufacturer depending on the system they've adopted. While many manufacturers have adopted the third party solution from Audyssey, Sony uses a proprietary system that works extremely well. What I liked most was the ease in which the parameters could be tweaked. Auto calibration is great for setting the speaker distances and levels, basically giving you a good start.
Sony offers a much-welcomed graphical user interface (GUI) rather than the funky text-based menus still popular from other brands. A move I hope others will soon follow. Once inside the GUI you can modify your speaker configuration, fine-tune distances, levels and EQ. The slick new GUI is similar to the Xross Media Bar ("XMB") navigational system that is found on PlayStation3.
One of the manual setup refinements, with respect to speaker placement, that I really liked was the ability to designate two possible positions of my rear channel speakers. One is if the speakers are placed on speaker stands, the other positioning is higher, for speakers that are wall mounted, like mine. Since my room is neither wired for 7.1 nor is it really necessary due to its size (10 x 17), the higher positioning of the rear channel speakers gave me more envelopment of surround effects. Sound appeared to have increased ambience, filling both the sides and rear of the room with more sound, making it seem as if I actually had 7.1 audio. Normally, sound appears a bit more confined to the sides.
Like most auto calibration systems, Sony provides room EQ to overcome some of the acoustic deficiencies that are a result of furniture placement and less than perfect room conditions. For the most part the Sony did a good job but there was too much bass and the midrange was a little muddy, obscuring vocal intelligibility in both music and movie selections. Going into the manual setup I figured out the bass problem quickly. Instead of assigning my speakers as 'small', which would automatically send all bass frequencies below the selected cross over point to my sub, they were labeled 'large' giving me an excessive amount of bass. I also adjusted the crossover until I was completely satisfied with the low end.
With the EQ setting I could only adjust the lows and highs at two predefined frequencies, working more like a tone control, rolling off or boosting a range of frequencies above or below those points. Since I could pretty much do the same thing with the Tone Control on the front panel it would have been more beneficial to have a graphic or parametric EQ in the GUI that offered greater flexibility. Fortunately, once the bass and midbass were acceptable that took care of the problems I was detecting with voices.
More and more I am noticing sync problems between audio and video, particularly on some DirecTV channels, as well as some DVDs (though never HD DVD or Blu-ray Discs). The STR-DA4300ES offers an A/V sync mode that is helpful, however, you always have to go through the menu structure to change this setting, which is time consuming. A separate delay can be applied to each HDMI input and while there is a wide range of delays, it's been my experience that one setting doesn't necessarily apply to all situations. For instance, on DirecTV the sync can be pretty extreme but its never consistent from one program to the next or even confined to a particular channel. The ability to toggle through the delay settings on the remote would be more convenient.
High-Def A/V
The onboard Faroudja DCDi chip facilitates the unconversion to 1080p. This means you only have to connect the HDMI output on the STR-DA4300ES to your video display. The upconversion for regular 480p DVD's was exceptionally good. I've become spoiled by high-def discs, but Sony's quality upconversion gave my older DVDs a breath of new life and a sense of relief that I don't have to go out and replace them all.