Sony STR-DA3300ES AV Receiver
As far as I'm concerned, this is the standard that all other receiver makers should aspire to.
Sony recently announced a trio of new AV receivers in the ES line. The ES stands for "Elevated Standard", a designation that is supposed to indicate performance and features that are a cut above the standard Sony line. Although the marketing and the reality haven't always jibed, Sony appears to be giving renewed attention and vigor to the gear that wears the ES badge.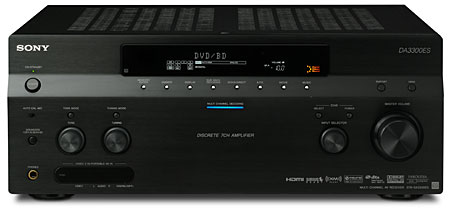 The STR-DA3300ES is the least expensive, and first to ship, of the three new ES receivers. "Least expensive" is a relative term, though; at $1,000, the STR-DA3300ES won't be filed in the budget category of most buyer's guides. Still, considering all the features and functions found in this new AVR, you could easily make the case that it's a real bargain. Well, maybe not a bargain as in the "I got a great deal at the flea market" kind of thing, but after living with it for a little while, I think it's definitely one of those components that'll leave you feeling good about spending the extra cash.
The STR-DA3300ES is a 7.1-channel AVR with 100-watts x 7 (8 ohms); three HDMI 1.3 inputs; accepts 1080p/60 and 1080p/24 HD signals; upconversion of video sources to 1080p via HDMI; deinterlacing and video processing by Faroudja; down-conversion of video (including HD over component); support for 7.1-channel linear PCM over HDMI; auto speaker calibration; inputs for optional Sirius and XM tuners; a powered second-zone with audio and video capability; three 12-volt trigger inputs; RS-232 control; two remote controls (one big, one small); and a Digital Media Port for optional Sony accessories that will connect the AVR with streaming music sources, iPods, and etc. On the iPod front, once connected the iPod's menu data populates the AVR's on-screen menus, which is pretty cool.
As with other Sony ES receivers, the STR-DA3300ES comes with a 5-year parts and labor warranty. That's pretty unusual, and it's one of those intangibles that some people will find comforting while others couldn't care less. At the very least, you can assign a dollar value to it by checking on how much an equally lengthy extended warranty from your retailer would cost.
As I said, that's a pretty good bunch of stuff for $1,000.
But having lots of features and capabilities isn't always such a wonderful thing. I've had the chance to play with lots of gear filled with fancy functions that I found too difficult to use or too difficult to explain when it came to teaching the rest of my family how to use the equipment. Unless it's for bragging rights, which is an ego thing rather than a performance issue, it seems obvious to me that there's no point in paying for things you're not going to find yourself using.
It shouldn't be a surprise, then, that what I find most noteworthy about the STR-DA3300ES is the outstanding on-screen GUI (Graphical User Interface). Sony has been one of the guiltiest companies when it comes to incorporating and promoting quasi-useful features that most home theater owners will never be able to figure out how to use. But, of late, Sony has been atoning for past sins; and the STR-DA3300ES's GUI is a bright example of how technology can serve man rather than enslave him.

If you're at all familiar with the "Cross Media Bar" GUI used in Sony's PSP and PlayStation 3, you'll feel right at home when you begin to use the STR-DA3300ES. But even if you've never had the chance to play with either of the aforementioned game-centric devices, you'll have little trouble immediately getting up to speed with all the high-tech goodness packed inside this new AVR.
When the menu button on one of the two remote controls is pressed, a high-resolution (up to 1080i depending on the video output setting being used) overlay appears showing a menu tree that's laid out from left to right. Selecting inputs, changing parameters, and virtually any other adjustment you'll need or want to make is available through an intuitive series of cursor-and-enter button presses. Of course, you'll have to know (or guess) that things like initiating the auto speaker calibration is a function located under the "Settings" heading rather than "FM", but even if you aren't that savvy, scrolling through the menu headings provides enough of a glimpse of that section's subheadings to find your way through most everything.