Sony Soundbar Has Sense of Quartz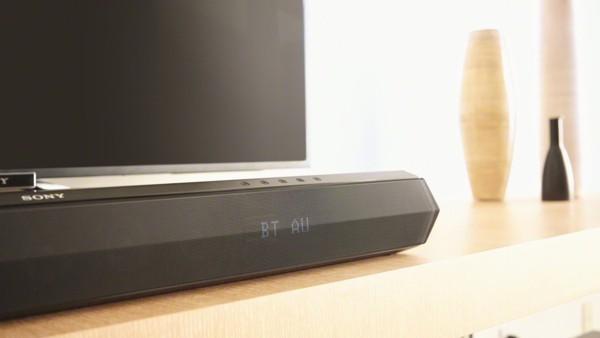 The Sony HT-ST7 is the first product to use Sony's "Sense of Quartz" design imperative, which I first saw in an embargoed product showing in Tokyo a few months ago. I subsequently heard the production version and it sounded even better than it looks.
Aimed at the $1K-plus segment, like 20 percent of soundbars on the market, the HT-ST7 earns its pricetag with HDMI connectivity and onboard decoding for lossless DTS-HD Master Audio and Dolby TrueHD. Too many other bars on the market make do with just lossy legacy codecs, which is a drag for anyone who owns a Blu-ray player. There are three HDMI ins, two digital optical ins, one digital coaxial in, and one stereo analog in.
Sony has covered the wireless angle with Bluetooth 3.0 (with AAC and AptX). That covers both iOS and Android devices, all of which are Bluetooth compatible. There's a button on the top panel for easy pairing. For even easier pairing, Near Field Communication technology streams music when you bump a mobile device against the soundbar.
The bar is 42.5 inches wide and surprisingly heavy thanks to its aluminum enclosure. Behind the angled perforated metal grille—that's the "Sense of Quartz" part—are a total of nine drivers including a textile tweeter at each end, an adjacent woofer, and five full-drivers, driven by seven discrete amp channels of 50 watts each. The dual-driver subwoofer is a conventional deep-box shape as opposed to a flattish hug-the-wall shape.
The demo revealed a treatment that doesn't starve any particular part of the frequency band, with decent bass, a naturally shaped midrange, and just a slight rolloff at the top end to keep harshness at bay, a good idea in soundbar voicing. In a selection from Santana's Live at Montreaux 2011, output from the sub was reasonably solid with bass guitar and bass drum. In a Spiderman 3 movie demo, the bar handled dynamics well. Not as well as big speakers and a good receiver, but quite well for a bar. I liked the overall effect. And no wonder: The sound was tweaked by Paul Ottoson, the Oscar-winning sound engineer who worked on Zero Dark Thirty, Hurt Locker, and Spiderman 2.
The HT-ST7 is priced at $1,299. It's now set up in my listening room and we'll have a review soon.
LATEST VIDEO