Sony Shows Off Concept N: Headphone-less Headphones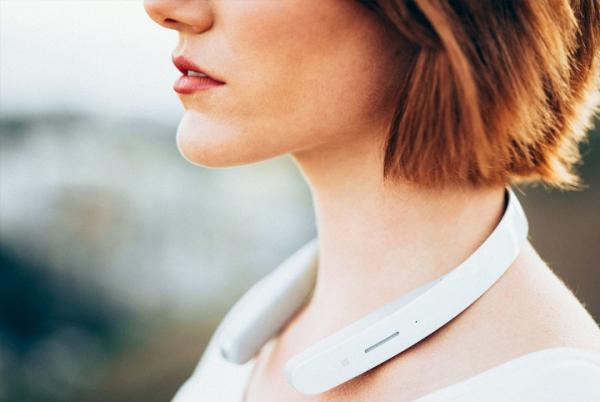 Sony's Future Lab made some waves at South By Southwest by debuting an entirely new concept in personal listening. The Concept N device doesn't go on or over the ears at all - instead, it hangs comfortably around the user's neck with multi-directional drivers aiming up towards the listener, allowing outside sounds to still be audible. Extremely directional speakers direct the sound to the listener's ears while preventing other people from hearing the sound very clearly. In a slightly noisy environment, other people around the listener can't hear what is being played over the device.
The Concept N is great for runners and urban commuters to be able to hear traffic and others around them. They also won't interfere with hats for winter walks, or helmets for summer bike rides, and sweat is a non-issue. They also won't get in the way of your favorite VR headset.
The new device is in the early prototype stage, but it seems likely to be available in the near future. The current version features voice controls and a camera. Users at SXSW had complaints about how well the camera and voice controls were performing, but that should be cleared up by the time the real product hits the market.
This is an interesting new product development. There are many situations where an "ear-free'" design would be desireable. People who spend a lot of time wearing headsets will surely appreciate this type of product, along with people with an aversion to things covering their ears, or even people with physical problems with their ears. The N will also come with an earpiece for users who might temporarily want to go back to the more traditional way of listening.
There is a lot to be said for the social implications of this device. Traditional headphones of any variety usually say to the world, "Leave me alone, I don't want to talk to you." Sony's new prototypes might make the world a more socially engaged community, where people can talk to each other and listen to their music.