Sony PlayStation Portable
It's two-fisted entertainment!
Over the past quarter-century, consumers have been bombarded by portable electronics. From the Walkman, to the PDA, to video players and handheld games of every description, the allure of technology-to-go has proven irresistible. But what constitutes a truly great portable? Ask anyone who has juggled three or more disparate devices, and he'll tell you that a convergence of different technologies is key to pushing the entertainment experience forward, in the same way that camera and PDA phones have enhanced productivity, as well as the coolness factor. Quality is at issue, too, as is a supply of worthwhile content.
Sony's Big Idea
Enter Sony's PlayStation Portable, or PSP. This single component is the console, controller, screen, and speakers. It is designed first and foremost to play games, but it also plays movies and music and displays digital photos. The absolutely gorgeous 4.3-inch, 16:9 screen dominates the unit—small by portable DVD standards, ginormous for handheld gaming. It's a 480x272 thin-film transistor LCD, capable of displaying 16.8 million colors. According to Sony, maximum luminance is approximately 52.5 foot-lamberts, running off the 3.6-volt, 1,800-miliamp-hour lithium ion battery, jumping to approximately 58 ft-L when connected to the AC adapter. Two tiny but able front-firing, downward-ported stereo speakers are positioned inside the bottom edge, and there's also a headphone jack.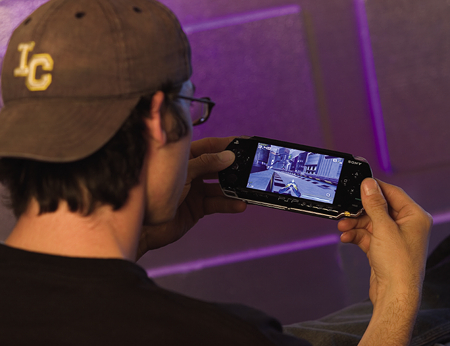 A proprietary CPU handles games, and the graphics rendering approaches the level of PlayStation 2, revealing generous detail and impressive realism in the play of light and shadow. It also serves as an MPEG-4 video decoder, with MP3 and ATRAC decoding for music. It also supports JPEG digital-photo display. Packaged media—the $40–$50 games, $20–$25 movies, and music titles with price tags that are to be determined—arrive on the Universal Media Disc (UMD), Sony's new optical disc format. Currently, single-layer UMD holds up to 1.8 gigabytes of data, is capable of supporting up to 7.1 channels of audio, and is housed in a 2.5-inch-wide plastic shell for protection out in the field. UMD is a read-only technology, with no plans to release a consumer recordable version anytime soon. Instead, the PSP has a Memory Stick Duo slot (also compatible with Memory Stick PRO Duo), which serves as a reader/writer, so you can take your PC music, video, and photos with you. The PSP connects to the computer via USB 2.0, although no such cable is in the box. It shows up as a new removable disk drive after you activate the USB connection via the onscreen menu. The USB 2.0 connection will enable future PSP firmware upgrades. (My PSP informed me that none were available at press time.) When transferring music or photos on any card you intend to use, you must remember to first set up a "PSP" folder, then the "Music" and "Photo" subfolders inside, either manually or by formatting under System Settings. A 32-megabyte Memory Stick Duo card is included, so you can test-drive the music and photo players immediately. It's far too small for a serious video file, though. Do yourself a favor and don't wait to pick up a SanDisk gaming memory card, which is a Memory Stick PRO Duo in one of four bright, translucent colors, available in capacities from 128 MB to 1 GB. A memory card also lets you store game saves, of course. Software is in the works to ease the process of converting video files in other formats to compact, PSP-ready MPEG-4.
That's already plenty of features in such a small package, but, since the gaming world is so much about one-upmanship, there's more. Sony has integrated 802.11b Wi-Fi, which automatically scans for and connects to local area networks, to access the Internet and link with other PSPs for wireless, head-to-head multiplayer gaming. The Wi-Fi operates in two modes. The ad hoc mode bridges PSP to PSP directly, up to 16 units without an access point. An access-point-dependent infrastructure mode opens the door to the Web. The 802.11b performance was foolproof. It found my Wi-Fi router by name and even reported the present signal strength, which typically ran at 100 percent. PSP will also work with some public Wi-Fi hot spots, provided you don't have to log in via a Web page, as the PSP is currently unable to surf the Net. An infrared receiver port and twin screw holes can also be found along the top edge to work with as-yet-unspecified accessories.
Out and About
The PSP feels good in the hands, solid but not too heavy. It provides intuitive access to the recognizable triangle/circle/cross/square enter keys, up/down/right/left directional buttons, analog stick, and left/right shoulder buttons. There are also new controls that are quickly learned, like the Home button, which takes you back to the main graphic user interface. On the Xross Media Bar, or XMB, all of the available functions and settings are laid plain in a simple left-to-right icon-based menu, with up-and-down submenus to navigate the various inserted media.
There are terrific details such as a background theme and motion images specific to a music, movie, or game UMD. The PSP defaults to whatever is in the UMD slot, although I haven't decided yet if this is a convenience or an annoyance. Movies feature a basic DVD-style menu, if not the vast options that DVD-philes are accustomed to. Anamorphic 1.85:1 movies are an ideal match for the 16:9 screen, revealing exquisite clarity and color without digital artificiality. But you should expect 2.35:1 movies to be panned and scanned to fit, as the black bars would simply squander too much space, with so little to spare. Ironically, the PSP's target demographic tends to favor overblown action flicks, even though intimate dramas with lots of close-ups and dialogue would work better in stereo and at 4.3 inches, so let's not hold our collective breath for The Complete Meryl Streep on UMD anytime soon.
True, the UMD does have moving parts, unlike the cartridges employed by another popular gaming system I could name. Yet, no amount of shaking or pounding would make this thing so much as stutter. More of an issue was the multitude of buttons all over the PSP, a boon when you're in the throes of hard-core gaming and need to act and react quickly. They can be quite easy to touch in error the rest of the time, though, as when you pick up the unit or change hands. This can lead to unwanted results, such as chapter skipping, even when you're innocuously reaching for the Hold switch. Restoring from Hold demands a delicate touch, too, lest you power down the entire system accidentally. The battery charges in about two hours, unceremoniously shutting down after four hours of demanding movie playback. It takes slightly longer for gaming and music. Although most of the launch games would, at first glance, seem to be simple ports of existing games, some have been redesigned. Despite the familiar name, Activision's Spider-Man 2 is 90 percent new and again features original cast voices. Others have been rethought, such as Konami's Metal Gear Acid. This latest sequel is a turn-based strategy game which requires the UMD to spin only periodically, not continuously, thereby extending precious battery life when there's nowhere to plug in the AC adapter. The highly reflective screen and black piano-gloss finish smudge easily, hence the included cleaning cloth. And the 388-page trilingual manual can be a tad intimidating.
How Do We Judge Thee?
The complement of accessories—a white vinyl wrist strap, a cloth-sock carrying case, uncushioned earbuds with a nifty in-wire remote extension to more easily control music and movie playback—ostensibly offsets the relatively high buy-in. But the PSP defies comparison to any other handheld gaming system. Its versatility is more akin to a tricked-out portable DVD player, yet it goes far beyond. SCEA got it right, serving up games, music, and, yes, major Hollywood movies, all with exceptional quality.
* For more on PSP games, movies, and accessories, click on over to HTGamer.com.
Highlights
• State-of-the-art, pocket-perfect gaming, music, movies, and much more
• High-resolution widescreen display covers most of the unit
• Includes forward-thinking, sophisticated technology like Wi-Fi B and IR wireless