Sony Movies Available for Mobile Theater Headset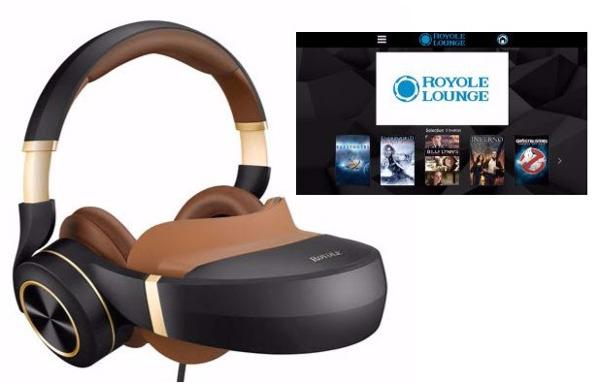 Royole announced today that owners of its Moon 3D Virtual Mobile Theater will be able to watch feature films through a new app called "Royole Lounge."
The app provides access to an integrated digital video service designed to make it easy to experience movies on the Moon 3D headset. Consumers who purchase the headset will be offered three SD, HD or 3D movies from Sony Pictures, redeemable through the app.
"The addition of the Royole Lounge app and Sony Pictures Home Entertainment content now allows Moon 3D Virtual Mobile Theater users to select from scores of the best, most popular, compelling film titles," said Dr. Bill Liu, Royole founder and CEO. "Moon users can now enjoy select HD and 3D movies, straight out of the box, with the highest quality mobile cinematic experience available."
Designed and engineered for movies and gaming, the Moon 3D Virtual Mobile Theater ($799) combines two Full-HD 1080p AMOLED displays and active noise-cancelling headphones to create an immersive virtual environment that simulates the experience of watching movies on a giant curved screen. Resolution is said to exceed 3,000 pixels per inch (ppi) and image response rate is 0.01ms.
The headset, which automatically detects whether content is 2D or 3D, features a patented foldable design, "ultra-soft" headphone covers, and a breathable eye cover to ensure comfort, even after long periods of continuous use, according to the company. The Moon OS operating system incorporates Royole's patented flexible electronics technologies, which allow full control without the need for an external controller.
Royole said Moon 3D can access content from internet-based services such as Netflix, Amazon Video, Hulu, and YouTube as well as source movies from smartphones, set-top boxes, gaming consoles, and PCs. The company said the device also enhances gaming on popular platforms, including PlayStation, Wii, Xbox, Apple, Google, and others.
"We are constantly looking to drive innovation and engagement around our extensive catalog of feature films, and the Royole Lounge allows us to do just that while creating a next-generation entertainment experience for the end consumer," said Pete Wood, senior vice president for Sony Pictures Home Entertainment.
The headset is available in black, white, or gold.
For more information, visit Royole.com.