Sony iPod Dock Bonanza
Sony just announced four new products designed to work with both iPods and iPhones. All four make it easy to listen to your tunes without tying you to headphones, and all four work with both iPods and iPhones.
The ICF-CD3iP is a clock radio that lets you wake or fall asleep to your iPod, CD, or radio. The radio is a true dock - it will charge your iPod or iPhone when they're connected. The clock face is large enough so you can see it at night without fumbling for your glasses, and it comes with a remote control. The cool design hides the iPod dock and gives the clock a floating look. It will set you back $100.00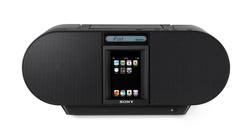 The ZS-S4iP is a portable iPod boombox with Sony's Mega Bass sound. The boombox charges the iPods and covers them up so they're secure, but the cover's removable to control the iPod. Use the remote - much easier. The ZS-S4iP has a CD player and built-in AM/FM radio as well. It will sell for about $100.00
Keep reading for the other two new devices.
Sony has released its first HD Radio with iTunes Tagging, plus 3G iPhone compatibility in the XDR-S10HDiP. With iTunes Tagging, when you hear a song on an HD Radio station that you like, just mark it, and when you connect your iPod to the Internet, you'll be given the option of purchasing that song through iTunes. This is a nice table-top device for $180.00.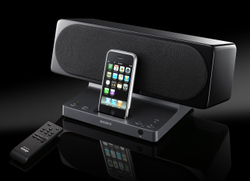 The last in the line-up is the SRS-GU10iP. This is a high-end docking system. Ooooh - piano black finish. Nothing says high-end like a nice shiny paint job, or the $150 price tag. The SRS-GU10iP has an aux input so your other MP3 players can enjoy the classy treatment, and it runs on either AC or DC power (batteries not included.)
Sony's new iPod solutions are making it harder and harder to choose a Sony MP3 player over an iPod. Interesting business practice, if you ask me. -Leslie Shapiro
LATEST VIDEO