Sony HT-Z9F Dolby Atmos/DTS:X Soundbar Review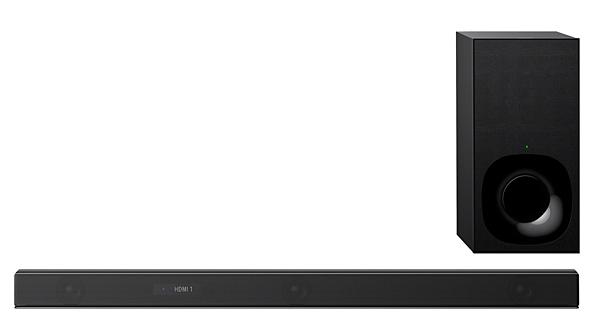 PRICE
$900 ($1,200 as tested)
AT A GLANCE
Plus
Atmos and DTS:X sound from a compact package
Easy setup
Minus
Limited overhead effects capability
Performance with music less impressive than movies
THE VERDICT
Sony's soundbar offers an easy way to get Atmos, but you'll need the optional wireless surround speakers for best performance.
Soundbars designed to deliver Dolby Atmos sound in an all-in-one package offer a convenient alternative to complicated—and pricey—setups that require in-ceiling speakers or "elevation" modules. We've checked out a few such specimens in Sound & Vision, including Sony's HT-ST5000 ($1,500). Now, the company's new HT-Z9F ($900), aims to deliver the same object- based Atmos—and DTS:X—experience from a more compact and notably less costly soundbar.
There are key family differences between the HT-Z9F and the HT-ST5000. The main one is that the HT-Z9F lacks upward-firing drivers to bounce sound off the ceiling. Instead, the 3.1-channel bar uses Dolby Atmos virtual processing and the company's own Vertical Surround Engine to simulate overhead speakers.
The other main difference between the two bars is that, while the HT-ST5000 uses additional drivers to help convey virtual left-right surround information, the HT-Z9F relies on the company's optional SA-Z9R wireless speakers ($300/pair) for surround sound. Sony supplied a pair of SA-Z9Rs, a speaker the size of a Pop-Tarts box with a 2-inch full-range driver powered by a 50-watt amp.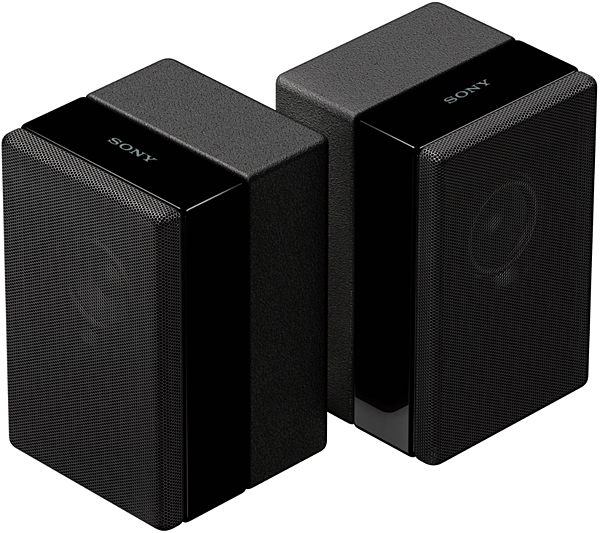 The HT-Z9F's looks are fairly standard issue, and the same goes for the wireless subwoofer that accompanies it. A set of capacitive control buttons are located on the top. Sony also gives you full-featured remote control with buttons to directly access inputs and processing modes (including a big white one to select the all-important Vertical Surround processing), and to tweak the level of the wireless subwoofer and the surrounds during playback.
Setup of the system was disarmingly simple. I connected an Ultra HD Blu-ray player to one of the bar's two HDMI inputs and a TV to an HDMI output with Audio Return Channel (ARC). After using the onscreen menu to link up to my home's Wi-Fi, I could then use its Chromecast built-in feature to stream music via compatible apps. Configuring the SA-Z9R wireless surrounds was a simple matter of plugging them in, pressing a power button, and the speakers automatically linked up with the bar.
Along with being compatible with both Dolby Atmos and DTS:X, the HT-Z9F also supports the HDR10, Dolby Vision, and Hybrid-Log Gamma HDR formats. Discs with Dolby Vision and Atmos are readily available, so I grabbed two from my collection: Game of Thrones: The Complete First Season, and The Matrix.
Watching episode two of Game of Thrones, in a scene where Daenerys Targaryen and Jorah Mormont discuss Dothraki customs (while munching horse jerky), the HT-Z9F had a wide, presentation that nicely conveyed the sound of horsemen traversing the grassland. Dialogue was crisp and natural, and the horse hooves had a full, powerful envelope.
In another scene, the Lannister siblings share an uneasy breakfast in a large stone hall. The soundbar did an excellent job rendering the environment, with Tyrion's booming voice seeming to resonate from well above the screen, though not necessarily from above my head.
I continued to be impressed when I next watched The Matrix. When Morpheus and Neo conduct a martial arts match, the thwack of limbs had a deep impact, and the sound seemed to spread equally wide in the vertical and horizontal dimensions. That said, turning off the wireless surrounds lessened any enveloping effect.
Music on the system was a mixed bag. Listening to a Tidal stream of "Who Am I," by British trio London Grammar, the vocals were clear though a bit trebly, and the bass line had decent depth and impact. Turning on Vertical Surround also added spaciousness to the already dense mix. Another track I played, Ray Lamontagne's "Barfly" fared less well. While vocals were mostly smooth, cymbals and snare drum sounded papery and lacked detail. There was also a leanness to the sliding bass guitar, with notes ending their descent with a pinched thud.
The final word on Sony's HT-Z9F? It delivers impressive surround for a compact soundbar when paired with Sony's SA-Z9R wireless speakers. Atmos and non-Atmos soundtracks alike were rendered in a high and wide manner, but for $900, I expected better performance with music.