Sony Focuses on High-Rez Audio with New Line of Affordable AV Receivers and Speakers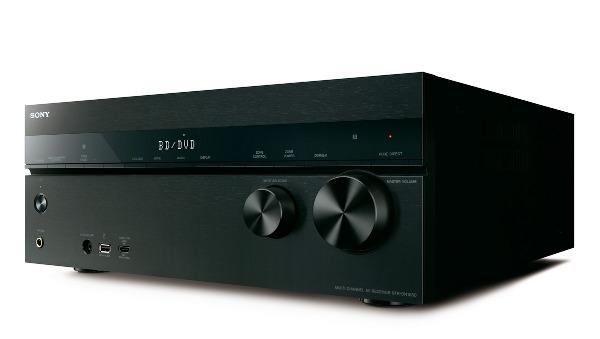 Sony is aiming to make high-resolution music available to a broader audience with the introduction of high-rez-capable AV receivers, a Blu-ray-based home theater system, and a series of speakers, all due out in May. Two of four new receivers and the Blu-ray system are equipped to handle a variety of audio formats from FLAC to Sony's own Direct Stream Digital (DSD), originally developed for Super Audio CD.
In addition to built-in Wi-Fi, AirPlay, Bluetooth, and One Touch Listening via NFC (Near Field Communication), the new STR-DN1050 ($599) and STR-DN850 ($499) AV receivers support Music Unlimited, Pandora, Spotify, and TuneIn music services and provide a USB input, 4K upscaling/passthrough, and Dolby TrueHD and DTS Master Audio surround-sound decoding.
The 7.2-channel DN-1050 is rated to deliver 165 watts per channel, supports up to Direct Stream Digital (DSD), and has six HDMI inputs, two of which are MHL-compatible. The 5.2-channel DN850 is rated to deliver 150 watts per channel, supports resolutions up to 192 kHz/24 bits (WAV or FLAC) and has five HDMI inputs, one of which is MHL-compatible. The DN1050 also features a powered second zone with a dedicated HDMI output and independent access to digital streaming services and music streamed over Bluetooth.
Other common features include a "more stable" chassis, a high capacity transformer, large capacitors, a simplified remote, and an on-screen graphical user interface said to simplify receiver setup and operation. Sony's iOS and Android compatible SongPal app will provide another control avenue when it becomes available in May.
Rounding out the line are two entry-level receivers: The 7.2-channel STR-DH750 ($349) and the 5.2-channel STR-DH550 ($279). Both are rated to deliver 145 watts per channel.
The new Core Series of speakers comprises the SS-CS3 three-way floorstanding model ($239 each), the SS-CS5 three-way bookshelf model ($219/pair), the two-way SS-CS8 center-channel speaker ($169), and SA-CS9 subwoofer ($239), featuring a 10-inch woofer and 115-watt amplifier. All models, except the subwoofer, have a wide-dispersion super tweeter derived from Sony's AR and ES Series speakers and a mica-reinforced woofer.
The speakers will be available exclusively at Best Buy and Sony Stores.
The 5.1-channel BDV-N7200W Blu-ray home theater system ($699) has 1200 watts of power, wireless rear surround sound speakers, built-in Wi-Fi with streaming from Netflix, HuluPlus, Music Unlimited, Pandora, Spotify, and supports 4k and 3D passthrough as well as Bluetooth and NFC connectivity for streaming from a variety of mobile devices. The system supports a wide range of music formats from MP3 to Direct Stream Digital (DSD) via a home network, HDMI, or USB connection.
LATEST VIDEO