Sony A9F OLED Crowned 'King of TV' at 2018 Shootout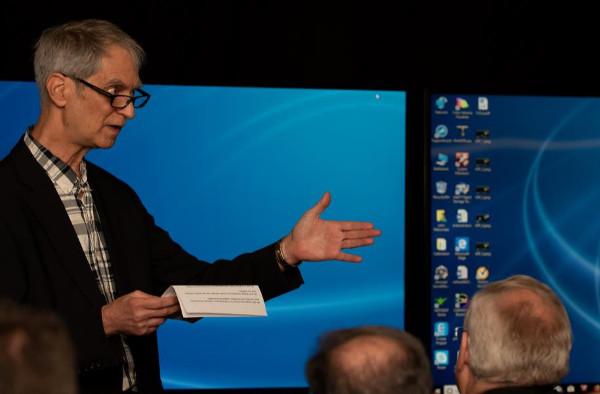 Sony's new XBR-65A9F 4K/Ultra HD OLED TV was declared the reigning "King of TV" by a panel of expert judges and video enthusiasts at the 14th Annual TV Shootout hosted by Scarsdale, NY-based AV retailer Value Electronics.
When the votes were tallied and all was said and done, Sony's flagship OLED nudged out LG's OLED65E8PUA by a hair.
Working in a carefully controlled environment, eight expert judges from all corners of the TV/video industry and invited video enthusiasts judged the performance of four flagship TVs — two OLED and two LED-backlit LCD models, all with 65-inch screens. Test samples were chosen randomly from Value Electronics' inventory; no supplied samples were used.
The OLED models were LG's OLED65E8PUA ($3,500) and Sony's XBR-65A9F ($4,500). The LCD models were the Samsung QN65Q9FN ($3,800 but currently priced at $3,000 on samsung.com), and Sony's XBR-65Z9F ($3,500).
The experts and video enthusiasts judged all aspects of picture quality for each TV, including contrast, color fidelity, color saturation, motion resolution, input lag time, and off-axis image quality. Test patterns and high-quality video clips were displayed and performance was judged pre- and post-calibration for day and night ambient-light viewing with a focus on high-dynamic-range (HDR) contrast, P3 color fidelity, color volume, and EOTF (electro-optical transfer function).
Sony's XBR-65A9F was declared the overall winner based on the combined voting results from the expert judges and video enthusiasts. As shown in the tables below, TV performance was rated on a scale of 1 to 10 in each of 13 categories and results from the panel of experts were tabulated alone and then combined with results from the panel of video enthusiasts to determine the final pecking order.


Score totals across all categories for each TV are listed below and reveal a gap between the OLED and LCD models. OLED contenders took the lead in most of the voting categories — especially in HDR Reference mode — with Sony ultimately edging out LG by a mere 0.33 points.
110.66 - Sony's XBR-65A9F OLED
110.33 - LG OLED65E8PUA OLED
105.86 - Sony XBR-65Z9F LCD
87.67 - Samsung QN65Q9FN LCD
Results were also tallied for each of the three primary test categories — SDR Day Mode/Video Processing, SDR Reference Mode, and HDR Reference Mode — to declare the Best Living Room TV, the Sony A9F; Best Home Theater TV, the Sony A9F; and Best HDR TV — a tie between the Sony A9F and LG's E8P.
Commenting on test results, Robert Zohn, owner of Value Electronics and organizer of the TV Shootout, encouraged consumers to "use the voting results to assess which criteria are most important to them and review each category to determine the TV that best matches their priorities and viewing conditions."
Test Setup and Methodology
All of the TVs under test were calibrated by professional calibrators using SpectraCal's CalMAN software, a Konica/Minolta professional CS2000A spectroradiometer, Klein 10A colorimeter (profiled using the CS2000A spectroradiometer), and the new Konica/Minolta CA-410 color analyzer. Standard dynamic range (SDR), HDR, and Dolby Vision patterns were generated and fed from a Murideo SIX-G 4K Pattern Generator, and selections from an upcoming HDR test disc developed by Stacey Spears, co-founder of Spears & Munsil, creator of the Spears & Munsil High Definition Benchmark Blu-ray test disc.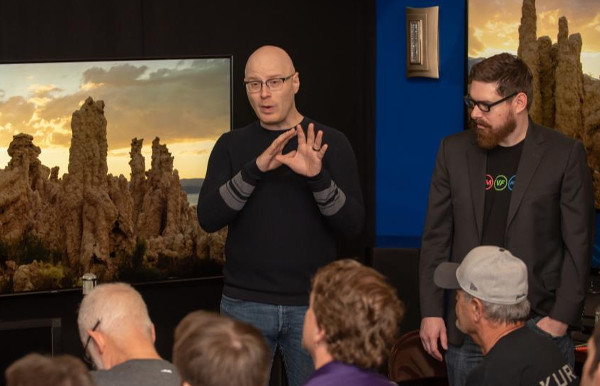 For the evaluation session, the TVs were simultaneously fed a variety 4K streaming and other signals — including SDR and HDR test patterns, 1080p signals from Cable/DirecTV, and 4K video from Panasonic UB820 4K Blu-ray players — all running through an AVPro Edge professional HDMI distribution matrix switch. Sony's BMV-X300 4K OLED professional color grading monitor was used as the reference against which all TVs were judged, and each of the TVs under test were visually matched to the BMV-X300's white point.
Ethereal brand cables and interconnects from the Metra Home Theater Group were used for the evaluation setup, including Velox "true 24-bit" passive HDMI cables, which were paired with Ethereal's HDM-GA1 Gigabit Accelerator.
The TVs were calibrated by David Abrams and John Reformato with supervision from Tyler Pruitt. The panel of experts included Rob Sabin, editor-in-chief at ProjectorCentral.com and former Sound & Vision editor; David Medina, HBO's manager of media operations; Greg Tarr, managing editor of HDGuru; David Mackenzie, CEO of Fidelity in Motion; David Abrams, video systems specialist at Avical; Bill Schindler, display industry consultant; John Reformato, electrical engineer; and Steven Cohen, senior writer at High-Def Digest.