Sonos ZonePlayer S5
Price:
$399
At A Glance: Single-box solution • Easy setup and operation • Perfect for smaller rooms, garage, and outdoors • Integrates with existing Sonos systems • Product now called Play:5
Sonos, a leader in low-cost, wholehouse audio, has made it possible to inexpensively stream audio from a computer to multiple A/V systems using one or more of its ZonePlayers. The $399 Sonos S5, the newest ZonePlayer, is completely self-contained. It incorporates its own power supply, amplification, and internal speakers, which allows audio streaming from a wide variety of sources without a dedicated sound system. It can serve as your main (or only) ZonePlayer or as an extension of an existing Sonos system.
Description
When I opened the packing, I immediately thought of Apple. The packaging is compact and well thought out, though not as sleek. The ZonePlayer S5 is super easy to set up and highly intuitive to use. All good criteria to emulate.
Out of the box, the ZonePlayer S5 is a single-molded enclosure with a fixed grille, available in black or white. It's a sturdy and rugged-looking piece of gear, yet it will fit comfortably and unobtrusively into any décor. Inside the ZonePlayer S5 are two tweeters, two 3-inch midrange drivers, and one 3.5-inch woofer. Each of the five drivers is powered by its own Class D amplifier. The back panel is sparse, with a connection for the supplied AC cable, an Ethernet port, and two 3.5mm jacks for both an external source device input (cable provided) and headphones.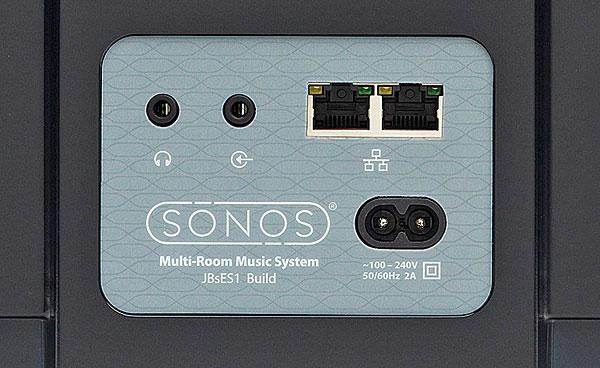 The S5 is the only ZonePlayer that's portable and can provide music in different parts of the house. I currently have the ZonePlayer S5 in my garage, where I recently built a photography studio. This is the perfect and easiest way to get music in there when I'm shooting. However, if I want to take it outside or in another room, it's easy to move. The molded enclosure even has a built-in handle that doubles as a bass-reflex port.
Setup
If you already have a working home network, it's extremely simple to add in a Sonos S5 (or any ZonePlayer). If this is the only Sonos device on the network, you'll need to hook it up via a wired LAN connection using the Ethernet port on the rear panel. If you already have a Sonos system, like I do, the ZonePlayer S5 only needs AC. It will communicate with the other ZonePlayers through the proprietary SonosNet 2.0 wireless mesh network. This allows synchronization between all zones for simultaneous playback. Each zone can play its own music stream, so you can have as many music streams as you have ZonePlayers.
For a ZonePlayer to be installed into your home network, you'll need to load the Desktop Controller onto your Mac or PC. From here, you set up all your ZonePlayers. This procedure required the most physical work of the setup. My office computer is upstairs, while the ZonePlayer S5 is downstairs in the garage where I have my studio. To recognize the ZonePlayer S5, the software gives me two minutes to press two buttons on the top of the S5. Just a brisk sprint downstairs, and in seconds, the S5 was communicating with my Sonos network.
A 3.5mm jack on the rear of the ZonePlayer S5 lets you connect external sources such as an iPod, iPhone, or portable CD player. In fact, you can hear music from these devices not only in the connected ZonePlayer S5 but on all of your ZonePlayers. Want to listen in solitude or crank it up and not disturb the rest of the family? Sonos also provides a headphone jack (3.5mm), which mutes the internal speakers when headphones are connected.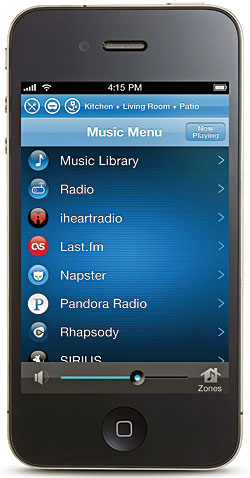 Control
The Desktop Controller integrates all the music (as referenced files) from your computer and supported hard drives into the Sonos library. You can import playlists from a variety of programs, such as iTunes, Rhapsody, Winamp, Windows Media Player, and Musicmatch.
From the Desktop Controller, you can link zones and create a new music queue. You can do that with external controllers, too. The Sonos Controller 200 works with all ZonePlayers, including the S5. However, I've been using Sonos' iPhone app. For this review of the ZonePlayer S5, I downloaded the new Sonos iPad app and used it to control my Sonos system. The apps are free, while the Controller 200 retails for an additional $299.
The main advantage of the iPad app is that there's more real estate for you to scroll through your music and create playlists on the fly. While you can certainly do that on the iPhone app, it means moving back and forth between screens.
There are three panels on the iPad app. The right panel shows all your zones and lets you link or separate them. The center panel is your queue. It shows what's playing and what's coming up. You can change the order of the songs in the queue or delete them. The third panel lists all of your music sources. From a linked music library, you can pick individual songs to create a playlist on the fly, then save it as a Sonos Playlist. As I mentioned before, you can also import playlists from other programs.