Sonos Moves to Musical Freedom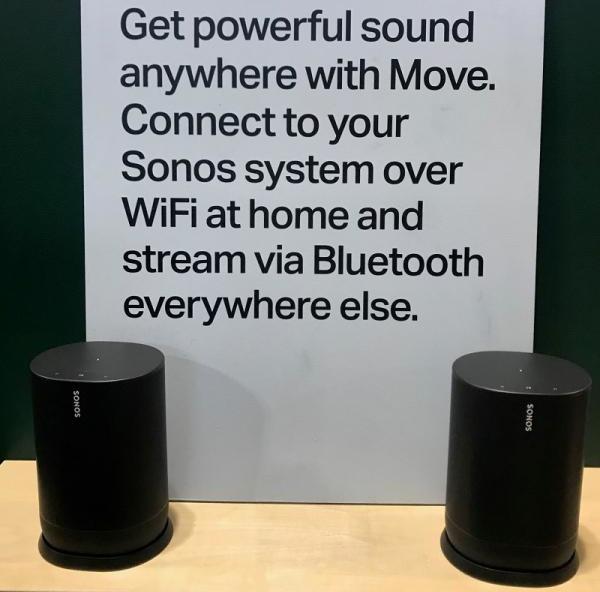 Sonos, one of the world's leaders in wireless audio distribution, has many fans, but one product has always been missing from its lineup: a truly portable speaker that could be at home out in the elements. Many people would tote a small Sonos One or larger Play:5 speaker around their homes, plugging it into an outlet near wherever they want to listen, but this was never a perfect solution. The company has finally filled this void with Move, a new battery-powered weatherproof speaker.
When at its "normal" location, the Move sits in a charging base connected to the home's Wi-Fi network for streaming. Two Move speakers can be used together to form a stereo pair. (The Move is not compatible for use with a PlayBar or PlayBase for surround application, and it can't pair with the Sonos Sub either.) When removed from its base, the Move switches to battery power, where it provides an estimated 10 hours of listening.
Whenever Move is relocated, a gyroscope inside the speaker detects movement, and the speaker automatically re-tunes itself to the room's acoustics using Sonos' Trueplay technology, which measures the frequency response and applies equalization to achieve the best sound. The speaker uses the same internal microphones that handle Amazon Alexa and Google Voice commands for Trueplay tuning, which is performed silently in the background without interrupting the listening.
When moved outside of your home's Wi-Fi range — such as out by the pool or down by the beach — Move is the first Sonos product to offer Bluetooth support, offering true wireless listening. The Move's two class-D digital amplifiers along with one downward-firing tweeter and mid-woofer deliver full range, audio playback.
Don't worry about Move being too delicate to take on the road as it has an IP56 rating meaning it is protected from very fine particles, such as dust, and heavy liquid splashing, including heavy rain and snowfall. It is also designed to withstand drops, though hopefully the integrated handle will make it easy to hang onto.
In addition to Move, Sonos also showed its new Port, the replacement to the Connect which has been in the line-up for years. The Port adds a new 12-volt trigger which will be beneficial for the custom market to trigger amplifier power. They also showed the new ONE SL, which is a replacement for the Play:1. All of the new products share AirPlay2 capability.
The Move will be available later this month at $399, while the Port ($399) and ONE SL ($179) are both available now.