Smart Media Consoles Built-to-Order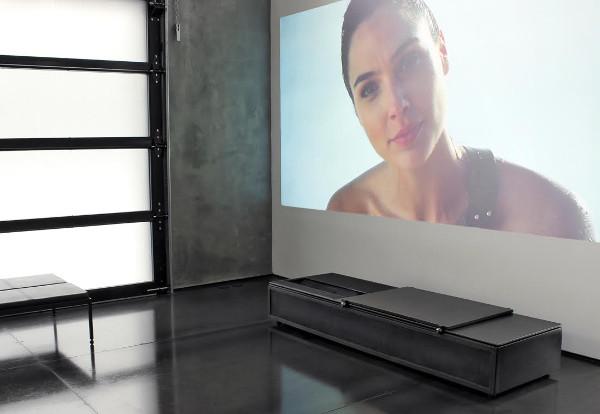 Okay, so you're ready to buy one of those sexy
ultra-short-throw (UST) projectors
that can beam a 120-inch image when placed just a few inches from the wall. But have you thought about where you're going to put it?
Joshua Howe Designs (JH-D), a New York-based company specializing in contemporary furniture and lighting, recently broadened its offerings to include one-of-a-kind consoles built to accommodate an ultra-short-throw projector and soundbar or other components of your choosing.
"UST projectors are becoming an increasingly popular way of ditching the television and having a big screen cinematic experience without the need to design an entire space around the placement of a projector across the room," says company founder Josh Howe. "The image size and quality of these projectors is quite impressive, but the units themselves are not visually on par with their performance.
"Furthermore, seeing the projector on a table, the floor, or in a partially concealed cabinet takes away from the magical surprise of its projected image," he adds.
That's where Howe comes in.
His company will design and build a media console to suit your specific needs — one that conceals the projector below a sliding panel until showtime. Tap a button on a remote or app, or summon Alexa (or another voice assistant) to do the honors, and the panel glides silently to one side, magically revealing the beam of light that projects the image on a wall-mounted screen just inches away.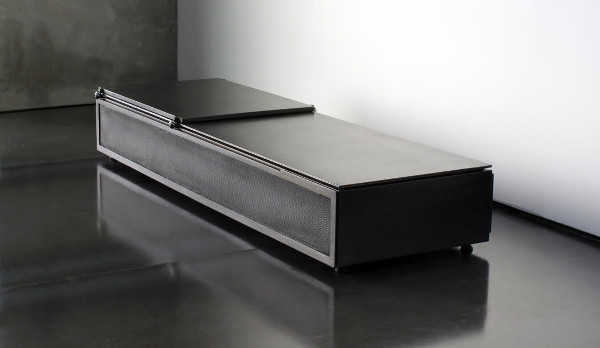 Howe's consoles are made of carbon steel, hand-machined and finished using an acid patina treatment similar to a technique high-end gunsmiths use to produce a durable yet refined blackened steel finish. "This is not a low-quality, sheet-metal product — these cabinets are heavy and built to last," Howe emphasizes, noting that the top panel glides smoothly and silently on precision bearings.
The console can be fitted with an acoustically transparent grille to accommodate speakers or a soundbar. The grille shown here is an aluminum honeycomb, which Howe says offers "near 100% sound transparency," but perforated steel or stainless steel options are also available.
Prices start at $5,200, depending on console size, control system, and the type of speaker or AV gear you want to house in the cabinet (AV gear not included). At 60 x 10 x 20 inches, the console shown above is built to house an Epson LS100 UST projector and Atlantic Technology 3.1 HSB soundbase. Cost: $6,300.
Howe stresses that consoles can be built in any size or configuration, including multi-unit setups with, for example, a mother unit that houses the projector and speakers and a matching satellite unit that holds additional AV gear.
For more information, visit joshuahowedesign.com.