SkyFi's System of the Week Mixes Old and New
In January New York City's
Stereo Exchange expanded its operation
to include the sale of "certified pre-owned" gear from NJ-based
SkyFi Audio
and continues to offer up a steady stream of vintage gems, like the ones featured here.
SkyFi's System of the Week hails from a barn in Upstate New York and boasts a mix of modern and vintage McIntosh equipment, chosen for its classic aesthetics and killer performance.
From left to right, the lineup mates pair of Spendor SP1 speakers with a vintage MC2125 amplifier, modern C48 preamp, vintage MPI-4 performance indicator, and vintage MR78 tuner.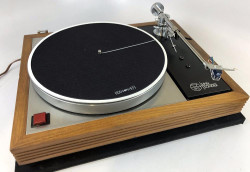 On the far left and just out of sight is the legendary Linn Sondek LP12, a turntable that has been in continuous production since 1973. The table, available through SkyFi for $2,499, is fitted with a Luxman tonearm and Sumiko Bluepoint No. 2 moving coil cartridge.
"You can mix stuff from the 70's and 80's with modern pieces and it all looks and works well together," SkyFi said, adding that "it's one of the reasons we absolutely love Mac."
To peruse SkyFi's latest acquisitions, visit skyfiaudio.com.
WHERE TECHNOLOGY BECOMES ENTERTAINMENT