Sirius XM Radio's New Channel Lineup for XM
It's the end of the world as we know it. Okay, maybe not. It's the end of the world as I know it. I've been a fan of XM Radio literally from day one, and I'm not taking too kindly to the merger. I'll get over it. What I will not get over is losing my favorite channels.
Tomorrow, Sirius XM Radio launches, complete with a new channel lineup for XM. At first glance, a lot of my presets are disappearing. I'm not thrilled. Flight 26, my go-to channel, took flight and is gone. Grrr. My guilty pleasure, Take 5 and the Broadminded Broads - toast.  (Okay, so this was funny. I was driving to brunch one Sunday listening to Take 5. On the way, they were broadcasting "Steppin Out," a AA-support 12-step show, focusing on alcoholics who prefer wine. On the way home from brunch was "Wine Crush", the show all about wine. Ironic, don't you think?)  The punk channel, Lucy, Fred, Ethyl . . . aghhh, gone!  XM Cafe is gone too? Oh no! [ED NOTE: For serious?!? Oh, crap, I loved those stations!] That's it. I'm giving up driving. There's just no point anymore.
Lots of channels are merging with Sirius channels, for better or worse. Till death . . .
Keep reading - we have a sneak peak at the complete channel lineup. Let us know which ones you're gonna be missing.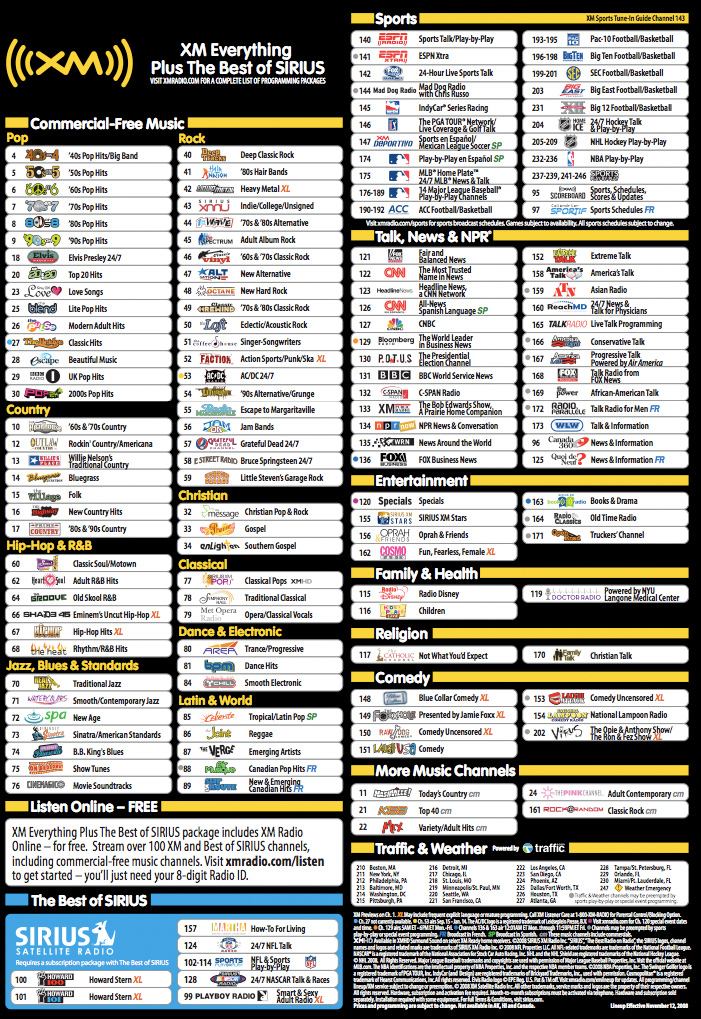 -Leslie Shapiro
LATEST VIDEO
WHERE TECHNOLOGY BECOMES ENTERTAINMENT