Sin City: A Dame to Kill For
and hungry for revenge against the most powerful man in town. Dwight (Josh Brolin, replacing Clive Owen), meanwhile, is a good man with a dark side who's being sucked back into a dangerous relationship with the wrong dame. The movie consists of four yarns altogether, bound by the seedy locale, although two of them don't really go much of anywhere, frankly. The violence remains extreme, which isn't a problem except that it can seem gratuitous this time, not necessarily in service to the plot.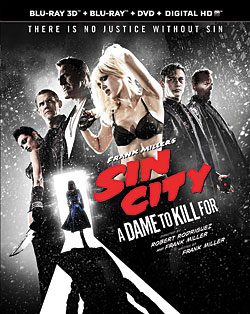 The visual style has definitely evolved since the 2005 original Sin City, with even more reverence for the graphic novels that provide much of the source material. The quality and the credibility of the special effects have leapt forward as well, with lots happening on screen. Still evident is the striking overall look, stark monochromatic contrast marked with accents of bold color. Pure, lush blacks are everywhere. In fact, this 1.85:1 image with its crisp digital focus is as close to video perfection as I've seen in the past year.
Fellow director Robert Rodriguez has been one of the more vehement proponents of 3D, and his dynamic camera work is practically a commercial for the format. A view down the street in Old Town displays striking, inviting depth, while the cut-and-paste filmmaking technique that combines multiple actors, often filmed separately, with elaborate computer-generated backgrounds and foreground objects lends itself to dramatic compositions. Elements of snow, smoke, and steam add even more eye-popping layers.
The DTS-HD Master Audio 5.1-channel soundtrack flaunts amazing, seamless directionality across the soundfield, just the thing for whizzing bullets and zooming automobiles. The weather is convincingly simulated in multiple speakers, one particularly effusive spray of blood practically fills the room, and discrete surrounds are thoughtfully utilized to establish off-camera action. A generous infusion of powerful bass is balanced by the frequent bright tinkling of broken glass.
But whereas the first movie on Blu-ray—and even DVD—was practically overflowing with bonus content, the pickins here are a tad meager. Once again, we're given a sped-up look at the entire movie in its raw green-screen form, before the virtual sets and other changes were applied, a fascinating testament not only to the talented technical crew but to the actors who manage to do so much with so little. The profiles of four key characters have their moments, as do featurettes about the makeup and the stunts. All of these extras are on the 2D Blu-ray, but commentary and Rodriguez's trademark "10-Minute Film School" and "10-Minute Cooking School" are nowhere to be found. A DVD of the movie and extras and an UltraViolet HD Digital Copy are provided.
Sin City must be a horrible place to live, although stopping for a couple of hours every once in a while sure is interesting.
Blu-Ray 3D
Studio: Anchor Bay Entertainment, 2014
Aspect Ratio: 1.85:1
Audio Format: DTS-HD Master Audio 5.1
Length: 102 mins.
MPAA Rating: R
Director: Robert Rodriguez & Frank Miller
Starring: Jessica Alba, Mickey Rourke, Josh Brolin
Sin City: You will never find a more wretched hive of scum and villainy. In A Dame to Kill For, the second big-screen adaptation of the works of writer/artist/director Frank Miller, we find that stripper Nancy (Jessica Alba) has been driven cuckoo-bananas by the events surrounding the death of her hero and one true love a few years ago. She now finds herself shadowed by the ghost of Bruce Willis (where have I seen that before?)