SIM2 M.150 3D LED Projector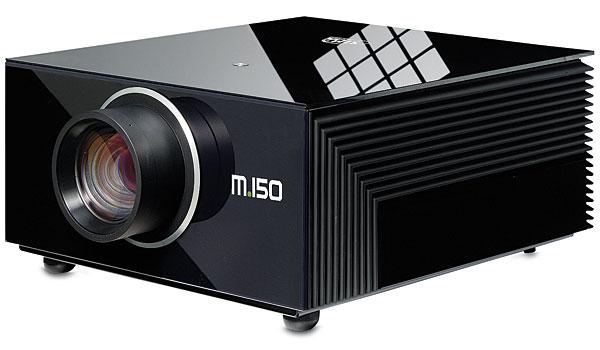 We tend to think of high-end video projection as the cornerstone of a larger-than-life home theater experience—you know, the kind that puts the local cinema to shame—rather than a source of creative lighting or fine art. But for SIM2 Multimedia, the Italian company known for high-style/high-performance projectors, the M.150 represents the intersection of home entertainment and interior design. Think of it as a light engine that never sleeps, ready to display treasured photographs and artwork or paint your walls with mood lighting when it's not projecting Hollywood's latest blockbuster while you sink into the sofa, popcorn in hand. The unit's sharp, elegant lines are the handiwork of renowned industrial designer Giorgio Revoldini and, in addition to embodying the technology-meets-design philosophy behind the M.150, signify a departure from the curvaceous projectors for which SIM2 is known.
Hailed as the world's first "3D active LED video interior design system," the 1080p DLP projector is said to deliver an impressive 100,000:1 contrast ratio thanks to the Texas Instruments 0.95-inch DarkChip 4, which works in tandem with TI's DynamicBlack technology, and uses three proprietary LED light modules—one for each primary color—instead of a conventional UHP lamp. Benefits include 1,000 lumens light output, a wider and more consistent color gamut, auto-calibration, courtesy of an always-on sensor that controls light intensity, and a bountiful 30,000-hour life, which works out to more than 4 hours a day for 20 years—10 to 30 times longer than a standard lamp. Translation: You won't have to worry about changing bulbs every year or two.
Adobe RGB and Cinema color space modes make the M.150 suitable for use by post-production houses and professionals who demand exacting color reproduction, and state-of-the-art 3D video processing creates separate images for each eye to enhance realism and avoid fatigue when viewing 3D movies. SIM2's Visus 3D glasses boast an extremely short 0.9-ms blanking time and are available in sets of four ($1,000 with emitter) or eight ($2,000 with luxury box and emitter). Get ready to paint your walls in style.
SIM2 USA • (954) 442-2999 • sim2usa.com