SI Ships Wireless Motorized Projection Screen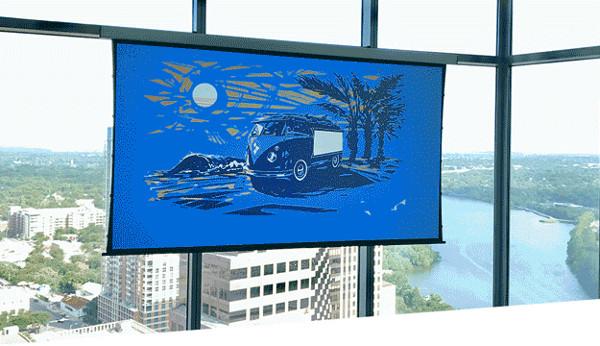 Screen Innovations (SI) has announced that Solo, the wireless motorized projection screen it unveiled at CEDIA 2017, is now available.
SI introduced Solo with one of CEDIA's more memorable demos by suction cupping the retractable screen onto the side of a vintage VW van to show off its mount-anywhere capabilities.
The screen is a rollable version of SI's Zero Edge design that retracts into a sleek motorized cassette powered by a lithium-ion battery said to last up to 2 years on a single charge. Recharging is facilitated via a patent-pending magnetic charging cable that clicks into the bottom edge of the housing.
SI offers a selection of mounting accessories — including those suction cups and a universal locking bracket for custom mounting — as well as an optional wireless remote control system. The system can also be integrated with Amazon Echo smart devices to enable voice control of the screen.
Two versions of the screen are available. Solo uses the company's Slate ambient light-rejecting (ALR) screen and is offered in 80-, 90-, and 100-inch sizes. Solo Pro is available in custom sizes up to 120 inches with a choice of eight screen materials — including acoustically transparent versions — from the company's Slate and Pure lines; a 360 screen designed for front and back viewing is also available. The Solo Pro cassette is available in 12 colors and has a 24-volt hardwired motor option.
Prices start at $1,600.
SI also introduced an Online Screen Builder Tool to help consumers pick the right screen and receive a price quote from a local retailer within minutes.
For more information, visit screeninnovations.com.

SPONSORED VIDEO