Shout! if You Love the '80s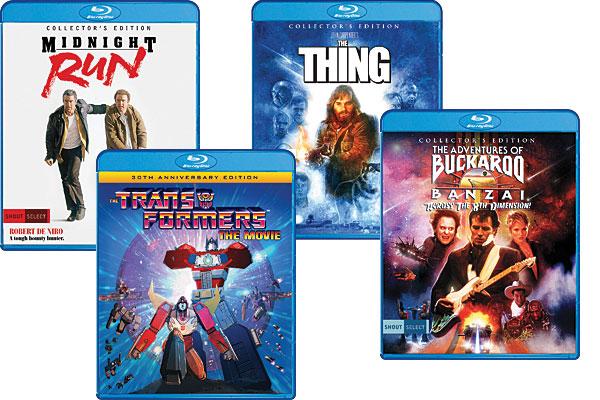 Perhaps by coincidence, many of independent label Shout! Factory's recent releases hail from the era of big hair and synthesized music, ranging from the little-seen Metalstorm (in 3D!) to the gritty urban thriller, Night Hawks. We donned our day-glo parachute pants and spun four of their most interesting.
The Thing (1982)
John Carpenter's The Thing is a disquieting confection of paranoia, suspense, and gore. When a hostile alien infiltrates an isolated American outpost in Antarctica, violently taking over and perfectly duplicating living subjects, how can the crew members possibly trust one another? In one of the greatest years ever for genre films, The Thing was a standout and was even glimpsed in Netflix's loving '80s homage, Stranger Things. This two-disc Collector's Edition is loaded with new and legacy extras, notably the long-MIA feature-length Terror Takes Shape documentary. The wonderful commentary by Carpenter and star Kurt Russell is joined by fresh tracks from co-producer Stuart Cohen and director of photography Dean Cundey, who also supervised the outstanding 2K scan for this Blu-ray. It's a marvel of shadows, now revealing exquisite details yet still keeping just enough secrets to sustain the legendary old-school special effects. The disc defaults to new DTS-HD Master Audio 4.1 (2.0 and contemporary 5.1 mixes also on board), faithfully re-creating the vintage 70mm six-track Dolby Stereo with clear dialogue, impressive surround presence, and some fine helicopter flyovers.
The Adventures of Buckaroo Banzai Across the 8th Dimension (1984)
Buckaroo is the first Shout Select title, a designation created to give overdue props to otherwise flouted treasures. And there is simply no other film quite like this: weirdly funny, indubitably original, and impossible to categorize. Buckaroo Banzai (Peter Weller) is a neuro- surgeon/rock star/physicist/do-gooder whose latest discovery signals mad genius Dr. Lizardo (a gloriously unbridled John Lithgow) that the time for his planetary war has arrived. Banzai is our only hope, and it won't be easy, but it will be full of utterly left-field surprises.
A modest amount of dirt and damage is evident in this 2.35:1 presentation, and the colors are extremely aggressive in some scenes, perhaps overly so. At 1080p, the bizarre-on-a-budget production design can be properly appreciated, even the diverse artifacts crammed into Lizardo's slovenly hospital room. The DTS-HD Master Audio 5.1 accompaniment flaunts strong dynamics and solid bass, and the musical exploits of the Buckaroo's Hong Kong Cavaliers exude an agreeably swinging vibe. The documentary in eight parts (get it?) is generous, affectionate, yet painfully frank at times. A newly recorded expert fan commentary joins the legacy track from director W.D. Richter and writer Earl Mac Rauch. Disc Two here is a DVD, maintaining much of the bonus content from MGM's 2001 effort.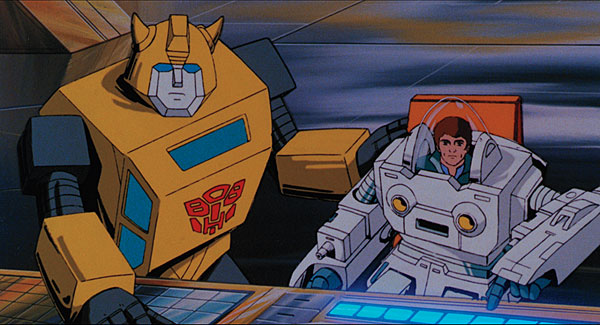 The Transformers: The Movie (1986)
This PG-rated, theatrically released feature film was an extension of the popular TV show that helped to sell a lot of nifty toys, specifically battling robots that could conceal themselves as vehicles or other ordinary pieces of technology. At a mere 85 minutes, the movie is fast-paced and action-packed, and is noteworthy as one of the very last credits of the great Orson Welles. But enough about all that, let's discuss the jaw-dropping 4K restoration undertaken for this absolutely gorgeous hand-drawn animated motion picture. The design is at once breathtaking and edgy, with a wealth of tiny nuances clearly intended to be savored on the big screen, now revealed to many for the first time on this home-run Blu-ray, purged of egregious flaws yet retaining the organic film grain. Separate 1.85:1 and full-frame platters are included. Both default to the more period-authentic DTS-HD Master Audio 2.0, and while the 5.1 option does a better job filling the home theater space, bass is largely absent. The Transformers finally receives the exhaustive companion documentary it deserves, reassembling key cast and crew for the occasion. Curious videophiles will revel in the restoration featurette, while an audio commentary, archival vignettes, and animated storyboards fill out the set. A rarity for Shout!, a Digital Copy is also provided.
Midnight Run (1988)
After countless VHS viewings of this winning Robert De Niro/Charles Grodin buddy flick, I welcomed Shout!'s new 1.85:1 2K scan. Martin Brest's adventure/comedy looks intermittently noisy but is generally an enjoyable HD upgrade, if undistinguished. But sonically, even chapter 7's big helicopter chase/shootout just lies there, despite the DTS-HD Master Audio 5.1 configuration. The eclectic array of interviews was seemingly captured wherever and whenever they could grab a few minutes with the participants, highlighted by precious new nuggets from bounty hunter Jack Walsh himself, De Niro, and featuring all of his living top-billed co-stars.