Severtson Projection Screen Boasts Removable Bezel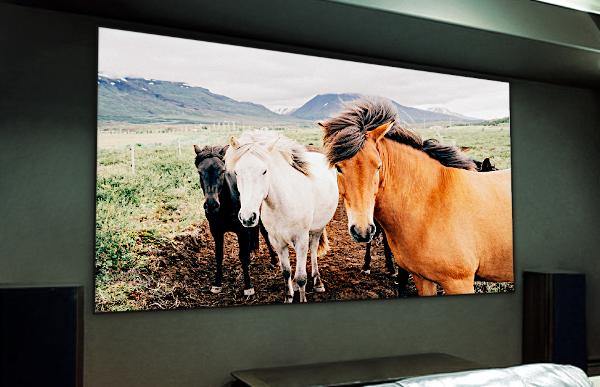 Severtson Screens, the 33-year-old family-run company that operates three production facilities in Sun Tan Valley, Arizona, has announced that it is now shipping the 4K Thin-Bezel Series of fixed projection screens.
Described as simple to assemble, the screens feature a sturdy, extruded-aluminum frame with a 3/8-inch-thick bezel that can be removed for an all-screen look with "virtually no size limitations;" screens can be ordered in sizes up to 66 feet high and 120 feet wide.
More than a dozen fully-tensioned screen materials are available with options for optical coating, perforation for acoustical transparency, and LED backlighting. The standard material is vinyl.
SAT-4K, one of the screen-material options, provides acoustic transparency allowing speakers to be placed behind the screen and can be ordered in a curved configuration.
Prices depend on material choice and size and start at $2,070 for a 16:9 screen.
For more information, visit severtsonscreens.com.
WHERE TECHNOLOGY BECOMES ENTERTAINMENT