The Sennheisers: Shaping the Future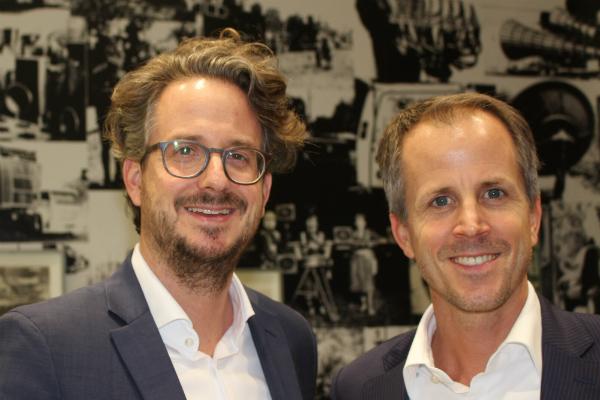 Amid the glitz and glamour of the 2016 Art Basel show in Miami, Florida, Sennheiser, the historic headphone and microphone manufacturer was showcasing for the glitterati in attendance a display of their AMBEO technology with a concert recording utilizing over 120 microphones in a 3D array played back over a 9.1 system featuring Neumann speakers. They were also auditioning the stunning $55,000 HE 1 headphone and amplifier, with a solid Carrerra marble chassis and vacuum tubes that dramatically rise up out of the unit as they warm up. Sound & Vision sat down with the delightful co-CEO's of Sennheiser, Daniel and Andreas Sennheiser to talk about where they see the company founded by their grandfather 75 years ago heading into the future.
Shapiro: Do you see AMBEO as a mass-market item, will everyone have it in their homes, or will it be just a concept in the future?
Andreas Sennheiser: The main trend we see being sustainable into the future is the immersion into sound. That immersion has different fields of application. It can be a surround system in the home cinema or listening room – it would really be the ultimate experience you could have at home. But the same logic applies for many other applications be it in the corporate environment where you have meeting rooms and different sound sources around the table or people who are around the world. Then there's the huge field of virtual, mixed and augmented reality that drives immersion very much. We are present in all those fields right now.
Daniel Sennheiser: We believe that AMBEO is as significant a change as from mono to stereo. Even surround is two dimensional sound; what we're doing now is creating the third dimension and that's going to create new applications and possibilities and experiences that we can't begin to imagine today.
Shapiro: Do you see that integrating into headphone technology?
Daniel: Absolutely. This is really the perfect partnership for it - it isn't so much on the playback devices. It creates more different problems where in the past you were looking at channels and now we're looking at audio objects and their metadata in space, so how do you design for that?
Andreas: AMBEO is not just a technology topic, AMBEO is also an application topic. The latest AES presented our 3D audio blueprints; basically a step-by-step setup, a plan on how to record a 3-dimensional sound stage. How to record that properly with different mics and different elevations. Of course, every recording engineer has his or her own way artistic way, but our blueprints should give you a 90% flight plan to which you only need to add your expertise and not have to do all the ground work yourself. It's an educational part, technology and an experiential part because we believe immersive audio is good for the wellbeing of people, it's a more emotional way of experiencing sound.
Shapiro: Do you have plans to bring in a well-known recording engineer or artist?
Andreas: We are already doing that! We working right now with Simon Franklin. His home studio is equipped with Neumann and 9.1. Bob Clearmountain is a friend of ours and he's working on some projects. Simon Rhodes from Abbey Road, and a few other people are already on board. Of course, we're not putting them on stage because it's more an early phase of finding out how can we bring this content to people, because then you need the content producers, the Warner brothers and the like. You need everyone and we're in a fairly early stage right now that's why we're not really coming out into the light.
Daniel: But that's how our innovation process works. We work very close with these engineers in a very early stage. We don't just think about it ourselves and say, "Okay, here is the product; now it's your job." It's an interaction. That's also why we engage in art here, because that's also pushing our art further in the limits of what we have in our heads, that's mostly the limiting factors. It's not the possibilities; it our own limitation of thinking.
Andreas: The most advanced collaboration was on our virtual reality mic which was showcased at CES this year. It was just a prototype showing our competency. We asked the community: how should we use this? And Facebook came and said that's exactly what we need, and then others came, and now we have a product that's on the market.
Shapiro: Who is the HE 1 designed for, and how will that trickle down into more accessible consumer markets?
Daniel: First and foremost, the HE 1 is mostly designed for ourselves. It is about trying to surpass ourselves. We're our own worst competitor and we're always challenging ourselves. In 1992 we had the Orpheus, the legendary high-end product and it took us 25 years to actually surpass that, but we always tried. It wasn't a continuous development process, but we always tried to surpass that and finally we found a way of doing it better, doing a complete package, including design, the whole way of opening and actually staging the product in a totally different way, and we're actually finding new customers for that. Yes, it's the audiophile, but it's also person who's looking for art and not necessarily realizing they're an audiophile, yet. This is really why we're here at Art Basel.
Shapiro: Why pick Art Basel, where the wealthy of the world come to shop for fine art?
Andreas: There is one side – having a new customer group and learning about that customer group. What makes them excited about things? Why would someone pay a fortune for just a piece of canvas? It's about learning and understanding those people. Secondly, art has always been there to break with existing rules and limitations. It's always been pushing society out of their comfort zone and we want ourselves to be pushed out of our comfort zone in order to always stay on our toes.
Shapiro: Getting the Sennheiser name out to more consumers is important, and if you start with the high end and become the Gucci, Chanel, Picasso, an icon that people associate with high status, you'll be able to reach more consumers who follow those types of trends. However, is there any tech in the HE 1 that will trickle down to something more people could afford?
Daniel: There's a lot of technology in it – we have to differentiate between the product and the manufacturing technology. We learned a lot about the thinnest coating of precious materials: platinum, gold. We developed all of our coating technology ourselves because it's just not available on the market. It took us almost 2 decades to get to where we had to, so that definitely trickles down. It's how we designed it to be a multi-sensual product. In the past, we would take a headphone and listen to it. If it sounds great it was okay – the product was done. Now it's about selecting the right materials, the look and feel, the smells, the experience and how it's being presented. It's really something that the HE 1 shows in perfection, but it's that very same thinking we're applying to all our products.
Andreas: Many people, especially very affluent who have most of what they need are looking for an experience beyond the ordinary and that's what we're giving.
Shapiro: I love the motorized lid and way the vacuum tubes rise out of the marble base. There was a ritual with LP records; that ritual is part of the experience. The HE 1 gives you the same sense of the ritual.
Daniel: We've taken a lot of attention to detail – we know tubes need to heat up, and that was the initial trigger to create all that spectacle – how do we entertain the user while the tubes heat up?
Shapiro: As relative newcomers, even though you are the third generation of Sennheisers running the company, how do you put your mark on this legendary name?
Daniel: You may know us because you're professional engineers, and you know the history, but the normal consumer in the US doesn't know us to that extent. There's a lot of trends coming from the US and it's very important for Sennheiser to have a stronger footprint.
Andreas: At the end you can only judge that 20 years from now. What we believe is most relevant to Sennheiser is to keep our innovation culture alive. Because from that innovation culture, from that creative dissatisfaction of the status quo, a lot of these ideas start.
Daniel: We believe that AMBEO is as significant a change as going from mono to stereo. If we're honest, all surround is a two-dimensional sound plane. What we're creating now is a third dimension, and that's going to create all kinds of applications and experiences that we can't even begin to imagine today. We need to drive that, and find the applications together with the industry.
Andreas : Where they go in the realm of augmented reality or 3D audio or how we record in the future, we can't perceive right now, as long as we're listening and are curious and still doing a lot of things which do not make a lot sense commercially in the beginning -developing an HE 1 for 12 years, while commercially it may never pay off. But it's important as an internal process to go beyond anything we know. It's also important for the customer to see that we're a company that's here to stay and not just developing a brand and then selling it off. That's really what is relevant to us. 20 or 30 years from now, we hope we're still shaping the future of audio in whichever field that may be then.