Sennheiser Momentum On-Ear Headphone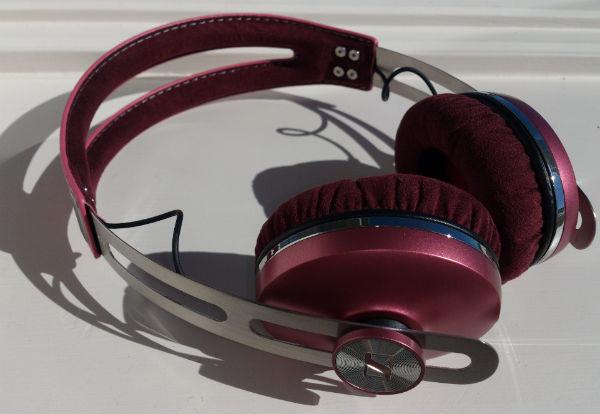 The new Sennheiser Momentum On-Ear headphone takes everything I loved about the original Momentum over-ear headphone and puts it in a smaller, infinitely more stylish and affordable package. Coming in a range of colors, and at a lower price, this headphone retains the sound quality and voice of the original but makes it more accessible to more people.
When I reviewed the original Momentum over-ear headphone, I gave it an enthusiastic endorsement. The new Momentum On-Ear headphone is still a quality product and the price is $229, as compared to the original priced at $349. The headphone itself is simply gorgeous. While I thought the original Momentum was industrial, this has better (more compact) proportions and an excellent build quality. The sample I received was labelled "pink," but it's really a classy muted rose color, with suede-like burgundy material for the earcups and pink and burgundy contrasting on each side of the headband. The other colors are green, ivory (with darker brown headband), blue, black, brown, and red. All the colors are soft with a nice brushed metal finish on the earcups. The cups slide easily up and down the metal bands for a customizable fit.
The headphone comes with two cables—one is a standard audio headphone jack and the other is an Apple-ready inline iRemote controller that lets you take calls and control music playback from the cable. The standard cable has straight jacks on both ends while the Apple cable has a nice, compact L-shaped plug. I appreciate having a spare, replaceable cable in case one gets damaged. Unfortunately, when I plugged the Apple cable into my Android phone I got the usual "The accessory's microphone and buttons are not available" message. I wish it had at least a volume control available for non-Apple devices. The headphone comes with a padded carrying case and a silky pouch. Although relatively small, it doesn't fold in any way, so it's still a bit large if space is a concern while travelling.
The frequency response is listed as 16 Hz-22 kHz with 18 ohm impedance. SPL is listed as 112 dB. It certainly played as loud as I could tolerate, with no noticeable distortion.
I checked out the sound of the new Momentum with the indy-Brit band Bastille's Pompeii. The clear sound of Dan Smith's lead vocals was quite pleasant. More impressive was the full sound of the male ensemble in the choruses along with the deep impact of the tom-tom drums. The harmonies in the bridge had great detail and separation—each vocal line was distinct and clear. It has a brighter, livelier sound than the original Momentum—more open, with an almost transparent sound. The tonal balance felt very natural, and uncolored. It wasn't as warm as the original Momentum, and obviously, ambient sound was more noticeable, but in my quiet listening room, this is a non-issue. Conditions in your daily train commute may differ.
Overall, I loved the Momentum On-Ear. It's light, affordable, and I found it very comfortable even after hours of listening. I would love to have these as an affordable reference headphone for everyday use. It's wonderful to see a company building classic headphones without gimmicks and celebrity names, and instead rely on great sonic quality to sell their products. Sennheiser—job well done.