Secret Spice!
I want to say one word to you. Just one word. (Yes, sir.) Are you listening? (Yes, I am.) Branding. (Just how do you mean that, sir?)
Here's how I mean that: When it comes to bands maximizing their potential - when it comes to bands being "successful" - branding is all-important. Remember those days when people howled at Jimmy Page and Pete Townshend for selling music to commercials? Those days are long, long gone. History. Today, it's not just about selling old music to commercials; it's about linking your new music to an entire company. And that's called branding. Good? Bad? Necessary? I'll leave that discussion for another time. But here's an example:
Tonight (Dec. 4) at 10 p.m. (Eastern) on CBS, you can watch the Victoria's Secret Fashion Show - featuring the VS supermodels in the photo above, shown prepping to jet to the show on "Runway Angel," their own Virgin America plane. (Nice to know that the VS supermodels are virgins. But I digress.) In addition to music by Seal and will.i.am, the Spice Girls will appear in their debut reunion performance. But that's just the beginning of the branding between the Girls and Victoria . . .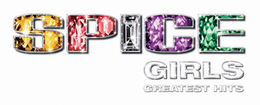 Similar to the Eagles' deal with Wal-Mart, the Spice Girls' new Greatest Hits collection (Capitol) is available only at Victoria's Secret stores and at VictoriasSecret.com until January 15. In return, the lingerie chain is promoting the album, the group, and the reunion tour in its stores, online, and on TV - including tonight's Fashion Show.
Besides 13 hits, the CD contains two new songs: "Voodoo" and the current single, "Headlines (Friendship Never Ends)." (For the latter's video, click here.) It also offers three downloadable bonus remixes: "Wannabe," "2 Become 1," and "Spice Up Your Life."
Once the embargo expires on January 15, Capitol will release a CD+DVD edition (with all of the Girls' videos) and a gift-box version, which has the CD+DVD, a karaoke disc, and a gift bracelet.
Meanwhile, the reunion tour kicked off in Vancouver on Sunday - and for those who care, the group is running through California and Vegas in the next week and will then return in January and February for primarily East Coast shows. Tour dates: click here.
Speaking of "for those who care": Why should Sound & Vision care at all about the Spice Girls? Well, there was that point about branding. And, and, and . . . okay, I confess: It does give us (primarily) male readers of S&V a really good excuse to go to the Victoria's Secret site. Not to mention a Victoria's Secret store. But you were going there anyway, to buy your sweetheart all that sexy lingerie she expects for Christmas - right?!
Besides, if The New York Times can talk about Victoria's Secret and branding, then so can I. And as Janet Morrissey pointed out in her article "If It's Retail, Is It Still Rock?," none other than Velvet Revolver has also branded with Victoria, licensing its music to a VS commercial. Says bassist Duff McKagan: "The barriers are changing, and we as artists are making less and less money, and we have to get creative." Let's not forget that Bob Dylan did a VS commercial, too, for "Love Sick" (check it out).
Meanwhile, speaking of branding and lingerie and "none other than": Lily Allen, who used to be "just so happy in your boxers and your T-shirt," has now signed a deal to become "the new face and body" of Agent Provocateur lingerie. Says a source about the owners of the U.K.-based company: "They are delighted. They feel that Lily's natural look will appeal to a lot of women. [Um, not to mention a lot of men.] The pictures of her are absolutely incredible." We'll have to wait until spring to see those pictures. But in the meantime, if you want to check out the (somewhat more) provocative (than Victoria's Secret) Web site, click here. -Ken Richardson
Photo credits: Marion Curtis/Startraksphoto.com/Victoria's Secret (VS models), Mike Owen/Capitol (Spice Girls).
LATEST VIDEO