Scanning High-Def: Deja Vu Blu-ray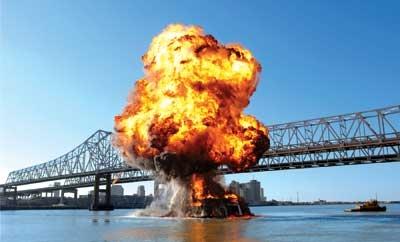 Déjà Vu (Touchstone Blu-ray Disc). This big, expensive toy is thin on character and dialogue, but it makes for excellent home theater. Right from the opening scene, the disc delivers a quilt of sound, weaving chest-rattling foghorns, cheering individuals, and overlapping pieces of music. All channels are kept busy, yet each element is clear and open in uncompressed PCM 5.1. The Beach Boys, singing "Don't Worry Baby," seem like a heavenly choir - just before everything goes to hell with a roaring, shuddering boom, as a terrorist's bomb destroys a ferry. Flames in this and other eruptions are crisp and solid without any artifacting. The bright, colorful, VC-1-encoded images show natural skin textures, and detail is so good that you can read the names on gravestones in the background.
The highlight of the extras is Surveillance, which starts as a commentary by director Tony Scott, producer Jerry Bruckheimer, and writer Bill Marsilii and then branches out into 10 featurettes on filmmaking, each one exemplified by a specific scene. You get the best of both worlds: insightful conversation mixed with visual fun.
more Entertainment reviews Back to Homepage What's New on S&V
LATEST VIDEO
WHERE TECHNOLOGY BECOMES ENTERTAINMENT