Savant's New Self-Powered Network Speakers Mount in Ceiling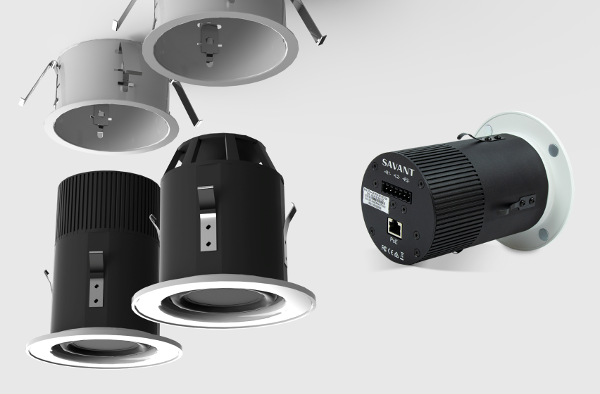 Smart-home specialist Savant today introduced a line of self-powered network speakers that mimic recessed lighting.
The new Micro Aperture network ("IP") speakers connect directly to a home network via a single Ethernet cable that carries digital audio, control signals, and power via the Power over Ethernet (PoE) protocol, reducing the complexity of installing a whole-home distributed-audio system by eliminating the need for multiple cable runs.
Each speaker mates a 3-inch "balanced mode radiator" driver and high-efficiency 50-watt amplifier in a cylindrical closed-back assembly that goes into the ceiling like a standard recessed lighting fixture with one key difference: there are no screws. The speaker is secured to the ceiling using a magnet and spring clip and can be trimmed with a paintable round or square 4-inch grille. Installation is described as quick and easy, and the speaker is suitable for both new construction and retrofit projects.
Savant's balanced mode radiator driver technology is said to "allow for big sound with far lower power requirements than traditional speakers." Acoustic frequency response of the speaker is rated down to 80 Hz (±1 dB) or to 40 Hz (±3 dB) with "DSP bass enhancement."
Savant offers three Micro Aperture models: a self-powered PoE speaker, companion PoE satellite speaker, and passive (4-ohm) speaker for integration with traditional audio systems. Each self-powered PoE speaker can drive up to three satellite speakers and will self-regulate output power based on the type of PoE switch used.
Each speaker is individually controlled through the network, enabling the homeowner to easily switch speaker duties at the touch of a button — shifting from playing music to serving as a rear-surround speaker in a home theater setup, for example.
Retail pricing was not available at press time.
"The new Savant IP-based Micro Aperture speakers are a breeze to install and configure," said Matt Lavin of the California-based custom installation firm Metro 18. "The best part is how seamlessly they work with the other Savant AVB audio components. It's an easily scalable high-performance solution that provides many new design options."
For more information, visit savant.com.